Surviving in stairwell B: A Port Authority officer's story of survival after steel, concrete came crashing down on him during the World Trade Center's North Tower collapse
Thirty-seven Port Authority Police officers and K-9 Sirius died during the attacks on the World Trade Center; Lt. David Lim was one of 14 who survived the collapse of the North Tower in stairwell B
---
On a typical weekday, the World Trade Center attracted nearly 140,000 visitors with an estimated 50,000 people working in the Twin Towers. While most worked inside the buildings, many others were stationed outside for various jobs.
One of the outside workers included now-retired Lt. David Lim, a member of the Port Authority of New York and New Jersey K-9 unit since April 7, 1980. Lim and his partner, K-9 Sirius, a four-and-a-half-year-old yellow Labrador Retriever, were tasked with ensuring there were no explosives going into the World Trade Center towers.
On the morning of September 11, 2001, Lim and Sirius were assigned to do checks on commercial trucks coming into the World Trade Center.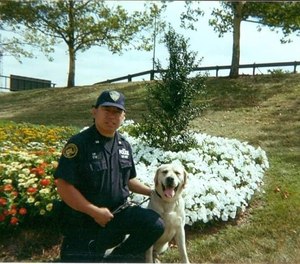 Around 8 a.m., Lim took a break to grab breakfast. Lim and Sirius went to the South Tower's B1 level, the first basement level and the same level as the truck dock of the South Tower. Once there, Lim gave Sirius his breakfast in his kennel and started on his paperwork.
Moments later, Lim felt the building shake and soon heard a radio transmission that said an explosion had occurred in the upper levels of the North Tower.
His first reaction was that a truck with explosives may have got past him.
He jumped up to respond but told Sirius he would be back to get him.
Minutes later, Lim made it to the North Tower to begin assisting with rescue operations. He started evacuating people out of the stairwells who were coming onto the plaza when suddenly someone screamed in front of him.
It was then he saw someone had fallen or jumped out of the tower.
And then another body came down.
And another.
He decided – like many other first responders that day – to run toward the danger instead of running from it.
Deciding to become a police officer
When Lim was younger, his family owned a Chinese takeout restaurant in Queens, New York. The 101st Precinct of the New York City Police Department was nearby, so it wasn't unusual to see NYPD officers grabbing takeout at the restaurant.
Lim found himself clinging to every word and story these NYPD officers told while they ate – enamored with their line of work and the people they got to help every day. However, becoming a police officer wasn't on the top of his parents' career list for their son.
"I come from a Chinese background and typical Asian parents want you to become a doctor, lawyer, businessman, mathematician or a scientist … a police officer wasn't high on their list of expectations," Lim said. "There was some pushback against it, but it was my decision. It's what I wanted to do."
As he got older, Lim decided to take a few police tests to see if he was cut out for the job. He was on the list for a police department in Nassau County, the NYPD and the Port Authority of New York and New Jersey. The Port Authority was the first to call him, setting off his 34-year career with the department.
"I have no regrets. Except for one really bad day," Lim said.
'Every minute felt like torture'
There are bodies all around Lim, essentially becoming a graveyard of people who jumped from the upper floors of the North Tower.
"That's when I realized that I would be of more use up there than I was down there," Lim recalled.
He started going up the stairwell A of the North Tower, where people coming down were visibly injured.
"Instead of taking maybe one or two people down, I made the decision to start assigning people to help these people and go down the path that I had just made to get them down quicker to the triage area," Lim explained.
Lim reached the 28th floor, where he made it into the B stairwell. Lim eventually made his way to the 44th floor, the sky lobby in the World Trade Center, where he told people to start going down the stairs instead of taking the express elevators.
While Lim was evacuating people, the South Tower was hit and he saw the building collapse across the window from him. The same building that Sirius was in.
It was now 9:59 a.m. and Lim started ordering everyone to evacuate.
"I said, 'Everybody has got to go now! There is no more waiting. Let's go!' We were hit first, so the odds of us still being there was pretty slim as it was. We ended up going down and I'm now at the 6th floor. Every minute felt like torture, but I wasn't going to leave anyone behind. Everybody had to stay in front of me," Lim said.
Once on the 6th floor, Lim saw some familiar faces – Port Authority Chief James Romito, Port Authority Capt. Kathy Mazza and Port Authority Lt. Robert Cirri. They were making a stretcher to carry an injured woman down the stairs. Romito soon got a page on his beeper.
"And he's saying, 'Holy shit. Holy shit.' So, we all started going down and get down to the fifth floor," Lim said.
There, they saw Josephine Harris, a 59-year-old Port Authority secretary, who had been working on the upper floors, with a group of firefighters from Ladder Company 6. They had found her on the 22nd floor, crying and unable to keep moving down the stairs.
Lim picked Harris up to carry her down as Chief Romito and Lt. Cirri held the other woman, with one arm over her shoulders each.
Firefighters of Ladder Company 6 tried to look for a chair to put Harris in, but there was nothing to be found. Firefighter Bill Butler grabbed Harris' other arm and he started going down the stairs with Lim.
"I remember Capt. Mazza saying to me, 'David, just leave her with them and come out with us.' I said, 'I already got her. I'm not going to put her down now. I'll meet you outside.' And I said, 'OK? All right. Behind you, boss.'" That was the final moment Lim saw his colleagues, as Chief Romito, Lt. Cirri, Capt. Mazza, PAPD officers James Parham and Stephen Huczko, along with the woman they tried to rescue, were found burned under the rubble after exiting on the low level.
'It was like a hurricane blowing down the stairway'
As Lim, 12 firefighters and Harris made their way down the stairs, the building started to shake. "We can hear the floor starting to pancake above us," Lim said. It was now 10:28 a.m.
Boom.
Boom.
Boom.
Explosions start happening and the rescuers can feel the air rushing down from being compacted in the building. "It was like a hurricane blowing down the stairway," Lim said.
In fact, firefighter Matt Komorowski was thrown from the fourth to the second floor – separating his shoulder from the impact. Battalion Chief Richard Picciotto was thrown from the sixth to the second floor.
"I just remember thinking, 'I hope this is quick.' I'm thinking about my family. And at the time, I had 21 years on the job, so I'm also thinking, 'Why the hell didn't I retire when I had 20 years?' And then it all came down," Lim said.
Then, suddenly, Lim woke up, opened his eyes and started coughing.
"My first thought in my head is, 'Well, dead men don't cough, so that means I'm still alive,'" Lim said.
Lim, Harris and firefighters from Ladder 6 and Engine 10 were all stuck in stairwell B between the sixth and first floors.
"We have 110 stories on top of us, so either we can be killed when the rest collapses or we can die of starvation in a couple of days," Lim recalls thinking after the collapse.
But they started to dig their way out, assessing everyone's injuries along the way.
"First, we would take care of Josephine. She's OK. The rest of us have minor injuries. I had a concussion and some injuries, but everyone was fairly intact considering the circumstances," Lim said.
After intense digging for three hours, they found a light: the sun.
They walked up the stairs and onto what would eventually be called Ground Zero. Buildings burned all around them as they surveyed 16 acres of rubble in disbelief. They had survived.
"We were finally able to get through on our radios and call for help, because we're still 60 feet above," Lim said.
Lim had two cellphones on him – a work phone and a personal phone. He was able to get through on one of the phones.
"I called my wife and told her that I was still alive. I told her I had to give the phone to the other people, because they may have some last things they want to say to their family."
Eventually, Ladder 43 came from the north to help Lim, Harris and the 12 firefighters.
"We put Josephine into a Stokes basket and sent her down that way," Lim said. "And then we had to climb out to try to make our way across. We tried going out toward the north, but then we heard what sounded like mini explosions. We later found out that was coming out of the Six World Trade Center. I presumed it was the ammunition from the U.S. Customs House, because they had a range down there, plus they kept a lot of evidence and ammunition down there."
They ended up going out to the west, where they climbed through a debris field.
"It was harrowing, to say the least," Lim said.
It was now 3 p.m.
Freed from the rubble
After Lim and the 13 others were freed from the rubble, they were puzzled to see rescuers in clean uniforms. "It was strange, but we didn't realize that they had already switched out the tour, because they sent back all those guys from the first tour. Seeing everyone in clean white and blue shirts, I'm like, 'What's going on here?' It was surreal," Lim said.
An ambulance crew started checking out Lim and the 12 other firefighters. Lim, eager to get back to his command, was told his command was a couple of blocks up. He started walking in that direction but tried to go down the ramp to get Sirius. He had left him in the now-collapsed South tower.
A firefighter stopped him, asking Lim where he was going. "I said, 'Listen, I got to go get my partner.' And he said, 'Your partner?' I said, 'Yeah, my dog.' He replied, 'So, you're going to go back in there for your dog?' I said, 'Yeah, I am. That's my partner. I told him I would come back. I'm going back.'"
Lim made it to the bottom of the ramp, but it was all blocked off. He later saw a Port Authority car, which took him to the temporary command center.
"I come in and everyone is cheering because I was on the DOA list. They thought that I was one of the 37 … I guess 38 … killed from the Port Authority Police," he said.
From there, Lim was taken to St. Vincent's Hospital and his colleagues were sent to get his family in Long Island. At the hospital, Lim's 12-year-old son asked him, "Where's Sirius?"
"I tell him, 'Don't worry. Look, they just dug me out. We'll dig him out. I left him with a bowl of water, he'll be fine.' And he says, 'OK, Daddy. OK.' At the time, I really believed he was OK. But as time went on, I was faced with having to tell him that the odds of Sirius being alive were very slim. And I remember him saying, 'Don't say that, Daddy. You said I had to believe.' And now I'm dying. Just dying."
Lim was eventually authorized to leave the hospital and he spent the night at home watching TV, hoping and waiting for rescuers to pull more people out.
"I remember they pulled out Port Authority officers John McLoughlin and Will Jimeno. McLoughlin, an academy classmate, was a friend of mine," Lim said.
Unfortunately, it took much longer to find Sirius.
The only K-9 killed on 9/11
Lim received a call in February 2002 from a lieutenant who asked him if he had given his shirt to somebody while he was at the World Trade Center.
"I said, 'I beg your pardon?' He said, 'We found some bones with your shirt.' I then realized that I had extra uniforms in my office. One must have fallen off the hook and landed on Sirius in the collapse. When I got down there, they said it was actually dog bones, not human bones. They asked if I wanted to see him and I said, 'No. I want to remember him the way he was.'"
Sirius was taken out of Ground Zero and what happened next stopped Lim in his tracks.
"They stopped all the machines, and we carried him out to the top. We put him in the emergency truck that we had and decided to take him to Bellevue Hospital, where all the other remains were going. I remember they came out and handed me the flag that was over him. I lost it right there when they handed me that flag."
Sirius stayed at Bellevue Hospital until April 2002, when a full honor guard service was held for Sirius at the end of the month at the New Jersey State Park. About 200 K-9 teams, officers from all over the country and thousands of people attended Sirius' funeral to pay their final respects. Sirius was the only K-9 to die in the World Trade Center attacks.
Twenty-one years later, in August 2023, a plaque was dedicated to Sirius, as well as the other K-9s involved in the rescue and recovery efforts at Ground Zero, at the 9/11 Memorial and Museum.
The plaque dedicated to Sirius was healing for Lim, but every Sept. 11 anniversary remains difficult.
Time heals wounds, but also leaves scars
After 9/11, Lim was requested to speak around the country.
"I was not a public speaker. Not even close. But I remember my K-9 sergeant telling me, 'Listen, Dave. I need you to represent, to go out there.' I understood that. We lost 37 from Port Authority."
The speeches, Lim said, were hard in the beginning, but quickly became cathartic.
"I was able to work my way through it, but one of the problems with speaking about this is that I endeavor to be accurate, and in doing so, I have to relive it in order to be accurate," Lim said.
Lim retired from the Port Authority in July 2014, but he's a frequent visitor to his old stomping grounds.
"I've been going to the 9/11 Memorial and Museum every time there's a new academy class from the Port Authority," he said. "I speak to them about my experiences. Some of these new officers were either babies or they weren't born when the attacks happened. That's my way of helping keep the memory of 9/11 alive. I also remind them there were 37 Port Authority officers killed, as well as one Port Authority K-9."
Time, Lim says, does heal wounds, but it also leaves scars.
"Things do get better, but every now and then something pricks you – like this interview. Like thinking about my son asking about Sirius at the hospital or getting the flag that was over him," he said.
Before the attacks, Lim had celebrated his birthday a week prior on Sept. 2. Now, on every Sept. 11, a childhood friend calls Lim to wish him a "Happy Birthday."
"I'm 67 years old. I look at every day as an extra day. My friend says I was reborn on Sept. 11. That I was lucky to be in that one spot and survive," Lim said.
Luck or not, active or retired, Lim dedicated his career to serving and protecting – including on one of the worst days in U.S. history. Every day after, he's committed himself to reminding others why they should serve and how a fallen K-9 kept the people and visitors of the World Trade Center safe.
NEXT: 'You're supposed to be dead': An NYPD officer's story of survival on Sept. 11