SHOT Show 2016: A look at Trijicon's latest optics
The times they are a-changin', and red dots are going to become more widely accepted as time goes on
---
At SHOT Show 2016, I dropped by at the Trijicon booth to take a look at some of their latest optics.
The first one that caught my eye is the reflex red dot MRO which stands for miniature rifle optic. For those who are familiar with the Aimpoint Micro series, this one has a noticeably bigger aperture and gives you a much broader field of view and almost no "tube effect." The MRO features ambidextrous brightness controls, fully sealed, waterproof 7075-T6 housing and a battery that is rated to last five years on the "3" setting.
Next up was Trijicon's RMR reflex red dot. By multiple reports from colleagues in the industry, the Trijicon RMR seems to be the most rugged of the slide mounted red dot sights. The RMR was paired up with Taran Tactical Innovations' custom Glock and back up suppressor night sights. Though this is not a new concept, this was a tasteful package that felt good in the hand and looked good as well.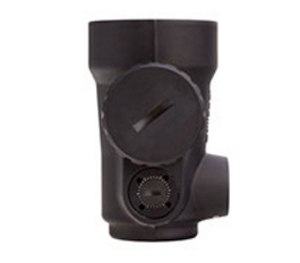 The times they are a-changin', as the saying goes, and red dots are going to become more widely accepted as time goes on. They aren't magic, but they do provide things that simple iron sights cannot do as well. They also have their cons, but that shouldn't stop one from exploring the options and learning how to maximize their advantages and minimize the weaknesses.
For those in the 3 Gun or for those just looking for a good 1-6 power scope, Trijicon's 1-6 x 24 is bright, clear and simple. It is used by a few world-class 3 gunners who run them very well against the best in the world. In a world of cluttered, Christmas tree reticle designs, these are available in simple, fast, reliable reticles. They are battery free and have tritium inserts for low light use. However, if you are using a high quality weapon light, you probably won't need an illuminated reticle and the post reticle with the triangle will be ample for most conditions.