SHOT Show 2016: Daniel Defense's V11 SLW is one of the lightest M4 rifles out there
Weighing in at only about six pounds, the Daniel Defense M4 Carbine V11 SLW (short for Super Light Weight) shoots like a dream
---
During our visit to the Boulder City Rifle and Pistol Club for SHOT Show Media Day, we visited with the folks from Daniel Defense. We viewed with enthusiastic approval several long guns, but as the company representative described one model in particular, I knew I had to shoot it.
The Daniel Defense M4 Carbine V11 SLW (short for Super Light Weight) is one of the lightest M4 rifles out there. Weighing in at only about six pounds, the gun is incredibly quick to target and presents very little muzzle rise when pressing the trigger rapidly on semi-auto. Simply said, the gun shoots like a dream.
The V11 SLW has almost no felt recoil, which surprised me a little because I would have assumed shaving off so much weight would add a little more pop in the shoulder. Just not so — it feels more like shooting an air rifle than a gun chambered in 5.56. The company says this is due to the mid-length gas system, which "provides smooth and reliable cycling under any conditions and reduces both perceived recoil and wear on moving parts."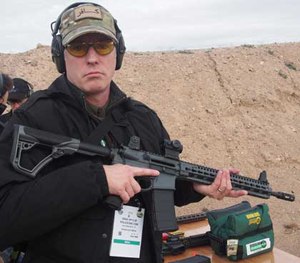 Like all rifles in the DDM4 line-up, the precision of the manufacture and assembly of the components is truly top tier. Ever since first encountering Daniel Defense rifles, I've taken to shaking them when first picking them up to listen for even the slightest rattle. There was no rattle with the V11 SLW — as solid as a rock. The model available for testing during SHOT Show (pictured) was in a finish the company calls 'tornado gray.'
The V11 SLW has a Chrome Moly Vanadium Steel (Cold Hammer Forged), 14.5" lightweight profile barrel with an extended flash suppressor required to reach the NFA-required 16" minimum barrel length.
With a whole bunch of available Picatinny rail space, the V11 SLW has ample opportunity to add optics and other accessories. Just remember, each of those little "Barbie parts" weighs something. You don't want your V11 SLW to get too heavy now, do you?