The dream custom Glock I designed at SHOT Show
It took over six miles of walking around the Sands Expo Center to come up with this custom Glock
---
I like to play a game at SHOT Show. It's a fantasy game, so indulge me. This year, I built a Glock 19x in my head, using stuff I found at show - and this setup is so solid I may in fact build it for real at a later date.
Before we get into specifics, bear in mind that anything one does with the Glock is really assignment-specific. Some officers may need a few more enhancements, depending on the situation.
Platform
When designing this Glock in my head, I did something that you're probably not expecting: I used a TimberWolf frame, made by Lone Wolf, rather than a Glock. I used a compact TWC frame, which is a G19 equivalent. My TWC would get a G17 length slide.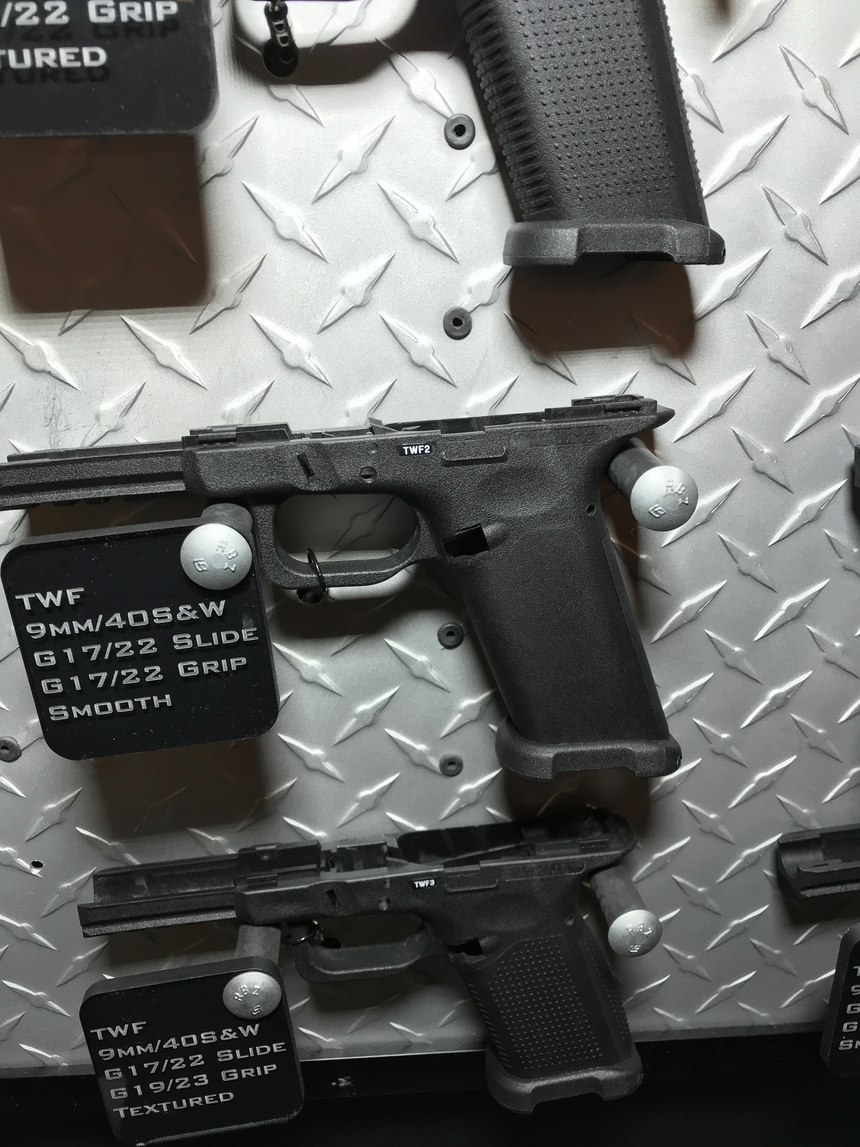 Why a TimberWolf, especially since I am a die-hard Glock guy? The TimberWolf already comes with the relief cut, which brings the web of the hand up closer to the slide. They also come standard with a shaved grip and the trigger guard relief. Since I would do this work anyway, why not get a frame set up already? The TimberWolf frame comes with or without texturing. I'd get the model that's ready to stipple and break out some stippling tools.
Light
Streamlight just released the TLR-7, a 500 lumen ultra lightweight compact front rail mounted light. I picked this light because it is lighter and brighter than most other lights.
Streamlight gave the TLR-7 a bright concentrated center beam with plenty of peripheral spill beam. Instead of toggles or paddles, the TLR-7 has push button side switches. Both side switches have the same function, making it fully ambidextrous. It has a "safe off" function, preventing an accidental activation.
Sights
I racked up the miles looking at sights and sighting devices at SHOT.  Here's what I was thinking: More officers have begun using reflex sights – optical sighting devices that superimpose a dot on the target using optics – and they might be the wave of the future. However, many people, including me, don't like the idea of the sighting method to be battery dependent. 
The best I can do is tell you about two options and let you decide which will work for your assignment.
Meprolight's MEPRO MicroRDS with backup night sights bridges the gap between fixed and reflex sights. It's a reflex sight that does not require an RMR cut on the slide. The MicroRDS uses a standard tritium front sight with a rear sight that is in the shape of a mounting rail. It is longer, but it looks like any other sight from the rear. A Meprolight MicroRDS slides into the dovetailed rear sight. Since it has a solid quick release mount that always returns to zero, it can be mounted and removed anytime. When it is off, the low profile tritium sights take over.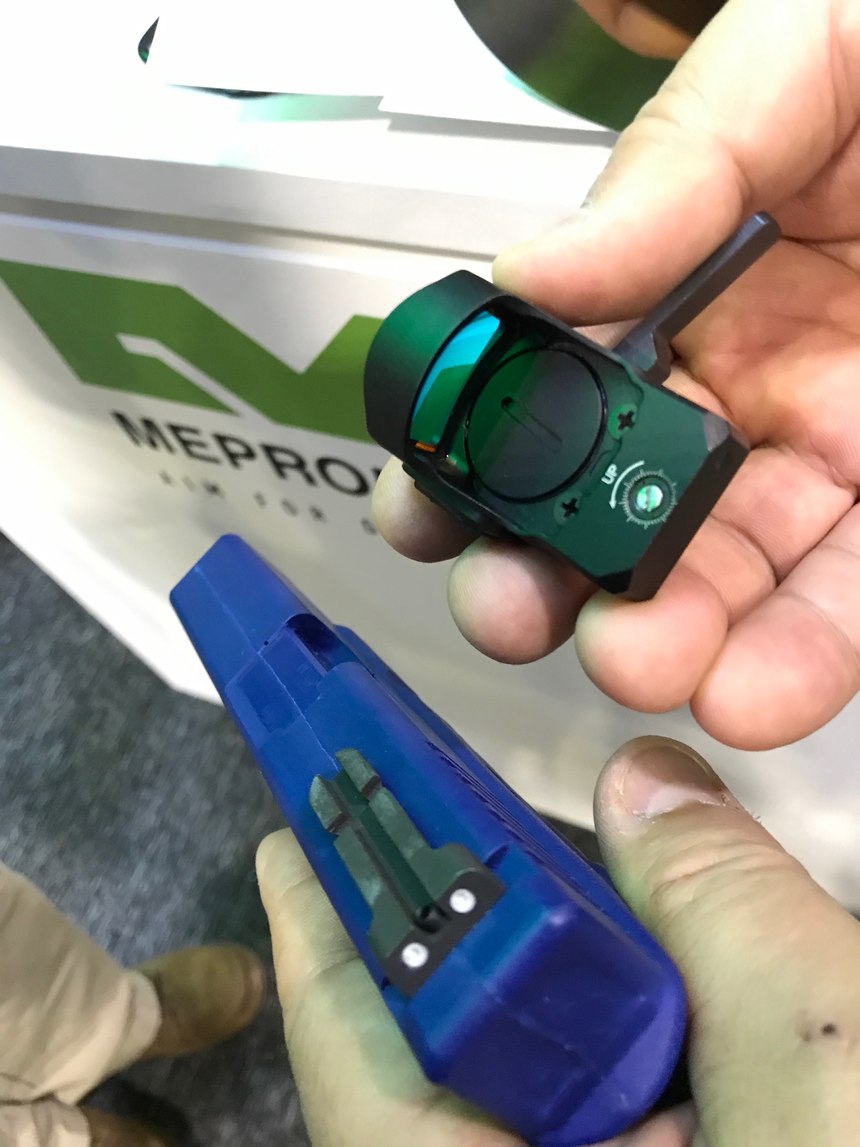 This setup is solid…and brilliant!
Dead Air had me thinking of completely different factors. Here's the thing: We want versatility. We want low-profile sights, right up until we want to mount a suppressor - then we want them tall enough to steer a gun with an attached can.
On the range, I was enjoying plinking steel when I met up with Anthony Escobar at the Dead Air booth. Dead Air manufactures rifle and pistol suppressors in Lawerencville, Ga. Anthony handed me a custom Glock with a custom Zev upper, complete with those hexagonal cuts in the side of the slide.
The Dead Air suppressor was installed. I shot the gun, which had the smooth feel of a reduced weight trigger and a tuned slide. Anthony took the suppressor off and promptly flipped down the sights.
"Wait a minute, let me see that," I said.  The tall sights were now low profile. Anthony told me that the sights were a collaboration between K+S Precision and Dead Air Armament.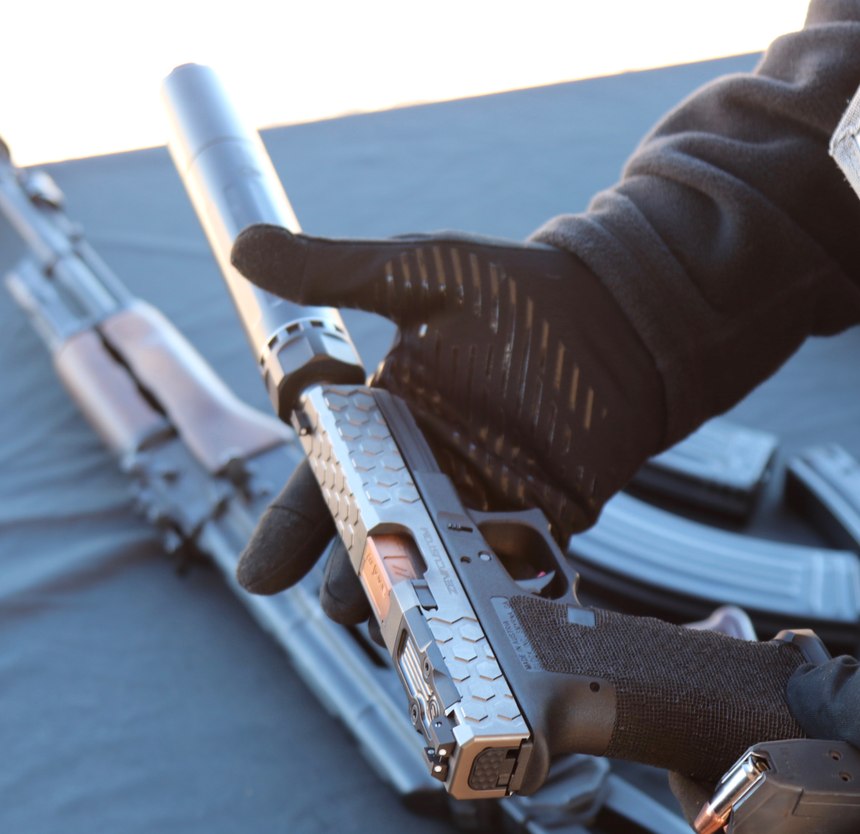 You now know my two top choices. You decide.
Slide
To tell you the truth, if you asked me on any given day what I would use to customize my Glock, I would say, "That's easy, Lone Wolf." The fact is, Lone Wolf slides are a fully customizable option. They make most of their good stuff out of 416R stainless, including the slides and barrels. For a subdued color, I would go with their salt bath nitride finish.
There are two good custom slide choices for the officer: skeletonized or wave serrations. Mind you, they also have some pleasing hexagonal patterns that I like. For my gun, I like wave front and rear serrations.
Lone Wolf Distributors is launching an online configurator soon. The web tool will have pictures and drop down menus that allow the user to customize their Glock slide. This will allow the customer to pick the color, style (bullnose, squared or beveled edges, etc.), and features like top patterning and front/rear serrations. For my Glock, I picked a G17 length, wave serrations front and rear with a textured top and added a threaded barrel.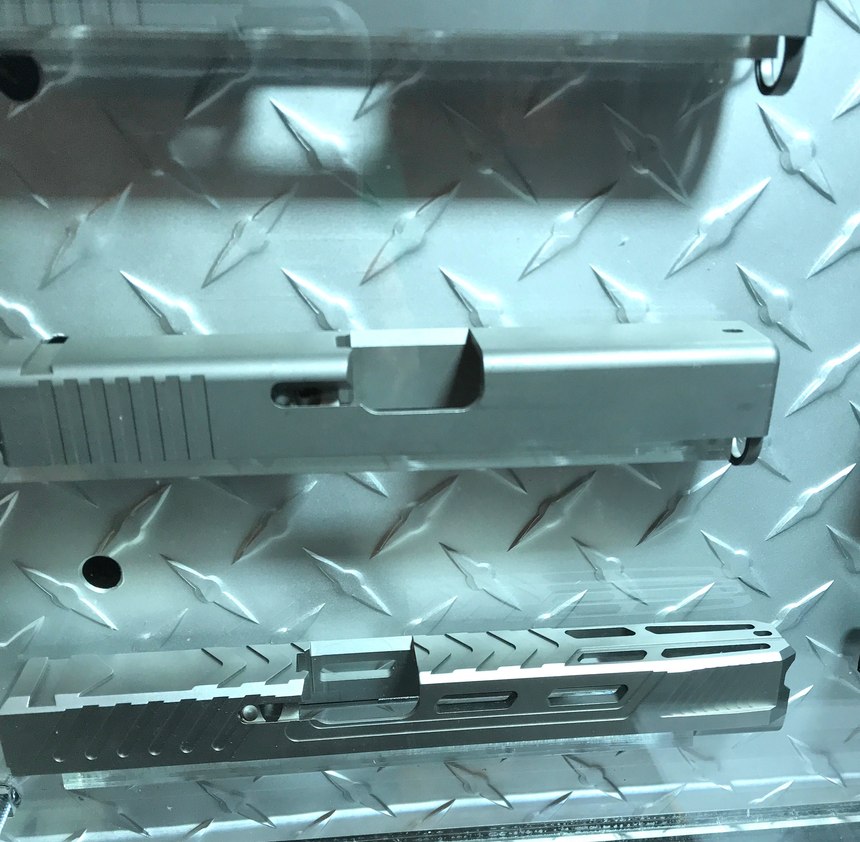 The most important part is something that Lone Wolf does very, very well. They have a drop-in billet extractor for most Glocks. This is such a fragile part (mostly because it is usually MIM process, rather than billet) that I usually have show up on a training range with a few extractors in my pocket. The Lone Wolf extractor reduces headaches significantly.
Trigger
I like the feel of several different triggers, so this is a tough decision. I went with what's in my Glocks right now, because I have pushed thousands of rounds through them. The most consistent trigger I know is the Zev Technologies Drop In kit. It has a consistent reset and looks pretty cool in my gun. Since Zev has a new Pro Trigger and Pro Connector, I vote for the upgrade.
Alright, it took over six miles of walking around in Vegas to come up with this custom Glock. What's your dream Glock?