SHOT Show 2019 showcases what's new in duty belt gear
Cops can increase their safety, comfort, health and capability with the right equipment belts, holsters and accessories
---
It's always exciting to see the latest developments in firearms and ammunition at the Shooting, Hunting, and Outdoor Trades (SHOT) Show each year, but some of the most important developments don't go "bang!"
As a cop, you spend a lot of time with a heavy duty belt encircling your waist. The gear you carry there is important to your safety, but it's also a primary source of discomfort and injury. Fortunately, we were able to round up some new products at SHOT Show 2019 that will improve your comfort, security and capability. If you're a cop, you're sure to appreciate these less flashy – but no less important – new products.
Hi-Tech Intervention Dragon Skin Ergonomic Duty Belt
The Dragon Skin Ergonomic Duty Belt from Hi-Tech Intervention is actually a belt system designed to increase comfort and reduce injuries for patrol officers. At the heart of the Dragon Skin system is a material that stretches up to two inches – despite having no elastic in it – by virtue of its physical properties and the special weave used in the construction of the belt.
The Ergonomic Duty Belt consists of an inner and outer belt. The inner belt is threaded through the trouser loops (with assistance from a polymer tab on the end of the belt) and its outside face is lined with the loop side of a hook and loop fastener material. The inner belt is cut on a curve to fit your hips better, but it's the expanding qualities of the material that truly allow the belt to stretch, twist and bend as you go about your day, reducing pressure points, and providing for a significant increase in comfort compared to belts made of rigid materials.
An outer belt goes over the top of the inner belt, and mates to it using a hook material on its inner surface. The two-inch wide duty belt has extra stitching on the top and bottom edges that eliminates the need for bulky edging tape that can cause discomfort. This stitching has proven to be durable in daily use by over 20,000 customers in Canada, with no – zero – reports of edge failure in five years of service.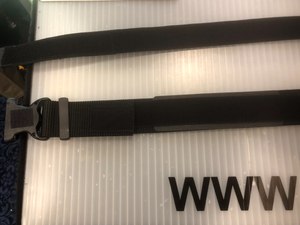 The outer duty belt expands, twists and bends to match the wearer's body movements, just as the inner belt does, but there's a polymer plate about 5 inches long that serves as a reinforcement for the belt in the area where the duty holster is attached. This extra material allows the holster a more rigid surface to attach to for added support and retention. At the user's discretion, a similar "floating insert" can be attached to the duty belt by the user to support items such as TASERs, which may need a similar reinforcement.
The buckle on the outer belt is made of polymer and incorporates a "three finger release" for security. The original version of this buckle was designed by Dragon Skin's founder and adopted years ago by industry giants like Bianchi and Safariland, and has been upgraded for the Ergonomic Duty Belt.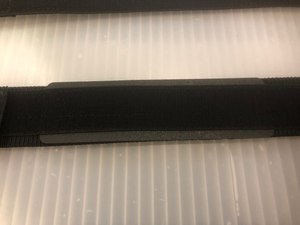 Hi Tec Intervention states that the Ergonomic Duty Belt has been extremely successful in its home country of Canada, with officers reporting dramatic improvements in comfort and reductions in pain and injuries. One agency of 350 officers reported they saved enough money on reduced chiropractic visits and sick days to pay for the belts in the first year of service.
Check out Dragon Skin today for more information on this unique system, which includes pouches and accessories designed to integrate with the Ergonomic Duty Belt.
Aker Leather Radio and Tourniquet Pouches
Police leather powerhouse Aker Leather now has tourniquet and radio pouches in production that will help make your day easier and safer.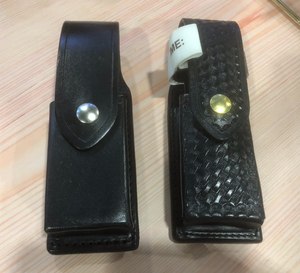 The leather tourniquet pouch is available in plain or basketweave finish, with nickel or brass hardware, to match the officer's existing duty gear.  The single-cell pouch is sized to fit any of the popular Combat Application Tourniquets, which are standard issue for the United States military. With the availability of these tourniquet pouches, there is no excuse for an officer not to have ready access to a lifesaving tourniquet on their person.
The Aker radio pouch for the popular Motorola APX 6000 and 8000 radios offers the ability to cant the radio for increased comfort and access, and then easily lock it in position so that it stays there. A quick release lever also allows the radio to be removed from the belt quickly. The bulk of a radio can make it difficult to wear, but the Aker pouch makes it easier and more comfortable to carry on your belt.
Safariland Duty Holsters For Compact Weapon Lights
Safariland has been making industry-leading, retention duty holsters for decades and has offered fits for pistols equipped with weapon-mounted lights (WMLs) for many years. As WML technology has improved, these lights have become smaller, and Safariland has kept pace with new holster fits for guns equipped with these small, but powerful lights.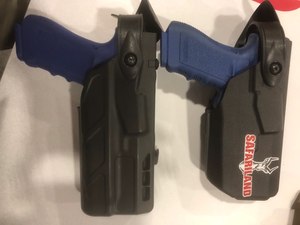 Safariland's latest duty holsters are tailored for compact lights like the Streamlight TLR-7 and Nightstick TCM-550XL. A significant benefit of choosing a compact WML is that the opening around the holster's trigger guard doesn't have to be as large to accommodate the smaller bodies of these lights, so there's less room for an errant finger or object to work its way onto the trigger while the weapon is holstered. This offers a significant safety advantage for the officer, compared to the larger WMLs.
Safariland's compact WML duty holsters are currently shipping for Glocks, with Sig Sauer P320 fits estimated to ship in 3-4 weeks and Smith & Wesson M&P fits expected to ship by summer 2019.
Safariland Vertical Universal Belt Loop
Perhaps the most exciting news out of Safariland at SHOT Show was the announcement of the Vertical Universal Belt Loop (VUBL) attachment for duty holsters.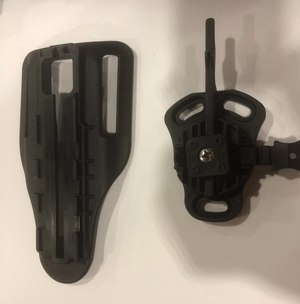 The VUBL is a belt loop that allows an officer to instantly change the ride of their holster by releasing a lock and sliding the holster body up or down, as required. The VUBL allows the officer to choose a high, mid, or low ride as the situation and officer's preferences demand. For example, an officer can move the holster up to the high ride position for sitting in a patrol car, then move it back down to the mid or low ride position after they get out of the car. The officer could also shift the position of the holster up or down to provide extra clearance for a gas mask carrier, go-bag, or rain gear.
The 2.25" range of adjustment afforded by the VUBL will significantly improve comfort and weapon access for the officer. Since the VUBL attaches via the standard three-screw pattern, it can be mounted in a way to provide a 20-degree cant for the holster. It can also be mounted to Safariland's QLS quick release system to allow easy mounting and dismounting of the holster body. Even without the QLS system, the VUBL allows the holster to be easily removed from the loop by releasing a lock.
The VUBL fits any Safariland holster with the three-screw pattern, is available with 2.0" or 2.25" belt loops, is fully ambidextrous, and passes Safariland's rigorous pull test for weapon retention. The VUBL will retail for about $48 MSRP, and I suspect they'll be incredibly popular, and will soon become mandatory equipment on police duty holsters.
High Speed Gear 247 Trauma Wrap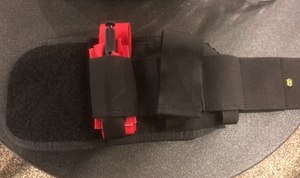 With available space on duty belts at a premium these days, officers are having difficulty finding room for the individual first aid kit (IFAK) that is so critical for their own safety and that of their fellow officers.
High Speed Gear has an excellent solution for this space war in its 247 Trauma Wrap, which is designed to be worn on the ankle. The 247 Trauma Wrap is an elastic band with pockets for carrying a tourniquet, combat gauze, compression bandage and nitrile gloves. The pockets can expand to carry additional gear as required. The 247 has neoprene padding for comfort, incorporates breathable mesh and can fit over a boot, if desired.
The 247 Trauma Wrap might be an excellent offset to a backup gun carried on the other ankle. Having similar weights on each ankle may help to avoid discomfort.
Good Stuff!
None of these items are likely to make big headlines in the media, but each of them can have a huge impact on an officer's safety, comfort, health and capability. Small things can add up to big changes, so make sure to check these new products out, and be safe out there!