Texas governor blasts school assignment comparing cops to KKK
Gov. Greg Abbott called for the teacher's firing over a cartoon comparing police officers to slave owners and members of the Ku Klux Klan
---
By Jessica Schladebeck
New York Daily News
Texas Gov. Greg Abbott has demanded a teacher at a school in Fort Worth be fired over a lesson that featured a cartoon comparing police officers to slave owners and members of the Ku Klux Klan.
The Republican leader in a tweet on Monday blasted the assignment as "beyond unacceptable" while calling for an investigation into the 8th grade instructor, who works for the Wylie Independent School District.
"It's the opposite of what must be taught," Abbott continued. "The teacher should be fired."
The five-panel cartoon in question, shared online by the National Fraternal Order of police, quickly sparked backlash on social media. It features an image of a slave ship officer with his knee on a Black man's neck, which evolves over the course of the cartoon, and ends with a police officer kneeling on the neck of a Black man, who is saying "I can't breathe."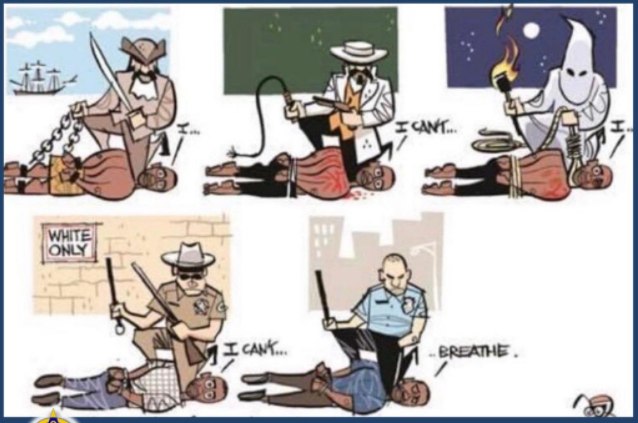 The goal of the assignment was for students to determine if the rights outlined in the Bill of Rights — including the First Amendment rights of protest and free speech — are still as important in the current climate.
Wylie Independent School District spokesperson Ian Halperin told the Fort Worth Star-Telegram the assignment was handed out at Cooper Junior High to eighth-grade social studies students as part of Celebrate Freedom Week, which covers the Bill of Rights and the Declaration of Independence.
No specific teacher has been identified and in an email home to parents, Cooper Junior High Principal Shawn Miller indicated more than one had been involved in distributing the assignment. He added that while the lesson aligned with the Texas Essential Knowledge and Skills standards, he understood Abbott's concerns.
"The teachers wanted to provide the students with current events to analyze the Bill of Rights," Miller wrote.
The school district, which has since apologized, in a statement added it would "comply with the Governor and the Texas Education Agency to investigate this matter as we work together to rebuild trust in the community."
A teacher in a Texas public school comparing police officers to the KKK is beyond unacceptable.

It's the opposite of what must be taught.

The teacher should be fired.

I'm asking the Texas Education Agency to investigate and take action. https://t.co/DsCdp4fFaB

— Greg Abbott (@GregAbbott_TX) August 23, 2020
©2020 New York Daily News
McClatchy-Tribune News Service