Ascendance International demonstrates nTherm handguards at SHOT Show 2017
Ascendance International has created a new series of free-floating handguards for carbine rifles used by military and police which are practically impervious to heat
---
Wandering the vast grounds of the Boulder Rifle and Pistol Club during SHOT Show's 10th annual Range Day, one occasionally hears short bursts of full automatic fire. What one doesn't necessarily hear, however, is an almost constant and sustained rapid fire coming from a single tent.
The guns running on full auto have to be set down at some point because the barrel would get so hot that the operator wouldn't be able to hold the handguard.
This was not the case at the tent operated by the employees of Colorado-based Ascendance International. They couldn't get empties swapped out for topped-off magazines fast enough — the entire enterprise was to see how hot they could get the carbine on the line.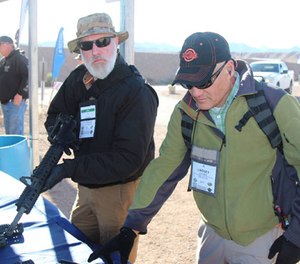 This is because the company has created a new series of free-floating handguards for carbine rifles used by military and police which are practically impervious to heat. They can withstand temperatures of 600 degrees and offer the operator the tag line "gloves optional."
The company's handguards are designed to mitigate — or outright negate — heat transfer from the barrel to the handguard. They do this by producing their handguards by molding a proprietary type of polymer.
The folks from Ascendance International fastidiously avoided using words like plastic and polymer, but that is what we're talking about here. Company representatives insisted that the new material does not bend or warp during prolonged periods of sustained fire.
On display were a variety of versions, ready for mounting to the M4A1 carbine and the H&K 416. Standard and configurable options are available for both.