Hudson unveils the hotly-anticipated H9 pistol at SHOT Show 2017
The Hudson H9 is — as the name suggests — a 9x19mm semi-automatic pistol which is the picture of meticulously detailed design
---
SHOT Show 2017 in Las Vegas got underway in earnest with thousands of industry and media representatives descending once again upon the Boulder City Rifle and Pistol Club for Range Day.
Attendees who wanted to see one of the most highly anticipated new products of the year had to walk a ways to get to it — so far that it felt like 10 more steps and you'd be able to see the Grand Canyon — and push through a crowd of people eager to see and shoot the new design from a brand new gun manufacture named Hudson Manufacturing.
The Hudson H9 is — as the name suggests — a 9x19mm semi-automatic pistol which is the picture of meticulously detailed design. The striker-fired gun is not only beautiful, but incredibly fun to shoot.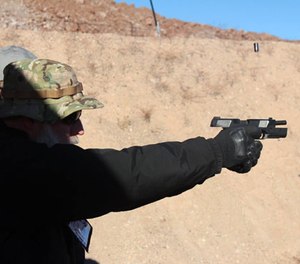 The barrel and recoil spring to sit very low and close to the hand, which creates an extremely low bore axis, allowing the shooter to perform with precision and very little muzzle rise.
The trigger is another compelling aspect of the design. With a trigger travel of just .115 inches, the 1911-style trigger is extremely smooth. It has a very easy break, and a pretty short reset.
Due to its all-steel construction, the gun has enough heft to it that any recoil felt is truly minimal. However, it weighs in at 34 ounces (unloaded), and it does not feel overly heavy. Standard magazine capacity is 15 rounds, which adds some additional weight.
The MSRP of a little more than $1,100 may scare off some shooters, but the gun is definitely worthy of some consideration for the avid collector.