What cops need to know about California's new rules on AR-15s
It will be interesting to see what will be on exhibit at SHOT Show that addresses this issue
---
During last year's SHOT Show, I wrote a column about the 14 keys for a successful patrol rifle program. When you are on duty in California, you are holding a AR pattern patrol rifle, but an identical personally-owned firearm in your hands magically becomes an assault weapon.
Under the original California Roberti-Roos Assault Weapons Control Act of 1989, existing AR pattern rifles were made illegal by listing them by name. Of course, enterprising gun manufacturers just created new ARs with different names, and the problem was solved. Well, temporarily anyway.
In 1999 the Legislature expanded the assault weapons definition by adding Penal Code section 12276.1, which identifies assault weapons by characteristics, or "evil features" rather than listing them by name.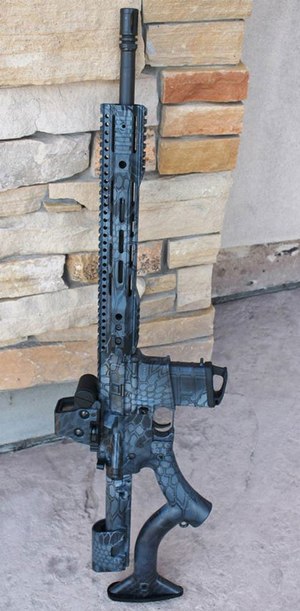 If your firearm had a specific set of evil features, including a detachable magazine, it was an assault weapon. However, Darrin Price invented and named the so-called "bullet button" which magically changed your evil assault weapon into a legal centerfire rifle by forcing you to use a tool, such as a bullet or ammunition cartridge, to remove your magazine. But because California SB-880 was signed by Governor Brown in 2016, the bullet button is no longer a get out of jail free card.
Evil features
Both the 1999 and 2016 laws list "evil features" which define an assault weapon if the carbine- or rifle-length firearm also has a detachable magazine:
A pistol grip that protrudes conspicuously beneath the action of the weapon.
A thumbhole stock.
A folding or telescoping stock.
A grenade launcher or flare launcher.
A flash suppressor.
A forward pistol grip.
Installing a bullet button simply changed your firearm to meet the 1989 requirement for "magazines that can't be removed without the aid of a tool," which mooted the evil features.
The new law was written to remove the bullet button "loophole," so any one of these features changed your firearm from a centerfire rifle into an un-transferable assault weapon on January 1, 2017. And if you don't remove all the evil features or register it by December 31, 2017, the weapon becomes illegal to have in your possession.
Same time next year
The key point is that you do not need to remove the evil features or register your assault weapon until December 31, 2017. However, as of January 1, 2017, you cannot buy or sell an assault weapon in California – even if it is registered. You can remove it from the state however.
Whether LEO or civilian, there are two legal actions for any personally-owned legal bullet-buttoned firearm:
Register it
Remove the evil features
Since most of us never had a grenade or flare launcher even with a bullet button, there are only a few differences between a pre-2017 legal firearm with a bullet-button and a post-2016 assault weapon. The major differences are a pistol grip or thumbhole stock, a foldable or collapsible stock, forward pistol grip, and a flash hider.
Anyone can perform magic
Once you remove the evil features, your assault weapon becomes a center fire rifle again. And it's easy to remove all the evil features with simple hand tools except perhaps the flash hider if it is welded or pinned. We'll leave that to you, YouTube, or your gunsmith since every weapon is different.
Most foldable or collapsible stocks come off easily by sliding off the back of the buffer tube. The pistol grip pops off with one screw – but watch for the selector detent and spring which are held in place by the grip. If you remove the grip there is nothing to hold the selector parts in place in the lower and you have an uncontrollable weapon which also is no fun to shoot.
Hold it!
So what can replace the pistol grip? Like the bullet button, there are some imaginative products out there which can turn your 2017 assault weapon back into a centerfire rifle. And remember, Californians don't need to make the change until December 31 of 2017, so you have plenty of time to do your own research. Those of you in other states with assault weapon laws are on your own, but check the manufacturer's data sheets.
The first product up is Exile Machine's Hammerhead. This small piece of weapons-grade polyamide composite (heavy duty plastic) bolts on in place of your pistol grip and holds the selector parts in place. It has two holes in the back which echo the same holes where the buffer tube and buffer tube end plate connect to the lower.
Since any stock which will fit on the standard AR buffer tube will connect to the back of the Hammerhead, you have your choice of high or low mounting points for your fixed stock. They also make a somewhat similar product called the Headbutt which allows you to use most shotgun stocks on your AR.
Think different
Thordsen Customs took a completely different approach, selling what they say is the most ergonomic all-in-one grip and stock. This 33 percent glass-filled epoxy one-piece stock is injection molded close to the SF Bay Area. Bolt it on, remove the other evil features, perhaps cover your buffer tube with plastic or foam, and you're good to go.
Since they are just down the street from me, I dropped in on president Alan Thorsdsen to chat about business. He said that he is running flat out and assumes that his customers think that they needed to convert their assault weapons into center fire rifles by the end of 2016 when that is not the case. He shut down to move out of the Bay Area at the end of 2016 and will be back up and running in early 2017. His products will still be made in the same factory, which is not moving.
The bullet button stays
Under regulatory action number 2016-1229-01FP, the California Department of Justice states that, "The release mechanism for an ammunition feeding device on an assault weapon registered pursuant to Penal Code section 30900, subdivision (b)(1) shall not be changed after the assault weapon is registered."
In plain English, this means that if your firearm required a bullet button to make it legal to own on December 31, 2016 it must always have that bullet button. A lot of us figured that once it was registered as an assault weapon that the BB could come off.
And to ensure that your bullet button stays put, you are required to submit, "Clear digital photos of firearms listed on the application. One photo shall depict the bullet-button style magazine release installed on the firearm. One photo shall depict the firearm from the end of the barrel to the end of the stock if it is a long-gun or the point furthest from the end of the barrel if it is a pistol."
And to ensure that your home build has a properly-engraved serial number, "The other two photos shall show the left side of the receiver/frame and right side of the receiver/frame. These locations are typically where firearms are marked when manufacturing is complete."
In summary
To be legal, you either remove evil features or register your assault weapon by the end of 2017. It is not all that difficult to remove the evil features, and you should label and save all the parts that you removed to preserve the value of your firearm if you either move or sell it out of state.
A year is a long time for you to evaluate the existing options, or other options which may be introduced over the next few months. It will be interesting to see what will be on exhibit at the SHOT Show that addresses this issue, and Police1 will be reporting from the show every day.