Why cops should check out the Savage MSR 15 Patrol rifle
This impressive AR clone is remarkably different than others in this saturated market
---
Hello from SHOT 2017.
I checked out Savage's new MSR 15 Patrol at range day, an M4 clone with BLACKHAWK! furniture, including the BLACKHAWK! KNOXX AR Pistol Grip and AXIOM Carbine Stock.
This AR clone is remarkably different than others in this saturated market.  It uses 5R rifling, which is an old school way to draw out more accuracy from a cartridge. I put some rounds downrange and it was smooth, well-engineered and showed very promising accuracy with my limited skills.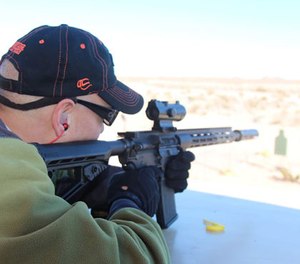 I got to shoot the longer suppressed version with a mid-length gas system and some decent glass to steer it.  The Mil-Spec trigger was very smooth for this type of gun, but I have competed with a box stock Savage before and should've expected that.
5R rifling was originally designed by a guy named Barrett "Boots" Obermeyer. This rifling is cut with five lands and grooves that use sloping, rather than straight, walls on the lands. In traditional rifling, the number of lands and grooves are usually even. If the barrel is viewed in cross section, lands are opposite lands and grooves are opposite grooves. With 5R rifling, the bullet isn't squeezed between opposing grooves. With the sloping sides in the lands, the sharp edges theoretically collect less lead, produce higher velocities and barrels are easier to clean.
By the numbers, the Savage MSR 15 Patrol has:
Mil-spec upper and lower receiver
16 1/8-inch barrel with 5R rifling and Melonite QPQ finish
223 Wylde target chamber for use with 223 Rem. or 5.56x45mm
Mil-spec trigger
Mid-length gas system
BLACKHAWK! KNOXX AR Pistol Grip and AXIOM Carbine Stock
Custom A-frame gas block front sight
BLACKHAWK! flip-up sights
MSRP $852