Ex-Met David Wright thrilled to be commish for NYPD-FDNY 'Battle of the Badges'
The former third baseman, whose father served as an officer, acknowledges police work might've become a career "if I had had to get a real job"
---
By Anthony McCarron
New York Daily News
NEW YORK — Growing up in Norfolk, Va., David Wright knew that December meant a holiday party at the Police Department. That's where he and his three younger brothers would sit on Santa's lap and recount their wish lists, some of which included toy police cars and sirens. The police were a big part of Wright's childhood because his father, Rhon, was a cop who worked in the Norfolk Police Department for 33 years and retired as an assistant chief of police.
When Rhon Wright worked in the canine unit, there was always a German shepherd at home. It was a thrill for David to see his dad in uniform with his badge, but he and his brothers also got a kick out of when his dad worked undercover and would flick the headlights of his unmarked car at them after arriving at a baseball game. Wright laughs as he recalls his dad in a Tidewater Tides jacket — the Mets' former Triple-A affiliate — in a photo with his undercover unit.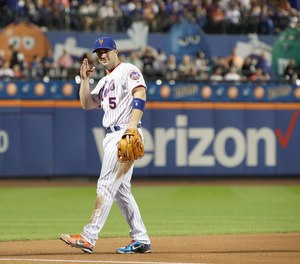 "It was really cool and neat, growing up," Wright says. "Those are the guys and the women I idolize. I thought of my dad as this super hero who arrested bad guys and made the world safe."
That upbringing, in part, is what made Wright want to give back to first responders during his All-Star career as the Mets' third baseman, when he was an enthusiastic regular on team visits to police departments and firehouses. And it's no wonder now that Wright is delighted to act as "commissioner" for the second annual "Battle of the Badges," the charity baseball game between the NYPD and the FDNY that will be played at Citi Field Thursday night.
"When the Mets approached me about getting back involved — what would you want to do? — this excited me," the Mets former captain says. "I'm bringing my family out, my dad, my mom, one of my brothers.
"My kids are pumped. It'll be the first time for my son [Brooks] at Citi Field. He's two-and-a-half. We have pictures all over the place and he's always asking where he is in the pictures. He has a Mr. Met doll he puts in his crib when he sleeps."
It's all part of an expanded role with the Mets for Wright. He's an ambassador of sorts who visited the club in spring training and went on a Napa Valley outing with sponsors, among other events. He's offered himself as counsel to young Mets, giving his phone number to players such as Brett Baty and others, urging them to call with questions.
Wright, 40, played his final game on Sept. 29, 2018, but it's natural for him to be, as he puts it, "part of the family" of the Mets. And at the Battle of the Badges, he'll be plunging back into the world of intense baseball, that's for sure, even if these players have day jobs.
New York's Finest versus New York's Bravest is a passionate baseball rivalry that dates back to at least 1895, says José Vázquez, a retired police officer who is the president of the NYPD team, though the game hasn't been played every year since then. There's a famous photo of Babe Ruth and Lou Gehrig — Ruth is in Fire Department gear, including the hat, and Gehrig in PD garb — at a game in 1939.
Vázquez recalls first playing in the game in St. Mary's Park in the South Bronx, clad in T-shirts, back in 1994. "It's pretty nice to go from that to Citi Field, in uniforms," Vázquez says.
"The best way I can describe the atmosphere — I'm a Yankees fan — is three or four sections of Bleacher Creatures on each side," says Chris Torres, a firefighter/right-handed pitcher at Engine 22 on the Upper East Side of Manhattan.
"The rivalry is the biggest natural rivalry in the history of New York City — bigger than Mets and Yankees, bigger than Jets and Giants. In some way, everyone in the city has had an interaction with a cop or fireman. I've played in the game every year for the last eight years. It's more intense every time.
"Multiply that by Citi Field and it's a helluva experience."
According to the Mets, the teams are 12-12 against each other over the last 24 games. Both clubs boast plenty of players with college experience; sometimes there are former minor-leaguers on the roster, too. Last year, in the first game at Citi Field, the police rallied to win, 9-6.
"That stung a lot," Torres says.
While there's real heat on the field, there's a kinship between the departments, too.
"On the field, we don't like each other," Vázquez says. "But when I was a rookie, walking the beat, there was always a firehouse available to us. Where did I go to get warm, get off my feet? I could always go there. Yeah, we want to win, but, off the field, it's a family of first responders."
Then Vázquez adds with a chuckle: "I still hate losing to them, though."
Both sides are thrilled Wright is involved. Even Torres, the Yankee fan, is looking forward to meeting him. "He's one of the Mets I like," Torres says. "He's the closest thing the Mets have had to Derek Jeter. I would not have minded seeing him play third base for the Yankees."
For his part, Wright is excited to "be in the middle of it" as the commissioner. It's a good spot for someone who acknowledges police work might've become a career "if I had had to get a real job." It would've been on the short list, along with something in engineering. "I was good at math and science," Wright says.
Wright plans on delivering some more well-earned thank yous. "I'd hear from first responders, 'Hey, great hit,'" Wright says. "I'd say, 'Lemme shake your hand for what you do.'"
Rhon Wright had a variety of roles within the Norfolk Police Department before retiring in 2014, everything from the detective bureau to vice to homicide to narcotics and more. He describes himself as "a fairly strict father. A lot of that had to do with my experience in the Police Department. It had some influence on David.
"He got to spend time with my co-workers, go to the pistol range. He has a lot of respect for first responders. I couldn't be happier that he carried that with him. I'm very, very proud of him."
Rhon Wright is hoping to get a chance to talk to the NYPD officers in the game. "I don't know if they'll know what I did, but I'm going to be a fan of theirs," he says. "I've developed friendships with officers in New York, from around Shea and Citi Field. I stay in touch."
Rhon Wright need not worry: "Everyone in the Police Department knows about David's dad," Vázquez says.
During a 14-year playing career in which Wright ascended to the top of Mets rankings in categories such as hits and RBI, he often interacted with first responders, visiting firehouses around Sept. 11 as older Mets such as John Franco and Al Leiter had done. No surprise for someone who considers the first game in New York following the terrorist attacks, the one highlighted by Mike Piazza's homer, to be "the coolest Met game in history."
On visits, firefighters would want to talk baseball. Wright would ask what all the buttons on the fire trucks did and put on fire gear. "I couldn't believe how much it weighs," Wright says. "I'd start sweating instantly. The shape these men and women have to be in is amazing. More fit than baseball players."
Spearheading events such as the Battle of the Badges is just enough of a role for Wright, who is the father of three young kids. It sounds unlikely that he'd consider diving much deeper with the Mets than his present duties, at least now. He'd rather be with his wife, Molly, and their family.
"I like the baseball side of it," Wright says. "But there's not much I can contribute from afar with the number of hours I'm willing to give. I don't want to be a Major League coach.
"I was my oldest daughter's [seven-year-old Olivia] soccer coach," Wright adds, clearly elated. "I was the baseball coach for my younger daughter (Madison, 5). She also plays soccer. Both girls do dance, so we just finished up recitals. My youngest is a sports nut. All he wants to do is shoot baskets or have me pitch to him. This is the stuff I want to be around for.
"Things like this game keep me involved. When you don't wear the uniform any more, you miss it. I miss telling [Brandon] Nimmo, 'Great game.' My kids think I'm great because Brandon comes over and gives them a high-five when we're at a game."
This week, the kids will be around for some of dad's stuff. Wednesday, the Wrights will attend Mets-Cubs. One night later, Wright will host the Battle of the Badges.
"These are the real heroes we're honoring with this game," Wright says.
INFO BOX
Finest v. Bravest is set for Thursday, 7:10 p.m., at Citi Field in the second annual "Battle of the Badges." Tickets are $20 and part of the proceeds from ticket and concession sales will go to the following charities: UFA NYC Widows and Children's Fund, the NY Firefighters Burn Center Foundation, the PBA Widows and Children's Fund, The Children's Hospital at Montefiore and South Fork United, Inc. Purchase tix at Mets.com/BattleOfTheBadges.
©2023 New York Daily News.
Visit nydailynews.com.
Distributed by Tribune Content Agency, LLC.
McClatchy-Tribune News Service