Your agency got a 1033 MRAP! How will you train to use it?
These trucks feel, drive, and act unlike anything most drivers and teams are used to — to simply put them to use without proper training is asking for people to get hurt or killed
---
I recently had the privilege of attending a Tactical Mobility course, designed to enhance the practical tactical driving skills of armored vehicle operators. The class was hosted by 88Tactical at their flagship Nebraska facility, and presented by Delia Tactical International.
Kurt Delia has been in law enforcement for almost 30 years — none spent behind a desk. He has been training cops and military for more than 20 years. 88Tactical is owned and operated by Shea Degan, an experienced trainer — and former deputy sheriff — who has compiled a team of top-notch instructors, all with conspicuous practical experience in law enforcement, emergency medical services, and the military. 
When such teams get together and cover a given topic from different vantage points, the students walk away with a well-rounded understanding and practical application of tactical skills. That's exactly what happened during this class.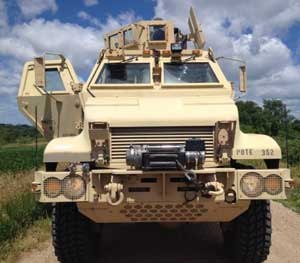 Training to Operate the MRAP
While the skills covered can be applied to safe and tactical operation of any armored vehicle, the focus of the course was on the Mine Resistant Ambush Protected Vehicle (MRAP) platform. As is public knowledge, these trucks are being rotated out of the Department of Defense pool, and offered to law enforcement agencies through the 1033 program. 
One common factor among the agencies attending this course was that for years they "did everything with nothing," as Kurt said. They improvised and got the job done with bread trucks, old ambulances, and your classic armored money haulers; tools were used based on availability. 
Now, through the 1033 program, these officers and deputies are prepared to use the proper tools for what threats may come. We all understand that improper and ignorant application of these tools is not only a liability, its deliberate indifference. These trucks feel, drive, and act unlike anything most drivers and teams are used to — to simply put them to use without proper training is asking for people to get hurt or killed. 
The two-day class was a compressed version of a five-day course adopted from the military curriculum and customized for law enforcement. This was done with an appreciation for agency budgets and scheduling constraints. 
The class starts with a few hours of introductory didactic. Students got familiar with the history of tactical vehicles, their design characteristics, and methods of application. Also covered in detail were hazard avoidance and mitigation, specific obstacles and tools utilized to address them. Towing and recovery are also a big component. A brief portion of a lecture included tactical rescue for both citizens and officers, and a basic tactical medicine brief. 
What followed was slow and smooth surface driving, which can include paved or country roads, in any weather conditions. Everyone takes their turns driving and learning the proper application of steering, turns, acceleration, and vehicle balance. While only one or two people within a team or an agency may be primarily responsible for the operation and maintenance of the truck, it is paramount that everyone leaves able to comfortably do so, and is an asset if need be. 
For a large contingent of agencies, it is also a good practice to at least familiarize their patrol and emergency medical elements with the trucks. The topics build to include practical and hands-on applications in vehicle recovery, threat and hazard mitigation, tactical applications, officer rescue, and live fire drills. The latter brings several concepts to an applied understanding. 
Hand-on drills put everything learned together, with a strong understanding that this course is just a pathway to more learning. Your local fire and EMS services are also included in the discussion, as they may be the only viable resource for a rescue of officers in the truck. Most tow companies are not equipped to pull a stuck or overturned MRAP, and the winching and rope segment covers many applications to address this issue. 
One of the most unique things about this course was the positive attitude and genuine desire to learn which didn't stop when the class was dismissed. Everything from class topics to shooting positions to medical equipment was discussed around the fire pit under the Nebraska moon.
Instances like these which are hard to find in most training environments are where much  additional learning takes place. It's often where people reaffirm their beliefs in each other, and their chosen careers. It's why the MRAP Mobility Course presented by 88Tactical and Delia Tactical International was an outstanding match, empowering the attending officers to save lives, as much of the citizens they serve, as their own.