Was the OSU attack an act of terror? (Hint: yes)
Officials have deliberately skirted the words "radical Islamist terrorism" — but there are myriad signs which point to "yes"
---
Eleven people were injured — one of them severely — when an 18-year-old Somali refugee deliberately ran down Ohio State University students with his vehicle. Abdul Razak Ali Artan was a first-year student at Ohio State who arrived to the United States two years ago and had been granted permanent resident status. Six people were struck by the vehicle, and five had stab wounds or lacerations, according to reports.
Fortunately, Officer Alan Horujko — an Ohio State alum who was an engineering major before switching to "security and intelligence" — was nearby. When the car came to a stop, the assailant got out and began attacking people with a knife before Officer Horujko ended the threat — within one minute of the attack beginning.
Campus authorities responsively transmitted a text alert telling students and faculty to shelter in place — to "run, hide, fight" — while a massive search was conducted. Initial reports were that the attack was an "active shooter" incident, but as is common, initial reports were inaccurate. No firearm was used, and no other attacker was found. The campus was released from lockdown and is expected to re-open today.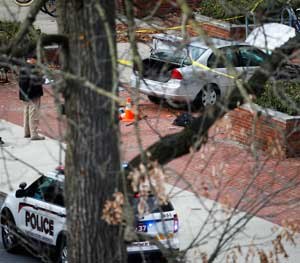 Terrorism quickly suspected
As details began to emerge yesterday, many people began to speculate that the attack was an act of radical Islamist terrorism. Officials have deliberately skirted the words "radical Islamist terrorism" — repeatedly saying that they have not determined a motive for the attack — but there are numerous signs which point to the incident being inspired by ISIS or al-Qaeda propaganda as well as news coverage of previous attacks. 
First and foremost, the horror in Columbus closely mirrors the attack in Nice, France, during which an ISIS sympathizer crashed a truck into revelers celebrating Bastille Day. Further, in Israel and the Palestinian territories there have been dozens of attacks involving vehicles and knives. AQAP and ISIS have been pressing for such low-tech attacks for years now, and have lauded their success.
The attack also appears to be closely fashioned after instructions released in an ISIS video just days ago. 
The video opens with images of recent attacks using simple weapons such as cars and knives, with the narration, "They frustrated and terrified the nations of kufr, cast dread into their souls and filled their hearts with panic. With only a few bullets and the most basic of equipment, they supported the Islamic State and Muslims, and kept the Crusaders sleepless and weary, killing dozens of them."
The video offers practical "how to" tips on everything from selecting a knife for an attack to successfully blowing up a person — demonstrated on a real person — with a backpack bomb. It includes the beheading of a man and the execution of a man handcuffed to a makeshift crucifix.
It is horrific. Some visuals one simply cannot unsee. And some visuals can push the weak-minded and disaffected over the edge.
Assailant fits the profile
There are countless potential attackers lying in waiting who we may never see until they unleash their nefarious attack, and undeniably, the OSU attacker fits the profile of the new terrorist threat. Easily impressionable, disaffected young men are self-radicalizing in online forums, chat rooms, and even mainstream social media sites, taking simple instructions from sources such as Inspire, Dabiq, and now the Islamic State's new propaganda magazine Rumiyah (which means Rome).
For the past several years, terrorist organizations have successfully recruited mentally and emotionally unstable young men via these online channels. They are no longer asking those recruits to make their way to the battlefields in Iraq and Syria — they are not seeking to train them to become hardened, battle-tested war fighters. Instead, they want vulnerable, disaffected young men who will attack where they live — specifically, in Europe and the United States. 
The OSU attacker had recently expressed feelings of being disaffected, telling the student newspaper, "I wanted to pray in the open, but I was kind of scared with everything going on in the media. I'm a Muslim, it's not what the media portrays me to be." 
Actions fit the definitions
NBC News reported that the assailant cited radical cleric Anwar al-Awlaki when he posted to Facebook, "I am sick and tired of seeing my fellow Muslim brothers and sisters being killed and tortured."
His post also reportedly stated, "America! Stop interfering with other countries, especially Muslim Ummah [community]. We are not weak. We are not weak, remember that."
Let's briefly review the definition of terrorism: 
The Federal Bureau of Investigation (FBI) defines terrorism as "the unlawful use of force or violence against persons or property to intimidate or coerce a government, the civilian population, or any segment thereof, in furtherance of political or social objectives.
The Department of Defense defines terrorism as the calculated use of unlawful violence or threat of unlawful violence to inculcate fear, intended to coerce or to intimidate governments or societies in the pursuit of goals that are generally political, religious, or ideological. Within this definition, there are three key elements violence, fear, and intimidation.
Now let's consider another passage from the attacker's Facebook post. ABC News has reported the post also declared, "If you want us Muslims to stop carrying lone wolf attacks, then make peace. We will not let you sleep unless you give peace to the Muslims."
Combine the attacker's online posts and the above definitions with the acts of violence committed on the OSU campus, and come to your own conclusions about whether or not it was an act of terror. 
Watching for copycat attackers
The abovementioned ISIS video released a couple of days ago said, "O Muwahhidin all over the world, support and defend your brothers while you are behind enemy lines. From their lands, the wars are funded and managed. So send upon them ruin and destruction."
It merits mention that historically in the Qur'an "Muwahhid" means "a believer in Allah," but nowadays the term refers followers of the hardline Salafist Sunni interpretation of Islam — such as ISIS. Hiding behind traditional language is a tactic that cannot be ignored. 
Because many of the grassroots, lone-actor attackers appear to lead normal lives right up until the time of their attacks, it is very difficult for authorities to predict when another act of violence will occur. 
Cops must rely on the friends, family, and fellow Muslims in order to find radicalized Islamist threats before they go operational — a mighty tall order in communities which are culturally insular and suspicious of police. 
Successfully preventing an attack in the early stages of the eight pre-attack indicators requires a lot of critical thinking and it takes an extraordinarily mentally alert police officer. It requires knowing about the strategic vulnerabilities in your patrol area — soft targets like campuses and malls as well as hardened ones like military sub-contractors. It requires knowing about baselines and anomalies as observed by Riley and Van Horne. 
The fact is, the lone-actor attack is extremely difficult to prevent. Therefore, the "speed, surprise, and violence of action" in the response then becomes absolutely critical. 
This raises the importance of people like Officer Alan Horujko. Successfully responding to an attack while it is unfolding requires extraordinary skills and training, and it requires tremendous bravery. 
Horujko has not yet reached his two-year anniversary of being a police officer, and he has already shown all the traits that make American cops the best in the world. When it mattered most, Horujko acted quickly, decisively, and with great ability to save lives. 
Thankfully, we have about 800,000 officers in this country who are ready, willing, and able to do exactly the same thing as Officer Horujko when "their day" comes. 
Stay frosty my friends, because this will happen again — potentially quite soon.