Will death make the Boston bomber a martyr?
Some analysts worry that Dzhokhar Tsarnaev's eventual execution could inspire more attacks
---
By Steve LeBlanc and Bob Salsberg
Associated Press
BOSTON — Does putting Boston Marathon bomber Dzhokhar Tsarnaev to death make him a martyr for the cause?
Some analysts worry that Tsarnaev's eventual execution could inspire more attacks. But others, including Islamic leaders, say no: Tsarnaev was more of a lone wolf with a low profile among radical jihadists and no known links to the Islamic State group, al-Qaida or other influential terror organizations.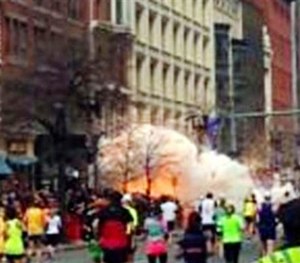 It will take years, possibly decades, of appeals before Tsarnaev — sentenced Friday by a federal jury in Boston to death by lethal injection — is executed.
The martyrdom question surfaced during his trial for his role in the 2013 attack that killed three spectators and wounded more than 260 others near the marathon finish line. Tsarnaev's defense had argued for life imprisonment as a better option because it offered "no martyrdom"; prosecutors insisted he had a chance to die as a martyr during a firefight with police trying to capture him but instead hid in a boat.
Yet the notes Tsarnaev scrawled inside that boat condemned U.S. actions in Muslim countries and asked Allah to make him a "shaheed," or martyr.
Matthew Levitt, a former FBI counterterrorism intelligence analyst and now a terrorism expert at The Washington Institute, said the death sentence will resonate differently around the world.
"Are jihadists going to look to him as some kind of martyr figure? The answer is likely yes. To a certain extent they already do," said Levitt, who testified for the prosecution at Tsarnaev's trial.
Nicholas Burns, a professor of diplomacy and international relations at Harvard's Kennedy School of Government, cautions against underestimating Tsarnaev's influence among hard-liners bent on using violence — and a life sentence would have tamped that down.
"Tsarnaev is a criminal and a terrorist responsible for one of the most reprehensible attacks in Boston's history," he said. "I do fear that the death penalty could cause some Islamic terrorist groups to paint him as a martyr."
Islamic leaders have sought to distance themselves from Tsarnaev. Two Boston-area mosques, including one where he and his radicalized older brother, Tamerlan, occasionally prayed, issued a joint statement after Friday's sentencing verdict denouncing the bombings as atrocities.
"There will always be those few who glorify evil and make martyrs of those who perpetrate it; however, it is our sincere hope that all Bostonians, all Americans, indeed all of humanity, joins us in condemning the bombings and remains with us forever - Boston Strong," they said.
Ibrahim Hooper, a spokesman for the Council on American-Islamic Relations, which bills itself as the nation's largest Muslim civil rights and advocacy organization, isn't convinced the death sentence will make Tsarnaev a martyr.
"This case really hasn't been on the radar screens of extremist groups around the world," he said. "These were just loners."
Grigory Shvedov, chief editor of the Caucasian Knot, an online Russian news portal focusing on the turbulent Caucasus region where the Tsarnaev brothers were born, said the death sentence could be "a sobering factor" for any militants thinking they can strike at civilian targets and stay alive.
It's always possible that Islamic State militants might use the death sentence to bolster their propaganda war on the United States by accusing it of killing Muslims, said Peter Krause, an assistant professor of political science at Boston College specializing in Middle East politics, terrorism and international security.
But worldwide, the marathon bombing and Tsarnaev's trial haven't dominated headlines or public attention as much as the bloody upheavals in Syria and Iraq, and Krause doesn't see Tsarnaev as a very inspirational figure.
"I don't think the main takeaway will be Tsarnaev's a martyr," he said. "It'll more be this is a guy who's a punk kid who there's not too much love lost for."
Copyright 2015 The Associated Press