4 tactical considerations for the suited operator
With some mental tailoring and gear selection, you can not only survive the transition to a suited operator, you can thrive in it
---
By Sean Curtis
The TacticaList Contributor
Whether you're entering retirement, being promoted, or changing careers, going from uniform to suit and tie can be an awkward transition.
You may have been a uniformed protector of the streets. Perhaps you were booting doors with the SWAT team. Much like Batman, your weapons and tools were readily available at your belt or strapped all over your body. But where will you hang that full-sized 1911 with weapon light and laser now? How about that strobing, super flashlight with the beveled striking bezel? Where will you put your knives?  
The suit and tie are not designed for utilitarian purposes, but don't fear! With some mental tailoring and gear selection, you can not only survive the transition to a suited operator, you can thrive in it.
Re-evaluate What You Need
First, you may need to reconsider your mission. If you're an investigator, or retired from the force, chances are you're not going to be fast-roping from a helicopter anymore, or breaching an armed standoff with a BearCat. Your daily challenges will involve cantankerous copiers and saying no to all the sweets brought in by co-workers.
I know it's difficult for us to leave some of our gear at home (after all, we may need it) but it's time for an honest appraisal, starting with your weapon. Many suited operators find a compromise between a full-sized duty weapon, and a concealed carry size. This is a great place to start because without a duty belt, a large weapon and accompanying gear can pull your pants down.
Mission-Specific Gear
One of the most important pieces of gear the suited operator must consider is the belt. Dress belts make a great fashion statement, but they're designed only for holding up your pants. Add a holstered weapon, magazines, cuffs and holder, badge and holder, plus your favorite tactical knife, and you have a ticking time bomb on your hands. If the belt holds all these on and your pants up, it will likely only do so marginally. 
The wear is far more than the belt is designed for. I don't like a floppy gun and weapon retention is always a consideration, so here's the fix: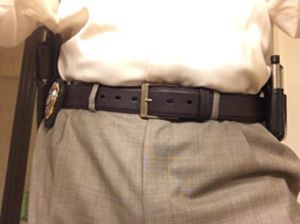 (Photo courtesy Sean Curtis)
5.11 has an awesome solution in their "Casual Leather Belt," a 1.5 inch wide belt available in black or brown leather. Not only does it have a great finish, it's reinforced with an insert that keeps it rigid. Most dress slacks can accommodate a belt this size, but no wider. The 5.11 belt also has a handcuff key holder pocket secreted on the inside back section of the belt, just in case. Through my own testing, I have learned this belt holds a full-sized weapon and all my accoutrements firmly in place without dropping my pants.
Another piece to consider is your holster and other gear. I tend to prefer leather. I have used Kydex products and love their utility however, some people complain of wearing on the finish of their weapons. For me, the greatest concern is catching the holster on the arm of a chair and having the grip, beaver tail and hammer driven into my hip. I imagine this is what some of the more unfortunate souls who run with the bulls in Pamplona feel like. Be sure to have a sturdy holster that is tailored specifically to your weapon. The holster should also be looped firmly onto your belt. I use paddle set-ups for my magazine and handcuffs, but my weapon will not come off without a Herculean struggle.
Speaking of struggling, your drop-leg hooded holster was great and kept your weapon secure, near your hand, and ready to go. But now you have a suit coat, tie, ID lanyard, and bloused shirt to contend with. If you can't get your shirts tailored, wrap them toward your back and make them fit well so they don't impede your draw.
A New Kind of Reality Training
The next most important issue is practice. Don't go to the range, take off all your impediments, and qualify. Practice shooting with your daily wear. In time you'll adapt and have a fast draw as a suited operator.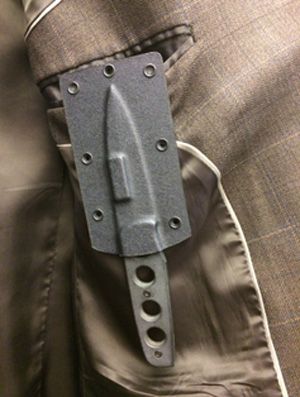 (Photo courtesy Sean Curtis)
Another item all cops (should) carry is a knife. This is slightly more challenging with a suit and tie. Tactical pants are built for operators to squirrel away knives everywhere. However, the most meager tactical folder's clip will likely tear a hole in the seam of your dress pant pocket. Worse yet, they pull on your pants because they are so heavy or profile badly because of the pant material.
The solution for me is a neck knife. A system developed by Bud Nealy in conjunction with Boker Knives, the neck knife offers many different carry options, plus it's a great knife that is neither bulky nor heavy. I use the pocket attachment and tuck the knife hanging from my inner breast pocket.
The Clothes Make the Man (and Woman)
If you are newly promoted, you may not have enough suits to get you through an entire week. Buy clothes that fit you well. Consider tailoring; nothing will get you called a "soup sandwich" faster than having baggy, cinched pants, or a sloppy, billowing shirt with a neck three sizes too big. You've been told that the appearance of your uniform says a lot about you – the appearance of your suit is no different. Remember that dry cleaning can be tax-deductible!
When you find your mission changing in life, reassess your mindset – and gear – to calculate how some adjustments can help you better achieve your goals. With some trial and error, you can wear a suit and tie without feeling like the parachute on the back of a dragster.