Board stops football team from taking thin blue line flag onto the field
Football team players are not allowed to carry the flag during games any longer due to "divisive controversy"
---
By Ashley Silver
SANTA CLARITA, Calif. — A California high school will no longer be permitted to carry a thin blue line flag onto the field during football games, after district officials deemed the flag "divisive."
According to WSET News, William S. Hart Union High School District Superintendent Mike Kuhlman sent a letter to members of the local community specifying why the request was made, citing a "controversy."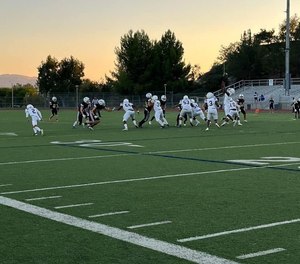 "The controversy has generated strong feelings on all sides of this issue," Kuhlman wrote in the letter obtained by WSET. "Despite emails for immediate action, and threats of consequences if certain steps weren't taken within a specific timeline, we determined to take our time to understand the issue accurately and to respond thoughtfully."
Some parents of students at Saugus High School felt the decision should have been put to a vote before prohibiting the flag.  
"I think that people should keep an open mind because at the end of the day when you call 911 whose going to come and help you?" parent Priscilla Garcia told Los Angeles's KTTV. "I feel the school should take a vote on it," parent Andy Perez also told the outlet.
Other parents were visibly heated at the removal of the flag, referencing a 2019 incident when a first responder had to rescue children at the same high school during an active shooter situation.
"The first responder was a parent who dropped off a kid and he literally saved some lives," parent Brandy Roggentien told KTTV. "The fact that the school is not honoring that – that is mind-blowing and disgusting."
The superintendent did specify the removal of the thin blue line flag is not a removal of support for law enforcement. According to his letter, the school system wants to foster a sense of inclusion, kindness and respect for all parties.
READ: 3 things to consider before you raise a thin blue line flag