Troopers hurt in crash during procession for fallen LEO
A trooper was leading a procession for fallen Tulsa police officer Craig Johnson when he hit the left rear bumper of an SUV parked on the shoulder
---
By Adam Kemp
The Oklahoman, Oklahoma City
OKLAHOMA CITY — An Oklahoma Highway Patrol trooper was still in the hospital Friday with internal bleeding, broken bones and a concussion after an accident Thursday involving two other troopers and a civilian, according to law enforcement.
Trooper Rocky Barnes, who was going west on the shoulder of the Kilpatrick Turnpike just east of Broadway, was leading a motorcade procession for fallen Tulsa police officer Craig Johnson when he hit the left rear bumper of an SUV parked on the shoulder.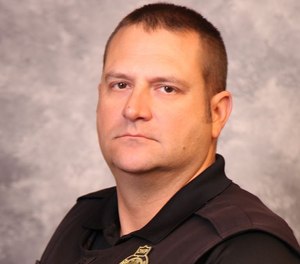 After striking the parked vehicle, Barnes' motorcycle then traveled back into the westbound lanes, where it collided with fellow OHP Motorcycle Division Troopers Steve Eason and Paul Watson.
The OHP said Barnes is expected to recover. Eason and Watson were released from the hospital on Thursday.
After initially interviewing the driver of the parked SUV at the scene, OHP said it has determined that the driver of the vehicle had legally pulled to the shoulder to allow the motorcade to pass and did not violate any traffic laws.
Elected leaders around the state immediately expressed their sympathies over the accident.
"I ask Oklahomans to join the First Lady and me in praying for the recovery of the Oklahoma Highway Patrol troopers who were injured, for their families and for all those affected by this terrible accident," Gov. Kevin Stitt said in a news release.
"It is always difficult to receive news of first responders being injured in the line of duty, but it is especially heartbreaking to learn this incident happened during the procession for an officer who was senselessly murdered while protecting his community."
On Twitter, Oklahoma City Mayor David Holt called for prayer for the troopers and Johnson's family.
"This tragic event compounds what has already been a tough week," he tweeted.
©2020 The Oklahoman
McClatchy-Tribune News Service