Both LA deputies shot in ambush released from hospital
The female deputy, who was in the hospital a few more days than her partner, has been discharged, officials said
---
By Suzie Ziegler
COMPTON, Calif. — Just under 10 days after two Los Angeles County sheriff's deputies were shot during an ambush, the agency announced that the second deputy has been discharged from the hospital. 
In a tweet Monday, the agency said both of its deputies are now resting at home.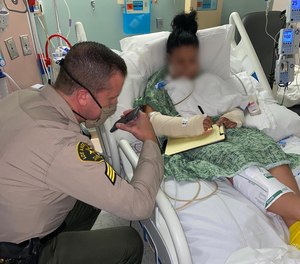 "They both have a long road to recovery and #LASD appreciates your continued prayers and all the support," the agency wrote. 
The deputies, a 31-year-old mother and her 24-year-old male partner, each suffered gunshot wounds to the head. Video shows the female deputy applied a tourniquet to her partner despite her own wounds. The male deputy was discharged September 16. On Saturday, the sheriff's department shared photos of the female deputy still in her hospital bed as she took a phone call from President Trump. 
No arrests have been made in the shooting. According to KTLA, the sheriff said investigators are pursuing "promising" leads in their search. The shooter was described as a man between the ages of 28 and 30. He was seen getting into a black four-door sedan after the shooting, the agency told KTLA.