Ex-Florida deputy charged with failing to confront Parkland shooter to start trial
"I want the truth to come out and if it is going to be through a trial, so be it," Scot Peterson said.
---
By Terry Spencer
Associated Press
FORT LAUDERDALE, Fla. — A fired Florida sheriff's deputy charged with failing to confront the gunman who murdered 17 at a Parkland high school five years ago said Monday that he is "looking forward" to his trial, which is scheduled to start next week.
Former Broward County sheriff's deputy Scot Peterson told reporters after a court hearing that the public needs to know he did everything he could as Nikolas Cruz murdered 14 students and three staff members at Marjory Stoneman Douglas High School on Feb. 14, 2018.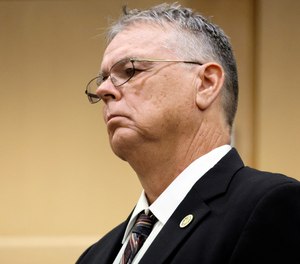 Peterson, the deputy then assigned to the school, says he didn't charge into the three-story classroom building during the six-minute massacre because he thought the dozens of shots fired were coming from outside. He was armed with a handgun at the time.
Some victims' parents have labeled Peterson "the coward of Broward." Free on bail, he now lives in North Carolina and could face nearly a century in prison if convicted.
"I want the truth to come out and if it is going to be through a trial, so be it. I'm eager," Peterson said. "Not only the people in Florida, the country, most importantly the families, they need to know the truth about what happened, because unfortunately it has never been told."
Peterson, 60, is charged with seven counts of child neglect and three counts of culpable negligence for the 10 people Cruz shot on the third floor, six of them fatally, after Peterson arrived at the building. The former deputy is not charged in connection with the 11 killed and 13 wounded on the first floor before he got there.
Prosecutors say Peterson's actions show he knew the shots were coming from inside and that he could have prevented some of the shootings if he had confronted Cruz, who was armed with an AR-15-style semiautomatic rifle.
Peterson's attorney, Mark Eiglarsh, said there are 22 defense witnesses who will testify that they also thought the shots were coming from somewhere other than inside the classroom building.
"He's not the only one who heard those shots and believe they were coming from a different location," Eiglarsh said.
Peterson retired shortly after the shooting, was fired retroactively and charged a year later.
Jury selection is scheduled to start May 31 with opening statements in early June. The trial could last until August.
During Monday's hearing, Circuit Judge Martin Fein rejected Eiglarsh's request to delay the trial until August. The attorney said some of his witnesses have vacations and other conflicts and say they won't appear. Fein said if the witnesses are subpoenaed, they have no choice.
The judge also expressed skepticism of the prosecution's request to have jurors tour the classroom building's blood-stained halls, something Cruz's jury did during his penalty trial last year. The building has been maintained and sealed since days after the shooting and is expected to be torn down after Peterson's trial.
Prosecutor Steven Klinger told the judge that the jurors need to see the distances inside the building. But Fein seemed to agree with Eiglarsh, who says there is sufficient video and photo evidence to demonstrate the distances and that having jurors tour the building would only inflame their emotions. Fein said he would issue his ruling later.
It is likely, however, that the jury will be taken to the school to see the outside area where Peterson stood during most of the attack.
To gain a conviction, prosecutors must convince jurors that Peterson knew the gunman was firing inside the building and that his actions and inaction exposed more victims to harm.
Security videos show that 36 seconds after the attack began, Peterson left his office about 100 yards (92 meters) from the building and jumped into a cart with two unarmed civilian security guards, according to a state report. They arrived at the crime scene a minute later.
Peterson got out of the cart near the classroom building's eastern first-floor doorway to the first-floor hallway while the gunman was at the opposite end, firing numerous shots.
Peterson, his handgun drawn, didn't open the door. Instead, he took cover outside next to a neighboring building.
"It was so loud and so close. I thought it was probably outside," Peterson told investigators two days after the shooting.
He said he heard "two, three" shots, though security guards told investigators they heard many more, clearly coming from inside the building.
Inside, Cruz climbed to the building's upper floors, firing approximately 75 more shots over nearly four minutes.
Cruz pleaded guilty to the murders in 2021, but the jury in his penalty trial could not unanimously agree that he deserved a death sentence. The 24-year-old former Stoneman Douglas student was sentenced instead to life in prison.