Jury deliberating in ex-deputy's Parkland negligence trial
For taking cover instead of taking action, Scot Peterson has been charged with six counts of felony child neglect with great bodily harm
---
By Rafael Olmeda
South Florida Sun-Sentinel
FORT LAUDERDALE, Fla. — Scot Peterson, an armed school resource officer, was dropped off 10 feet from the east entrance of the 1200 building at Marjory Stoneman Douglas High School when gunman Nikolas Cruz made his way to the other end of the building on the first floor.
Aaron Feis, an unarmed football coach, was at the east entrance. Both knew there were reports of firecrackers, maybe gunfire, coming from the 1200 building. Feis charged into the building's west entrance, where Cruz fatally shot him.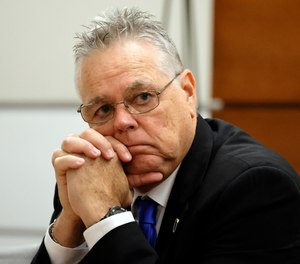 Hearing those shots, Peterson raced away from the building and took cover.
Closing arguments in Peterson's trial Monday focused on what he did during the mass shooting at Stoneman Douglas, what he should have done and what prosecutors say he failed to do — his job. The jury deliberated for an hour late Monday, and was scheduled to resume Tuesday morning.
Had he gone into the building, had he opened the door and seen the carnage Cruz left behind on the first floor, a jury would not be debating Peterson's fate right now. For taking cover instead of taking action, Peterson has been charged with six counts of felony child neglect with great bodily harm, one felony count of child neglect without great harm, and three counts of misdemeanor culpable negligence.
He's also been charged with one count of perjury for telling investigators he only heard a few shots (Cruz fired more than 70 rounds from the time Peterson arrived on the scene).
"Knowing at a bare minimum there was something going on in that (1200) building ... at that moment when he could choose to go in or choose to run, Scot Peterson chose to run," said prosecutor Kristen Gomes. "He left children trapped inside a building with a predator, unchecked."
But it wasn't that simple, said defense lawyer Mark Eiglarsh. Peterson raced to the scene, and the 1200 building was the focus of previous reports, but when Cruz shot Feis, the west door to the 1200 building was open. The sound of gunfire reverberated in the area between the buildings. From Peterson's vantage point, those shots could have been fired from inside the building or outside.
"Two dozen witnesses came here to tell you they couldn't tell by the sounds" where the shots were coming from, Eiglarsh said.
Other officers arrived at the scene and took a position of cover, Eiglarsh said. Only Peterson is being prosecuted.
But by that point, Peterson had already been on the police radio telling other officers to stay back from the 1200 and 1300 building. Peterson did not testify, but other officers said they considered the possibility the shots were coming from one or more snipers. Peterson went on the school radio to call a Code Red, which told teachers to hide students in their classrooms. Believing shots could be coming from the 1200 building, he ordered officers to stay away, and keep civilians away, from the immediate area.
Peterson shook his head as Gomes delivered her closing argument Monday, using body language to convey his disagreement with the notion that he did anything wrong, given what he knew at the time, by taking cover.
"He chose his life over Cara (Loughran)'s," Gomes said, repeating a variation of the comment for each of the third-floor victims. "The state did not expect Scot Peterson to go on a suicide mission."
In his rebuttal later, prosecutor Chris Killoran picked up on the same theme. "His job was to go investigate and make his presence known, and that simply did not happen," Killoran said. "When shots are being fired, there is one and only one priority: to seek out the sounds of the shots. ... Your only job is to go and seek out the shooter."
There is no certainty about what Peterson could have done that would have saved lives. According to testimony at his trial and at last year's trial of Cruz, the first floor was a chaotic scene by the time Cruz was done. Peterson would have seen shattered glass, wounded and murdered children in the hallways.
Had Peterson gone to their aid, he would not be in a position to stop Cruz on the upper floors. If he had heard the shots on the second floor, he could have followed them, prosecutors said. Maybe he would have succeeded in stopping Cruz, and maybe he would have failed.
But he would have tried, and that is the point prosecutors kept emphasizing in closing arguments. "He did nothing," Killoran said, pointing to the defendant. "He doesn't go in. He did jack. He did nothing. Because he chose his own life over students in the 1200 building."
Members of several victims' families were on hand for closing arguments.
—
©2023 South Florida Sun-Sentinel.
Visit sun-sentinel.com.
Distributed by Tribune Content Agency, LLC.
McClatchy-Tribune News Service