Mistrial declared for Texas officer in 2020 fatal OIS
Austin Officer Christopher Taylor was on trial for murder for shooting a man fleeing a traffic stop
---
Associated Press
AUSTIN, Texas — A mistrial was declared Wednesday for a Texas police officer in the fatal shooting of an unarmed man in Austin.
The mistrial for Austin Officer Christopher Taylor was announced by Judge Dayna Blazey after jurors were unable to reach a verdict following five days of deliberations.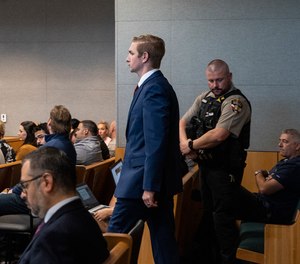 Prosecutors did not immediately return a phone call for comment about whether they will again try Taylor. They had filed a murder charge against him shortly after the April 2020 shooting and he pleaded not guilty.
Taylor's defense attorney also did not immediately return a phone call for comment.
Taylor has been on administrative since the shooting that killed Michael Ramos. Ramos was shot as he tried to drive away from police who were attempting to arrest him in an apartment complex parking lot.
Police were investigating reports of a man with a gun using drugs with other people inside a car in the parking lot.
A search of the car failed to turn up a gun, police said later. The entire episode was captured on police video.
Then-Police Chief Brian Manley said Ramos got out of the car with his hands up and his shirt raised as if to show he had no gun in his waistband, but then ignored officer's orders to remain outside the car and was shot first with a beanbag, then with a rifle by Taylor as Ramos drove away.
Taylor and another officer face murder charges in connection with a 2019 death of a man who was experiencing a mental health crisis when he was shot and killed. Taylor's attorneys said in a 2021 statement that he had no choice but to use deadly force to protect himself.