Suspect reaches for gun and is struck with butt of Portland officer's shotgun
Suspect struck in head with butt of shotgun while reaching for what was later determined to be a replica gun
---
By Maxine Bernstein
oregonlive.com
PORTLAND, Ore. — A Portland police officer is under investigation after striking a suspect in the head with the butt of a police shotgun to apparently disorient him and prevent him from reaching for what looked like a gun in a stolen car, police said Monday.
Any strike to the head with a hard object is considered use of potentially deadly force, prompting the investigation.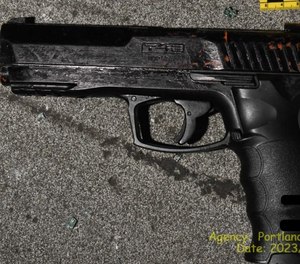 "I am thankful that no one was seriously injured during this incident," Police Chief Chuck Lovell said in a statement. "As with any use of force, this incident will be thoroughly reviewed."
Hitting someone in the head with a gun butt isn't a tactic taught to police at the Police Bureau, but it's also not expressly forbidden, according to police bureau directives.
The tactic also isn't taught in the state's basic police academy, according to Brian Henson, acting director of the Oregon Department of Public Safety Standards & Training.
The encounter occurred Saturday night after a report came in around 9:20 p.m. of a stolen car located in Northwest Portland under Interstate 405. An unarmed public safety specialist responded to the scene but summoned officers when he noticed someone inside the Hyundai Sonata and that the engine was running.
Three Central Precinct officers responded. To prevent the person in the car from escaping, officers positioned their cars in the front and rear of the Hyundai, according to police. One officer spotted a knife inside the car and was able to safely remove it, police said.
Another officer ordered the man in the Hyundai to get out but he didn't, according to a bureau statement.
When the suspect attempted to drive off, police deflated the tires on the car.
When an officer saw the suspect reach toward the floorboard of the stolen car, an officer struck him in the side of his head with his police shotgun, according to the statement.
That gave police "an opportunity to successfully and safely pull the suspect out of the vehicle and take him into custody," according to police.
A replica gun was located under a car seat, police said.
Brian J. Bruman, 32, told police he swallowed drugs and was taken by ambulance to a local hospital for treatment and observation overnight, police said. Bruman didn't complain of injury, police said, but he was kept overnight at the hospital because of the possibility that he had ingested drugs.
Bruman was booked into the Multnomah County Detention Center at 3 a.m. Monday on an arrest warrant out of Washington County on allegations of possessing a stolen vehicle, unauthorized use of a vehicle and third-degree escape on Jan. 23. A warrant was issued when he failed to report to court on the charges earlier this month.
Further charges are anticipated in Multnomah County stemming from the Saturday night encounter and alleged possession of a stolen car.
Under bureau policy, officers may use deadly force "to protect themselves or others from what they reasonably believe to be an immediate threat of death or serious physical injury" or "if necessary, to prevent escape" of a fleeing felon believed to pose an immediate threat of death or serious injury to an officer or others.
The bureau also expects officers to use only "the objectively reasonable force necessary based on the totality of circumstances," according to its policies.
Detectives from the Homicide Division responded to the scene to investigate the officer's use of force. Police also contacted a deputy district attorney from the Multnomah County District Attorney's office to help with the investigation.
Police did not identify the officer under investigation. The bureau said it would make the officer's name public within 15 days, under its new policy that delays the release of the name of an officer involved in the use of deadly force.
©2023 Advance Local Media LLC.
Visit oregonlive.com.
Distributed by Tribune Content Agency, LLC.
RELATED: Why it is just as important to document force avoidance as it is to document the use of force
McClatchy-Tribune News Service