Man steals Conn. PD cruiser, flees the scene, crashes into diner
Officers were investigating a carjacking in the area when the man stole the police SUV and a pursuit ensued
---
By Mike Mavredakis
Hartford Courant
BRISTOL, Conn. — The Bristol Police Department identified the 39-year-old man who allegedly stole a Bristol police vehicle as officers were investigating a carjacking, fled the scene and crashed into a diner on Thursday.
Around 12:18 p.m., Bristol police were investigating the carjacking in the area of Davis Drive when a Bristol police SUV was stolen, shots were fired and a pursuit ensued, police said.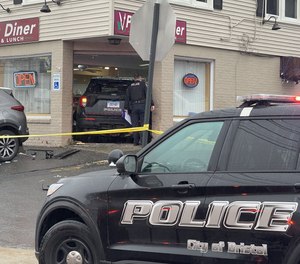 The driver, identified as 39-year-old Jimmie Shoemaker-Gonzalez, crashed the police vehicle into the front entrance of Palma's Diner at 100 Stafford Ave. in Bristol where he was arrested, according to police.
Earlier Thursday, the Farmington Police Department said it received a motor vehicle complaint involving a Dodge Durango in the area of Scott Swamp Road ( Route 6) near the Bristol town line. While en route to the scene, the Durango reportedly crashed into a rock wall at the entrance of an apartment complex near Brookshire Lane. The driver abandoned the Durango, which Farmington police later confirmed to be stolen. The suspect then unsuccessfully tried to steal two cars at knifepoint from the apartment complex before carjacking a 2019 Toyota RAV4, according to Farmington police.
A 27-year-old man from Farmington sustained minor injuries during the incident and was transported to Bristol Hospital for treatment, Farmington police said.
The carjacking suspect then fled in the stolen Toyota and drove toward Bristol, according to police.
It's unclear how Shoemaker-Gonzalez ended up in a police vehicle.
Nearby witnesses said they heard a speeding vehicle coming down Brook Street and then heard a loud crash as the stolen police vehicle crossed over Stafford Avenue and hit the restaurant.
Palma's Diner said everyone inside at the time of the crash was safe "despite being shaken up by all of this," in a Facebook post on Thursday.
"At the moment we don't know when all of this will be resolved or when we will reopen," the diner said in a post. "Since everyone is safe this is of little concern to us."
Bristol Public Schools placed Bristol Eastern High School, Stafford Elementary School and Edgewood Elementary School into a secure school procedure as a precaution due to police activity in the area. The secure school was then lifted and school activities were resumed, according to Deputy Superintendent Michael Dietter in a message to parents.
Shoemaker-Gonzalez was charged with first-degree larceny and is being held in lieu of a $1 million bond, according to Bristol police. He is currently awaiting arraignment at New Britain Superior Court.
The incident is under investigation by the Connecticut State Police and the Office of Inspector General.
©2023 Hartford Courant.
Visit courant.com.
Distributed by Tribune Content Agency, LLC.
McClatchy-Tribune News Service