Bravery behind the badge: 6 times cops saved lives in 2016
There are many citizens who will be enjoying Christmas this year thanks to the courage and decisiveness of these knights in blue
---
In 2016, we witnessed many heroic police actions that proved to be the difference between life and death. Every Christmas there are those who would not be around to celebrate the holiday if not for the courageous actions of police officers. There is an abundance of heroism displayed every year by our brothers and sisters, and below are only a handful of the many stories of bravery from 2016.
Braving the flames
On February 10, 2016, Missouri Trooper Jim Thuss arrived at the scene of a crash and found a Honda Civic on fire. The driver, Becky Crawford, was badly injured and trapped behind the wheel. Without hesitation, Thuss crawled in and pulled Crawford out of the burning car. Shortly thereafter, he and an off-duty Johnson County deputy team-carried Crawford up a hill to safety as the car exploded into a ball of flames. Ron Crawford, Becky's husband, said, "There's no question in my mind that if he had not taken that action, she would not be with us today. He had only seconds to rescue her and he did. He's a genuine hero."

Stopping a workplace rampage
On February 25, 2016, an assailant entered Excel Industries, where over 200 employees were hard at work, and opened fire. He killed three people and wounded 14 – 10 of them critically. Hesston Chief of Police Doug Schroeder rode to the sound of the gunfire and immediately engaged the shooter in a gunfight. The assailant died, with weapons and ammo pouches still loaded. Schroeder saved many lives.

Back from the light
There is a time honored warning given by many veteran cops to rookies: When bad things happen, they come in threes. This proved true for Officer Brian Strockbine of Evesham Township, New Jersey. Strockbine responded to three bad incidents in just 10 days. In each case, the bad circumstances had a happy ending. Officer Strockbine handled each call with a calm professionalism and managed to save three lives.
On March 8, 2016, Officer Strockbine arrived at the scene of a woman down on a lawn. He discovered a badly beaten victim of domestic violence without any vital signs. Strockbine immediately started CPR. After three long minutes, she began breathing on her own. Thanks to Strockbine she survived.
In another incident a few days later, Strockbine broke out the window on a car, which was on fire, and rescued the man inside.
Just five days later, Strockbine performed CPR on a woman and brought another soul back from the light.
Officer Strockbine, a true hero, said he was appreciative of these challenges because they reminded him about why he wanted to be a cop – to protect and serve.

Courage in the face of a massacre
On June 12, 2016, an assailant who pledged allegiance to ISIS entered the Pulse nightclub in Orlando, Florida and opened fire – turning the revelers' night of joy into a nightmare. The terrorist was prepared for a massacre – the packed environment created the perfect killing ground. Omar Mateen moved among his victims, killing at will. Orlando officers were on scene quickly, and by pressing Mateen, they changed the dynamics of this active shooter incident into a barricaded hostage-taker.
During negotiations, Mateen told negotiators the attack was a response to the recent killing of ISIS leader Abu Wahib. After two hours of negotiations, Mateen told a negotiator he was going to strap explosives on four hostages and blow them up. This promise inspired the SWAT team to create a breaching hole in one of the walls of Pulse. Mateen engaged the SWAT officers entering the club in a blazing gunfight, and SWAT prevailed. Many hostages were rescued.
Tragically, however, 49 innocents were killed by Mateen and 53 were wounded. Officer Michael Napolitano was wounded during the rescue when one of Mateen's bullets hit his Kevlar helmet and fragmented, hitting the officer in the eye.
As terrible as this terrorist attack was, it would have been worse if not for the courageous intervention by members of the Orlando Police Department.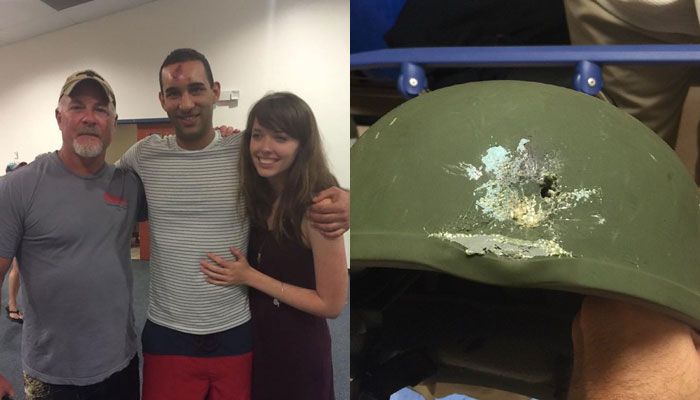 Pictured is the helmet that saved Officer Michael Napolitano's life and Napolitano sporting a big smile while in recovery. (Photos/Facebook, Orlando PD)

Under fire in Dallas
On July 7, 2016, members of the Dallas Police Department and the Dallas Area Rapid Transit were overseeing a protest in Dallas, Texas. During this demonstration, an assailant, Micah Xavier Johnson, intentionally targeted and opened fire on several Dallas police officers. As the nation watched this incident unfold, it was clear that as the bullets were hitting demonstrators, the officers on scene placed themselves in harm's way to shield protestors and direct them to safety.

The assailant was eventually driven to barricading by at least a dozen officers returning fire, but not before he killed five police officers and wounded seven police officers and two civilians. While trapped and surrounded, the assailant held a position of advantage. Any tactical team attempting to take him into custody would be required to enter the fatal funnel.
Chief David O. Brown made a ground-breaking call. He approved the use of a robot to carry explosives to the assailant. The detonation of those explosives ended the carnage. We salute Chief Brown, who preserved the life of his officers by using all means available to stop the deadly threat.
Police1 also offers a tearful salute to the bravery of the men and women of the Dallas Police Department and Dallas Area Rapid Transit, who risked and gave their lives to protect the lives of these demonstrators. 

Quick action on campus
On November 28, 2016, an assailant known as Abdul Razak Ali Artan deliberately drove his car into a crowd of students on campus at Ohio State University. As the vehicle came to a stop, the assailant exited and began slashing everyone in his path until he was stopped by Officer Alan Horujko, an Ohio State University police officer, who happened to be on scene. Thanks to Officer Horujko, no innocents died on that square.

These are only a few of the many stories about the courage exhibited by American law enforcement officers across this nation. Suffice it to say, there are many citizens who will be enjoying Christmas this year, embraced in the love of their families, thanks to the courage and decisiveness of the 'Knights of Christmas.'