UAS operations: Which FAA regulation is best for your police agency?
Determining which regulatory option is best for your agency and, more importantly, the type of operation, can be challenging
---

Editor's note: Law enforcement agencies nationwide are adopting unmanned aerial systems (UAS) – also known as drones – for operations as diverse as search and rescue, traffic accident reconstruction and SWAT response. PoliceOne's special coverage series – 2018 Guide to Drones in Law Enforcement – takes an in-depth look at considerations for police departments looking to implement a UAS program.
By Andy Osantowske, P1 Contributor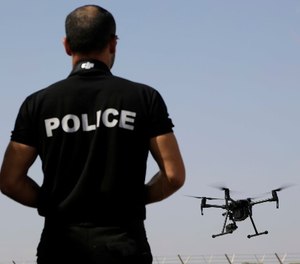 Law enforcement agencies and first responders are increasingly turning to unmanned aircraft systems (UAS) to accomplish their missions. This emerging technology, however, quickly thrusts an organization into dealing with a federal agency they would have otherwise not interfaced with: the Federal Aviation Administration (FAA).
Determining which regulatory option is best for your agency and, more importantly, the type of operation, can be difficult when picking between two paths that weren't necessarily designed for use by public safety and governmental organizations.
The role of the FAA
First, it is important to understand that the FAA is responsible for the safe and efficient flow of air traffic throughout the United States. This means, through federal law, the FAA is responsible for all things capable of sustained flight, starting at the surface and extending for miles above your shoelaces.
Respecting this federal authority when implementing an unmanned aircraft program will make your operations safer for those on the ground, as well as the flying public.
Option 1: Part 107
The first option available to agencies is Part 107. This was a new section added to aviation regulations by the Small Unmanned Aircraft System (sUAS) Rule in late 2016.
Overnight, this rule opened up the uncontrolled, low-level airspace across the nation for individuals who pass an aeronautical knowledge exam (for a cost of around $150) to become a certified remote pilot (there is another certification avenue for existing pilots of manned aircraft).
Once armed with this new type of operating certificate, individuals and organizations can launch unmanned aircraft without a notification, flight plan, or approval, as long as they remain in uncontrolled airspace.
For operations inside of controlled airspace – generally near busier airports – an authorization is required before operations can occur.
While it is true this new rule allows for regular unmanned aircraft operations – especially for photographers and realtors – at times, it can be limiting for law enforcement operations, where missions often occur outside of clear weather and aren't always during the day.
Several of the limitations contained within the Part 107 rule can be relaxed by applying for, and being granted, a waiver by demonstrating your operation meets or exceeds prescribed safety standards.
These safety standards can be found at the Request a Part 107 Waiver or Operation in Controlled Airspace page on FAA's UAS website.
Approved waiver requests take time – usually months – to get back from the FAA, although the processing time has continually decreased since the introduction of Part 107.
Additionally, depending on your agency's location or jurisdiction, obtaining airspace authorization to access locations near an airport can take longer than waivers, although new technologies are being developed to provide more timely approvals.
Option 2: Part 91 COA
The second regulatory option is called a Public Operator Certificate of Authorization, commonly referred to as a Part 91 COA.
For many years leading up to the enactment of Part 107, this was the only real regulatory vehicle for any individual to operate unmanned aircraft in the U.S.
Today, the main benefit of a Part 91 COA over Part 107 is the ability for more flexible operations, especially when near an airport or in controlled airspace.
The applicant's entire program is considered when applying for this authorization, including how the pilots will be certified, operating environments, and procedures for obtaining access into airspace with local air traffic facilities.
The thought of having an entire program approved can be enticing, versus the piecemeal approach that Part 107 can seem at times. However, this process can be extremely lengthy – especially when waiting for the Public Declaration letter to be approved.
This declaration letter is a litmus test to prove an organization has jurisdictional authority and is required for any organization who wishes to be recognized as a public aircraft operator, which is loosely defined as a government entity and/or organization who will not be operating for compensation or hire.
Absent any other certificates or approvals, no operations can commence until the entire package is approved, which can be a period of months from start to finish.
FAA enhancements making Part 107 more enticing
Recent enhancements by the FAA are starting to swing the momentum toward Part 107 operations by public operators.
First, the Low Altitude Authorization and Notification Capability, or LAANC (pronounced "lance") for short, can provide instant authorization to operate in controlled airspace if the operation is within altitude and location parameters according to an airport's UAS facility map.
This system is currently in its initial testing phase at a number of locations and according to FAA and industry partner press releases, the testing is progressing well.
I personally tried the system out once the initial set of airports came online and was granted authorization in a matter of seconds.
Secondly, the release of the FAA's new UAS portal – DroneZone – allows organizations to maintain access to their Part 107 applications and documents. Previously, a single individual within the department may have been tasked with filing these documents and, because it was in their name, when they left, so did those approvals. This is no longer the case with the ability to assign multiple program administrators for a single organization.
Deciding between regulatory options can be difficult, especially when your organization's leadership is questioning why it is taking so long to get approvals to operate. Why not pursue both? For example, this technique has worked out well for agencies that first obtained a Part 107 Remote Pilot Certificate for immediate access into uncontrolled airspace and then listing that certification method for the COA aircrew qualifications. By using this technique, a police department could open up some airspace in its jurisdiction to conduct missions while waiting for the other approvals to be processed.
Whatever regulatory option your organization decides to move forward with, remember that you are operating an aircraft and you are a pilot, even though your feet are firmly planted on the ground. Fly safe!
---
About the author
Andy Osantowske is Senior Unmanned Systems Analyst at PropelUAS™ – a Division of Evans Incorporated.