5 injured in shooting at 600-person party in Texas
Witnesses told police fireworks were set off in the park's center followed by about 30 rounds of gunfire
---
Kaley Johnson
Fort Worth Star-Telegram
FORT WORTH, Texas — Five people were injured during a shooting at a crowded southeast Fort Worth park on Sunday, according to MedStar and police.
Two people were critically wounded and three had non-life-threatening injuries in the shooting at a party about 10:30 p.m. at Village Creek Park, Fort Worth Officer Buddy Calzada said. Police didn't release the ages of the victims. MedStar said they were all adults.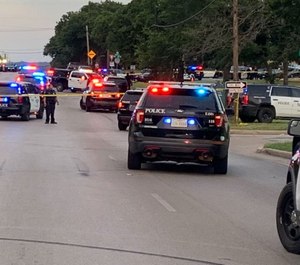 About 600 people were attending the party in the center of the park, according to police. Witnesses said fireworks were set off in the park's center followed by about 30 rounds of gunfire, Calzada said. Police were called out to the park at 10:59 p.m.
First responders found five people injured. No arrests were announced Sunday night, and authorities were investigating who fired the shots and why.
State and federal authorities are assisting in the investigation, Calzada said, and among the Fort Worth Police Department, the gang unit is taking the lead. Homeland Security and the Special Response Team were combing through the park Sunday night for evidence, he said.
The crowd had gathered in the park despite local and state government orders discouraging large gatherings during the coronavirus pandemic.
"We've tried to work with everybody to try not to cite them or ticket them, but ultimately people have a choice, and that's just the choice they made tonight," Calzada said. "Our job as the police is to investigate exactly what all took place here from beginning to end."
Police were in the area when the party was going on, Calzada said, but he could not say whether or not any officers were at the gathering when the gunfire began.
McClatchy-Tribune News Service