Dallas sniper attack: 5 lessons for cops from the fire-rescue response
While we typically look at an event like the Dallas attack through a law enforcement lens, it's important for us to look outside of our own profession for insights
---
On July 7, 2016, five Dallas police officers were killed and seven others wounded by an attacker who fired upon them during a protest march. Two citizens were also wounded by the rifle-armed assailant before he was killed by police with an explosives-laden robot.
The Dallas sniper attack resulted in more police deaths and injuries than any other attack since 9/11, and the attempt to salvage actionable lessons from the event is ongoing in the law enforcement community.
It's critical for law enforcement to recognize that our fellow public safety professionals from the fire and EMS communities were an integral part of the response that night, and there are many lessons to be learned from their experience. While we typically look at an event like the Dallas attack through a law enforcement lens, it's important for us to look outside our profession for insights and knowledge.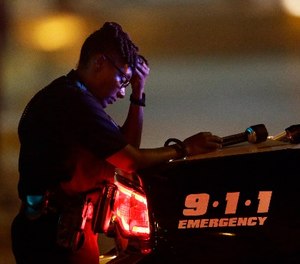 During the 2017 CopsWest Training and Expo, hosted by the California Peace Officers Association, Dallas Fire-Rescue Battalion Chief Tami Kayea shared insights with the audience on the fire/EMS response to the Dallas sniper attack, which included the following:
1. The importance of incident command
When Chief Kayea arrived on scene in the early minutes of the event, her first priority was to find the law enforcement command post so that a unified command could be established.
Confusion and security concerns at the still-developing scene prevented her from doing this, but Chief Kayea was able to establish a fire-rescue command post on Elm Street, one block east of the attack site, which served as the on-scene commander for all fire/EMS assets during the event.
The command post allowed Chief Kayea to establish priorities, direct and account for personnel, and properly allocate scarce resources. It also allowed Chief Kayea to establish a measure of control and coordination during a chaotic situation, which improved the response to this complex event.
Fortunately, a deputy chief that arrived later was able to locate the law enforcement command post and establish a unified command, while Chief Kayea continued in command of the fire/EMS operations. The resulting division of labor promoted efficiency, and ensured a high level of coordination between all players.
Our fire/EMS brethren have a rich history of using the Incident Command System (ICS), and law enforcement would be wise to learn from their experience in using this powerful organizational tool.
Dallas Fire-Rescue leadership and personnel were used to working within an ICS environment, and their familiarity with the structure allowed a quick transition to ICS-directed operations. The improvements in communication, efficiency and coordination afforded by ICS were ably demonstrated in the Dallas attack, and serve as an important example for law enforcement personnel faced with similar emergencies.
2. The importance of planning
Dallas Fire-Rescue implemented its Civil Disturbance Plan at the outset of the attack, using it for the first time in an operational environment.
The Civil Disturbance Plan created a separate fire department within a defined perimeter around the event. A dedicated dispatcher handled all calls for service within the perimeter, and specific fire-rescue assets were dedicated to the zone. These assets acted under the control of the Elm Street command post, which also controlled access to the zone – no fire-rescue assets entered or exited the perimeter without coordination with Elm Street Command.
This plan was used with great success during the Dallas attack, and allowed Chief Kayea to effectively manage both the attack response, and routine calls for service within the perimeter.
Chief Kayea admits that fire-rescue leaders didn't have a high level of familiarity with the plan, but they were able to successfully implement this unproven strategy when the crisis occurred. This is a testament to the value of preplanning efforts. Having a plan in place – even an untested one – can encourage a more comprehensive, coordinated and effective response.
Law enforcement leaders should consider having basic response plans in place for high-profile targets or high-visibility events where an attack is likely. These plans should consider issues such as:
Entry/egress points;
Floorplans;
Selection of command post or casualty collection point locations;
Staging area locations;
Emergency vehicle parking;
Best locations for police scout/sniper teams;
Traffic control;
Security measures.
Any work done in advance eases the burden on responders when an emergency kicks off. Even if tactical circumstances dictate significant changes to the basic plan, it helps to have a place to start from.
3. The importance of communications
Good communications are vital to successfully resolving an incident like this, and the Dallas attack provided many lessons in this area.
Implementing the Civil Disturbance Plan allowed Dallas Fire-Rescue to dedicate a tactical dispatcher to handle all calls within the perimeter. Relieving the dispatcher of external responsibilities dramatically improved the effectiveness of radio communications during the event.
Cell phones were used for some sensitive communications during the event in lieu of the radio, as the radio was not a secure medium. It's easy for prepared attackers to monitor radio communications and derive important intelligence from them, so a secure communication capability is important. Cell phones may not be available in a critical incident due to network overload or tower damage, so agencies should investigate and prepare other means of reliable, secure communications in advance.
Staging operations were coordinated on the same radio channel used for operations during the Dallas attack. Chief Kayea noted that this burdened the tactical frequency and, in retrospect, she would advise using a separate channel to coordinate staging efforts.
Mobile Data Terminal (MDT) software and protocols were found to be lacking during the event. The MDTs used by Dallas Fire-Rescue place new entries at the top of the stack and automatically advance the screen to the top of the page when a new message comes in. This created problems for personnel who were reading an older message when a new message arrived. It was difficult to return to the old message and read it with a constant influx of new messages resetting the screen.
More important, the MDT does not segregate information by priority, so critical entries were frequently lost amongst the flood of routine/administrative messages.
Managing the high volume of MDT information was problematic in the Dallas attack – there were 481 lines of information on the MDT (versus five in a typical emergency), and sorting out the wheat from the chaff was extremely difficult and labor intensive.
Improved MDT software that could "triage" information based on its importance is a pursuit worth considering, based on the Dallas experience.
4. Police transport of victims
Four of the five law enforcement officers killed in the Dallas attack, and one of the citizen casualties, were transported by police. Because it was difficult to secure the rapidly-changing scene and get rescue assets to the wounded, officers made the decision to transport victims directly to hospitals in police vehicles.
Chief Kayea notes that there are many advantages to this procedure and it is often the best choice. However, she also notes that agencies should establish policies and provide training to assist officers in making good decisions on whether to transport a victim. A suitable policy must address:
The types of injuries that warrant direct transport instead of waiting for fire/EMS; 
Coordinating the transport to ensure that the victim is transported to a facility with the appropriate level of care;
Coordinating the transport to ensure that one facility is not overloaded – it's important to spread out the load amongst several facilities in a mass casualty incident to avoid breakdowns;
Coordinating the transport to ensure it's preferable to bringing the victim to available fire/EMS assets nearby;
Minimum manning for a transport operation – one officer to treat the victim while the other drives.
Implementing policies and training in this area will aid officers in making a better choice during a high-stress situation, and will also help to protect the agency and officers from potential liability.
5. The importance of critical incident stress management
Critical events like the Dallas attack subject public safety personnel to high levels of stress. Police, fire and EMS personnel not only have to deal with the risk of personal injury, they also carry the burdens of seeing innocent parties injured or killed.
Organizations must understand that critical events can affect personnel for a long time after the incident. Many agencies are good at providing counseling or help for responders in the immediate aftermath, but few take a long-term approach to managing the stress caused by critical incidents.
It's important for leaders and personnel to understand that everyone in the organization has a duty to look out for the health and safety of their fellow employees, and to pay particular attention to behaviors that indicate someone might be struggling with depression or stress triggered by critical incidents or just the everyday rigors of the job.
Agency leaders need to ensure resources are always available to help someone who needs it, and that agency policies such as scheduling, pay and sick leave are supportive of members who seek this assistance.
Agency leaders also need to consider the families of public safety personnel. The families themselves are frequently affected by the stress of the job, and may need access to help or care as well. Additionally, they need to be part of the solution when their spouse/parent/child is struggling with job-related stress or depression.
It's a basic responsibility of every agency, and of every employee in that agency, to care for members of the team and their families. The painful experience of Dallas helps to remind us of this long term obligation.
In closing
I'd like to thank Battalion Chief Kayea, the Dallas Fire-Rescue Department and the California Peace Officers Association for providing this valuable opportunity for members of the law enforcement community to learn from the experience of the Dallas attack.
It takes a lot of effort to distill these lessons and turn them into actionable items, but we owe it to the public we protect, and to each other, to pay attention to them. There will always be a "next time," and we need to ensure we are ready for it.

God bless you all, and be safe out there.