Las Vegas mass shooter accidentally locked himself out of 2nd arsenal, retired officer says
Sgt. Ashton Packe (Ret.) says the gunman's fumble prevented a horrific massacre from being even worse
---
By Suzie Ziegler 
LAS VEGAS — The 2017 mass shooting at a Las Vegas concert left 60 dead and, according to one responding officer, it could have been even worse.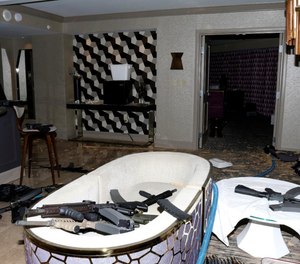 Ashton Packe, a now-retired Las Vegas police sergeant, says gunman Stephen Paddock accidentally locked himself out of a side room where he was storing his heaviest artillery, reported Law&Crime. According to Packe, investigators believe Paddock may have been planning an ambush on law enforcement. 
Packe made the comments last week in an interview with Coptales and Cocktails, a podcast about law enforcement. Packe says police believe that when Paddock broke multiple windows to carry out the shooting from his 32nd-floor hotel room, a draft of air caused the connecting door to shut. Paddock had stored .308 rifles and his hotel key card on the other side, Packe explained. 
"What we probably guesstimate was that he was going to use [the heavy guns] to try to ambush our SWAT officers," Packe told podcast hosts Sgt. Sean Larkin and Howard Doss. "I don't want to call it a miracle, but if there's anything positive in the energy of the universe that night, it was just a little bit of physics and that wind shut that door on him." 
Responding officers found Stephen Paddock dead of a gunshot wound after the mass shooting on Oct. 1, 2017. 
NEXT: Katherine Schweit on how to end mass shootings