'Multiple fatalities,' injuries after shooter opens fire in Va. Walmart
Chesapeake police believe "less than 10" people have died, after officers sent rescue and tactical teams inside to render aid
---
Update at 1:03 a.m. EST
Associated Press
CHESAPEAKE, Va. — Multiple people are dead and others are wounded after a shooting at a Virginia Walmart on Tuesday night, police said.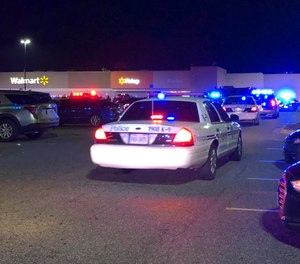 Officers responded to a report of a shooting at the Walmart on Sam's Circle around 10:15 p.m. and as soon as they arrived they found evidence of a shooting, Chesapeake police spokesman Leo Kosinski said in a briefing.
Over 35 to 40 minutes, officers found multiple dead people and injured people in the store and put rescue and tactical teams together to go inside and provide life-saving measures, he said.
Police believe there was one shooter, who is dead, he said. They believe that the shooting had stopped when police arrived, Kosinski said. He did not have a number of dead, but said it was "less than 10, right now."
The Virginia shooting comes three days after a gunman opened fire at a gay nightclub in Colorado, killing five people and wounding 17. That shooter was arrested after patrons at the club tackled him and beat him. The shootings come in a year when the country was shaken by the deaths of 21 in a school shooting in Uvalde, Texas.
Tuesday's shooting also brought back memories of another shooting at a Walmart in 2019, when a gunman police say was targeting Mexicans opened fire at a store in El Paso and killed 22 people. Walmart didn't have a security guard on duty that day.
Chesapeake police tweeted that a family reunification site has been set up at the Chesapeake Conference Center. This site is only for immediate family members or the emergency contact of those who may have been in the building, the tweet said.
Chesapeake is about 7 miles (11 kilometers) south of Norfolk.
ORIGINAL STORY:
By Rachel Engel
Editorial Staff
CHESAPEAKE, Va. — Police responded to calls of an active shooter around 10:12 p.m. at an area Walmart and a Chesapeake Police Department spokesperson said that officers found "multiple fatalities and multiple injured parties."
A deceased individual was found outside the entrance of the store.
The police spokesperson said he believed "less than 10 people" had died in the shooting, WJLA reported. The shooter is also deceased, officers said.
The incident is under investigation.  More than 40 emergency vehicles responded to the scene.
The Washington division of the Bureau of Alcohol, Tobacco, Firearms and Explosives (ATF) tweeted they would be assisting in the investigation.