Rapid response: LE considerations after the Highland Park parade attack
The amount and specificity of specific skills training must be increased in regularity and intensity for all sworn officers from recruit to chief of police
---
This is not a critique of the police response to the Highland Park July 4 parade shooting. The officers involved in that incident shined, moving quickly to the sound of the guns, through the screaming throngs to immediately search for and rapidly apprehend the suspect. They should all be applauded for their response to the most difficult of situations. This attack, however, provides an opportunity to reiterate points that every street officer and commander should be reminded of regularly.
Pre-event sweep
Before public gatherings like parades, concerts, graduations, school dances, etc., conduct a pre-event sweep. This can be a thorough search by an assigned officer, or better yet, with a specially trained K-9 team. You are looking for propped doors, stashed weapons, explosives, suspicious persons, or sniper hides high and low, like roof-tops and sewer grates to name a couple.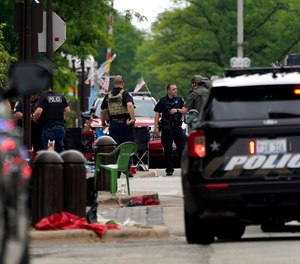 Control the high ground with a protective overwatch
By turning the "high ground" overlooking an event to a trained counter-sniper/observer team, you are not only denying those vantage points to a killer, but you also are putting into place a powerful security force. This team will have the optics necessary to observe the crowd to spot threats early and identify them for units on the ground. In the worst-case scenario, this team has the means and capability to neutralize deadly threats as well.
RELATED: Training for public venue sniper deployments
Intense, ongoing training
The amount and specificity of training must be increased in regularity and intensity for all sworn officers from recruit to chief of police. 
Specificity means more stress shooting with specific skill development including:
With all duty (including long guns) and off-duty weapons.
With noise distractions (screams, sirens, etc.)
Shooting with movement.
Reloading.
Malfunction clearing.
Decision shooting.
Accuracy drills with realistic targets.
Proper use of cover.
Much more live ammunition training, which is being diminished by agencies due to ammunition supply problems. These supply problems must be overcome for law enforcement to allow for more live ammunition training.
Greater danger exercises.
Officers should be made aware of the "greater danger rule." Officers are trained to consider the suspect's weapon, intent and delivery system, while officers consider their own:
Target identification.
Target acquisition.
Target isolation.
There must be extensive discussions during training about police response to active shooter incidents when many people are around. The "greater danger rule" declares that in these circumstances the murderer being free to continue shooting in a crowd presents a greater risk than a trained officer stopping the threat with a well-placed shot. Train to take such a shot during live-fire exercises configured safely.
"Gravy duty?" There is no such thing anymore
The Highland Park tragedy, as well as the Waukesha Christmas Parade attack, are watershed moments for re-thinking security. Officers must continually conquer complacency, but now more than ever, it must be eliminated during security details at what seems to be "mundane assignments." There is no such thing as an easy assignment or "gravy duty" as they used to be called, just serious "protection details." It is the duty of each officer at every scene to individually maintain a personal readiness and awareness every second of every event they are assigned to.
The possibility of you as a police officer becoming involved in a gunfight at a parade, movie theatre, school dance, church services, concert, or game has increased exponentially.
Off-duty carry
Every trained officer when off duty and every retired officer capable of doing so should carry concealed.
RELATED: Consider weapons, equipment, tactics when training for off-duty, plainclothes carry
Conclusion
It is natural for our eternal vigilance level to diminish the longer it is between critical incidents. Over time there is a tendency to believe it's not going to happen to me, especially not here and now. When you catch yourself slipping into that complacency, snap yourself out of it by mentally telling yourself, "Pay attention! It can happen here and now. If I'm not ready when it happens, then who will be?"
Therefore, Get ready! Be ready!! Stay ready!!!
Lives depend on you.
NEXT: How to avoid 'abject failure' in your in-progress mass murder response