How 2 Wis. police officers thwarted an ambush attack
The attacker baited his trap with an armed robbery call to Sheboygan PD, and was headed for his cover point that held a cache of backup weapons
---
I have written extensively about ambush attacks, and the problem continues to spiral out of control. In 2016, U.S. police agencies experienced 21 ambushes, and the cost in blue lives was terrible. The month of July was especially awful with five officers killed, seven wounded in Dallas on July 7, and three officers killed, three more wounded on July 17 in Baton Rouge. About 15 hours after the attack in Baton Rouge, another police ambush incident in Wisconsin reversed this trend.
At 23:32:34 hours, Sheboygan (Wisconsin) Police Department officers were dispatched to a robbery in progress call at the Union Avenue Tap, just a few blocks from the shore of Lake Michigan. Two Sheboygan officers quickly responded, peeked in a side window and saw nothing amiss – the bartender and four patrons calmly sitting at the bar, looking toward the side door. A follow-up report from dispatch told of an open phone line on 911 that revealed, "No one wants to die at the Union Avenue Tap."
The officers moved to the side (east) door just as a man dressed in camouflage began to exit, armed with an M4 carbine with an optical sight and suppressor. As the armed robber started to raise his slung carbine, fully loaded with a 90-round drum magazine, the officers fired a total of 13 rounds from their sidearms in 2.6 seconds, landing seven hits on their adversary and more on his weapon.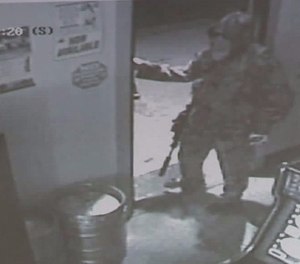 One of the officer's rounds entered directly into the muzzle of the attacker's suppressor, near perfect alignment. The attacker retreated into the bar without getting off a single shot. Total elapsed time from first radio dispatch to shots fired was 1 minute, 49 seconds.
Ambush interrupted
You might be asking, what makes this an ambush and not an armed robbery? While we will never know the attacker's intent with absolute certainty, the investigation and circumstances paint a picture of an ambush interrupted.
The attacker ordered the bartender to empty the till, which was spread onto the bar. He selected a couple of large denomination bills, leaving several hundred additional dollars in U.S. currency on the bar. He lingered long enough to make sure the police had been called before moving toward the side exit. His car, parked a half block away, contained more weapons and ammo beyond the 318 rounds of 5.56mm on his person. He also carried a large knife, a TASER and flex cuffs in his chest pouches.
This dude was loaded for bear, staged an almost meaningless armed robbery and was almost certainly headed for his car/cover to prepare for the arrival of the cavalry. It is not difficult to imagine the first-arriving officers cut down from the darkness as they arrived to the call, with a huge follow-on response in grave danger as they would attempt to rescue the initial, downed officers.
The attacker was a veteran of the U.S. Army, with a tour of duty in Iraq under his belt. He had been under treatment with Veterans Affairs for PTSD. His wife told them he had previously dressed in full camo and taken his rifle to the woods. She thought that was how he dealt with his stress, including this night. He had made previous statements about killing a lot of police officers.
Officers' response
Brandon, a 14-year veteran, serves as the entry team leader for the department's SWAT team.  The second officer, TJ, is a firearms instructor and a U.S. Marine with multiple deployments to the war on terror. Obviously, both officers were superbly trained, on high alert and willing to use overwhelming force without hesitation.
Immediately after the initial shooting, the robber took a position near the bar, covering the front door with his weapon, waiting for an opportunity to kill a cop. TJ covered the east door, where the shooting occurred, while Brandon moved to the front door. Brandon directed the bar's occupants out the front door to safety, entered just far enough to see the muzzle of the suspect's suppressor projecting from the shadows and waited, covering down on the threat location. The bartender had a gunshot wound to the arm (a ricochet off the suspect's weapon). An arriving backup officer applied a tourniquet to stop the bleeding.
Backup officers quickly joined Brandon and TJ, bringing M4 carbines to them for better firepower. After waiting more than 40 minutes, a flash bang was deployed with no response from the suspect. Brandon then lead an entry team who found the suspect dead, bled out but still in a firing position with his finger on the trigger.
What kept this incident from becoming a premediated ambush slaughter? Clearly, the attacker had armed himself heavily and prepped the kill zone. He baited his trap with an armed robbery call to Sheboygan PD, was headed for his cover point and had a cache of backup weapons/ammo.
Top takeaways
My read on this would-be ambush points to some deciding factors in the incident, factors which should be incorporated into any response where an ambush is possible. 
First, the response and arrival was fast. Having a short distance to travel was good fortune, and Brandon and TJ enhanced this by traveling silent (no lights or sirens) and not driving past the front of the establishment. Upon arrival, they took pains to get an inside view from the side, not the front windows. The seemingly unconcerned patrons were seen to be looking to the side door, so the officers immediately made that the focus of their attention, and that alertness gave them the element of surprise. Clearly, the attacker expected to have another minute or two before any officers arrived, which would have allowed him to reach his ambush position.
Second, both officers launched an instant and overwhelming deadly force attack once they saw a heavily armed threat attempting to bring his rifle into action. No hesitation, no quarter. Many of us have long been preaching military ambush survival tactics for a close ambush of police officers: counter attack into the ambush with overwhelming force.
Another important factor in the overall outcome of the incident was Brandon's decision to hold their positions and delay an entry. Once the innocents were evacuated from the bar, there was no reason to make entry on what they could see was a well-positioned barricaded gunman who refused to respond to verbal call-outs. Yet, at all too many scenes, we see patience fail and officers' lives needlessly endangered by a premature entry.
Effective joint response
This incident was handled as close to perfect as we are likely to see. No officers were injured. One innocent suffered a non-life threatening injury (and has filed suit), but a ricochet off the attacker's weapon is something no one could have anticipated or prevented. The scene management issues (perimeters and EMS staging) were handled quickly and professionally by a mutual aid response involving Sheboygan PD and sheriff's office personnel. A professional integrity task force handled the investigation and ultimately determined the attacker's intentions for that night.
In a previous ambush presentation, I said we must begin to find and debrief the winners of police ambush attacks, instead of merely analyzing the narratives in the FBI's annual LEOKA report. 
This was my first chance to debrief and learn from officers who won their ambush attack.  Let's find and learn from more winners like Brandon and TJ.