My first donut shop in uniform
There are defining, unforgettable moments in a police career. Among them: The first time you walk into a doughnut shop in uniform
---
By David Hunter, Police1 Contributor

This article was updated on 10/25/16.
There are defining, unforgettable moments in a police career. Among them are: The first time you pin on a badge; the first time you activate your blue lights and siren; the first arrest you make; and the first time you walk into a doughnut shop in uniform.
Well, the part about the doughnut shop may not be totally accurate, depending on where you started your police career. When I first became a patrol officer in Knox County, even the street lights ended at the city limits. On my first beat -- after midnight, at least -- the only businesses open were a half-dozen strip joints and taverns, one all-night market and no doughnut shops at all.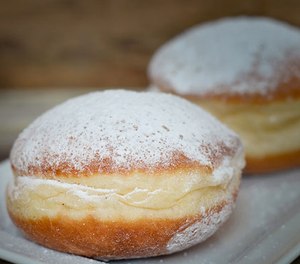 In the early days, particularly on the outskirts of my beat, I often saw more foxes, owls, 'possums and raccoons than people after the bars closed at 3:00 AM. That's all changed now, of course. The City of Knoxville has sprawled out into areas that were totally rural in my rookie days. The lack of doughnut shops and other all-night establishments out in the county was part of the reason for one of the more embarrassing situations of my police career.
It was just after six o'clock in the morning and I had just finished booking a drunk driver at the downtown jail. The late winter, usually February, is monsoon season in East Tennessee. It was still dark and the streets were glistening with rain when I drove past the bright, cheerful Dunkin Donuts shop where a Knoxville Police Department officer was sitting at the counter, drinking coffee and reading a newspaper.
Obviously, fate was telling me it was time to make my first appearance in a doughnut shop in uniform. I wheeled in, got out and strutted in like I had been doing it all my life. It was a great letdown, I must admit. The city cop looked up, apparently to see if he knew me, but seeing that I was a stranger, he went back to his paper. The young woman behind the counter didn't seem impressed with me either. Maybe she had seen too many cops to be impressed. She asked what I wanted in a bored manner and I told her a dozen regular with chocolate icing.
In no time it all, she had them boxed up. When she rang up my order I saw that I definitely had not gotten a police discount. Box in hand, trying to appear upbeat, I left with my doughnuts. Before I got to my cruiser, the rain began to fall in what we refer to in my part of the country as a "gully-washer." I was soaked all the way to the bone in seconds. When I reached for my keys, a sinking sensation hit me. The keys were in the ignition and the cruiser doors were all locked. My second set of keys was in the pocket of my windbreaker on the front seat. Remember, I was a rookie and hadn't learned that a minimum of three cruiser keys, with one stashed in a walled or badge case is a must for cops who didn't want to be embarrassed.
I could have called for assistance, of course, but the solution would have been worse than the problem if I had gone on the air to say I was locked out of my car at a doughnut shop in the city. The city cop undoubtedly had a lock-jock in his cruiser as I did, but asking him for help was not acceptable either.
Back inside the building, soggy doughnut box in hand, I quietly asked the clerk for a coat hanger. She went to the back and brought me one. I appreciated the fact that she didn't giggle.
It only took a few minutes to get inside the cruiser but it seemed like hours. I saw the city cop look at me, shake his head and smile to himself. Also, parked on a main road as I was, a few early morning commuters found it impossible to pass without acknowledging the soaked country cop opening his cruiser with a coat hanger. A couple of them honked their horns gleefully; one yelled something I didn't understand.
A short time later, I was on my way home, saturated with water and humiliated, boiling with rage. Then I saw my reflection in the side window. My hair was plastered to my head and droplets were running down my face. I began to laugh at myself and I felt better because sometimes that's all you can do.
Still, it was long time before I went to another doughnut shop in uniform.
---
About the Author
David Hunter is a retired detective and the author of several books. E-mail him at bear33@policeone.com.