Mo. dispatcher accused of stealing from fundraiser she started for paralyzed cop
April Briscuso was arrested on suspicion of stealing more than $750 meant for former Officer Craig Tudor
---
By Christine Byers
St. Louis Post-Dispatch
HAZELWOOD, Mo. — A police dispatcher celebrated for her efforts to raise money for an officer paralyzed in the line of duty was led out of police headquarters in handcuffs Monday amid an investigation into whether she pocketed some of the funds.
April Briscuso, 40, was arrested on suspicion of stealing more than $750 meant for former Hazelwood Officer Craig Tudor, but she has not been charged. She was released Monday afternoon from the St. Louis County Justice Center.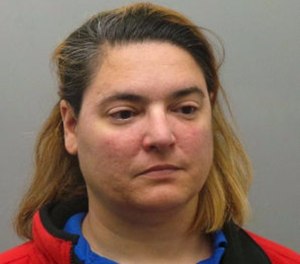 Hazelwood Police Chief Gregg Hall said he could not comment on the specifics of the ongoing investigation, so it's unclear how much money police believe the Tudor family has not received. The arrest was on suspicion of a class D felony, meaning at least $750 taken. The next most serious charge would be a class C felony, a theft of $25,000 or more.
In a Facebook message to a reporter, Briscuso said she had raised more than $75,000 on Tudor's behalf, but the injured officer said his family has received nowhere near that amount.
It's also unclear whether Briscuso will ultimately be charged, or if the matter will be resolved through restitution.
Hall said he asked St. Louis County police to handle the investigation. Hazelwood police officers also are conducting an internal affairs investigation. "This is not a resolved set of circumstances yet," Hall said.
Briscuso, who has been a dispatcher in Hazelwood for 11 years, was put on leave, though Hall would not say whether it is paid or unpaid.
In Facebook messages to a reporter, Briscuso said, "I'm getting it all to him" when asked whether she had given Tudor all of the money she raised in his name.
"I did a hell of a lot of work for him and raised over $75,000 plus time and work. I got desperate on my bills and used some money but had every intention on payin' him back... I am not a criminal ... I just made a mistake but plan on paying him every dime no question. He will not be betrayed by me."
But Tudor says he does feel betrayed.
"It's really not about the money for us, it's about the deceitfulness," Tudor said.
"This has been one tough year, and now we have to deal with a situation with someone who is supposed to be helping," Tudor added. "And when people hear stuff like this, they get apprehensive about other officers having fundraisers going on."
Fundraisers started after crash
Briscuso started raising money for Tudor almost immediately after he was paralyzed during a crash in August 2016 while he was responding to a call.
Fundraisers she has organized have involved dine-out events, a trivia night, a painting event and a Cardinals game. Tudor threw out a ceremonial pitch.
Cardinals spokesman Ron Watermon said the team sold Briscuso 331 tickets on consignment at $16 each, and they were then sold to attendees for $20 each. The team believed the money was to assist Tudor with medical bills and transportation costs when traveling to a hospital in Colorado for treatment.
"Needless to say, we had hoped to help someone in need who sacrificed a lot to protect our community," Watermon said in a statement. "It would be heartbreaking to learn that the funds did not go to help him."
Fellow paralyzed officers attended some of the events. Former Rock Hill Officer Mathew Crosby attended a "Paint Nite" event in June, and former Ballwin Officer Mike Flamion was among the 300 people who bought tickets to the Cardinals game in September. Flamion and Tudor went to the same spinal cord rehabilitation center in Colorado last year.
A Hazelwood police officer nominated Briscuso for KTVI's Pay It Forward program, which awards do-gooders a $500 gift certificate, and she was featured on Channel 2 about six months ago.
Tudor and his wife, Christine, say they haven't received any money from some events. For others they received some funds, but don't know how much, if any, was missing. Still, they say they are trying to focus on the positive.
"The grievous actions of one person cannot overshadow the incredible encouragement we have received from our friends, family and the greater community," they said in a statement. "Yes, we are hurt by what April has done, and saddened that she misled so many who came out to support us, but we choose to focus on the many blessings we have received over the past year. We want all who have steadfastly helped us to know that their efforts have encouraged us through the most difficult season of our life."
The Tudors said a GoFundMe account that was set up shortly after the crash is the only donation site that directly benefits them. It has raised about $34,000 in about 14 months.
©2017 the St. Louis Post-Dispatch
McClatchy-Tribune News Service