Pa. officer shocked with TASER during fight with suspect
Four bystanders jumped in to help the officer get the suspect handcuffed until Rostraver police arrived to help
---
By Renatta Signorini
Tribune-Review, Greensburg, Pa.
WEST NEWTON, Pa. — A West Newton police officer reported in court papers being hit by his own TASER during a fight with a shirtless and shoeless suspect in the street Tuesday night.
Police said Joseph Samuel Babilya, 31, of West Newton was under the influence of drugs. He was being held on $100,000 bail.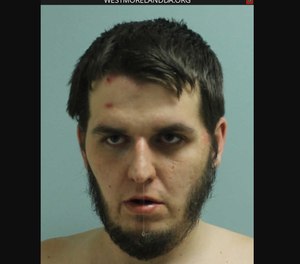 The incident started around 10 p.m. when Babilya was walking down the East Main Street hill and chased two people and yelled obscenities at two others. He tried to steal one of their cars and an altercation between Babilya and the driver spilled into the street with both wrestling in the middle of the road, according to court papers.
Babilya is accused of grabbing the driver's legally concealed handgun, but the driver knocked it out of his hands and grabbed it before he got back into his vehicle, police said. Babilya jumped in front of the vehicle in an attempt to prevent the driver from leaving, but his attention shifted when a borough officer arrived. Babilya jumped on the patrol unit, according to court papers.
The officer deployed his TASER three times unsuccessfully. A fight over the device ensued between the pair and Babilya grabbed the TASER, shocking the officer with it during the altercation, according to court papers.
Four bystanders helped the officer get the suspect handcuffed until Rostraver police arrived to help.
Babilya is charged with attempted robbery, aggravated assault, disarming a law enforcement officer, obstruction and several other related offenses. He was being held at the Westmoreland County Prison. A June 19 preliminary hearing is set. He did not have an attorney listed in online court records.
___
(c)2023 Tribune-Review (Greensburg, Pa.)
Visit Tribune-Review (Greensburg, Pa.) at www.triblive.com
Distributed by Tribune Content Agency, LLC.
McClatchy-Tribune News Service