'You were caught on scene red-handed': Judge denies bail for accused killer of Chicago officer
Steven Montano was seen by witnesses when he shot officer Andres Vasqeuz-Lasso in the head, arm and leg
---
By Madeline Buckley
Chicago Tribune
CHICAGO — An attorney for an 18-year-old man accused of shooting and killing a Chicago police officer earlier this month asked a judge Wednesday to set a reasonable bail, arguing that he didn't intend to kill a police officer and worked as a mentor to kids at a community center.
Cook County Judge Ankur Srivastava, though, agreed with a previous judge's ruling and held Steven Montano, 18, without bail in the slaying of Officer Andrés Mauricio Vásquez Lasso on March 1. Montano is charged with first-degree murder, two gun-related felonies and misdemeanor counts of interfering with a report of domestic violence.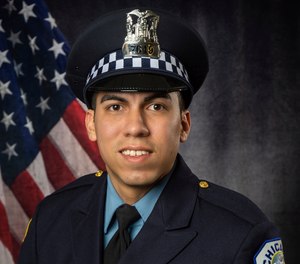 Prosecutors alleged that Montano shot and killed Vásquez Lasso after officers responded to domestic disturbance at his home in the 5200 block of South Spaulding Avenue in the Gage Park neighborhood. The charges were superseded by a grand jury indictment, and his case was referred to the chief judge's office for assignment to a trial judge.
"This is an incredibly tragic case," said Julie Koehler, Montano's public defender.
Montano appeared in court for the first time via Zoom, as he was still hospitalized during his bond hearing earlier this month. The judge revisited the question of bail because Montano was not present for the previous hearing.
Koehler said Montano worked with kids as part of a running club, running long distances to release aggression. She argued that Montano tried to comply with commands.
Assistant State's Attorney Anne McCord, though, countered that Montano did not stop to surrender.
"He turned and shot the officer on school grounds in front of children," McCord said.
Srivastava found that the allegations met a statutory requirement for a mandatory no bail determination, adding that witnesses saw Montano running from officers and that the shooting was caught on body camera.
"You were caught on scene red-handed," Srivastava said.
According to prosecutors, Montano threatened to get his gun while arguing with his live-in girlfriend, then grabbed her phone to stop her from calling 911 before the fight spilled outside.
Vásquez Lasso was among police who were called to the area, and he began chasing the suspect to a fenced-in area with a playground, prosecutors said. Both fired their weapons, with Montano hit in the mouth area and Vásquez Lasso in the head, arm and leg.
Children and other people on the playground took cover under a slide, according to prosecutors.
Vásquez Lasso was rushed to Mount Sinai Hospital where he died.
The officer was laid to rest earlier this month after police officers, family and friends mourned him during an emotional funeral service.
Friends and fellow officers described him as a loyal friend and dedicated officer. Vásquez Lasso, 32, immigrated to the United States from Colombia when he was 18 years old. He enrolled in college and joined the Chicago Police Department by 27.
Montano will next appear in court on April 5.
©2023 Chicago Tribune.
Visit chicagotribune.com.
Distributed by Tribune Content Agency, LLC.
EARLIER: Suspect charged after Chicago officer dies after shootout
McClatchy-Tribune News Service