Man who allegedly stole $200K in beehives across 5 states arrested
The investigation led to some tips and the 'sting' was set up, resulting in the arrest and a 'sweet' ending, the sheriff's office said
---
By Suzie Ziegler
BELLINGHAM, Wash.  — Authorities made an arrest earlier this month in a high-stakes heist that reached across state lines and involved hundreds of thousands of dollars. We're talking about honey bees, of course.
According to the Lincoln County Sheriff's Office, 56-year-old Perry David Bayes is suspected of stealing up to $200,000 in beehives from as many as 30 victims in California, Idaho, Montana, Oregon and Washington.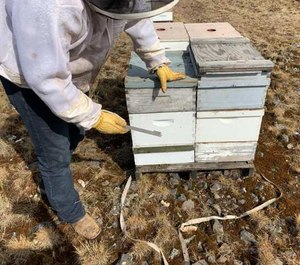 Officials say it's a class B felony.
The sheriff's office said the investigation began when it received a report from a beekeeper whose bees were stolen, reported the Associated Press.
"The victim went to retrieve his hives and they were gone," Lincoln County officials said in the report. "The investigation soon led to some tips and the 'sting' was set up, resulting in the arrest and a 'very sweet' ending."
This type of theft isn't unheard of. The sheriff's office says "beekeeper chop shops" are common in California and other parts of the country. Beehives are known to mysteriously disappear overnight. In 2017, a man was accused of stealing nearly $1 million worth of hives from almond orchards, The Associated Press reported.
"Bees are big money," Sgt. Arley Terrence of the Fresno County Sheriff's Office agriculture crimes unit told the AP in 2017. "There's a lot of motive to steal."