Video: Ga. cops' encounter in 'Borat 2' captured on bodycam
"I'm guessing someone's around filming, because the dude in the truck looks like Borat"
---
By Suzie Ziegler 
LILBURN, Ga. — The anticipated sequel to a brash Kazakhstani's American travels landed on Amazon Prime today. In the movie, actor Sacha Baron Cohen as Borat Sagdiyev places himself in real situations with sometimes unsuspecting people, says film news outlet Cinema Blend. Sometimes, those people are real cops. 
According to Cinema Blend, that's exactly what happened when a pair of Lilburn police officers responded to a suspicious vehicle call in January 2020. Body camera video of the encounter was posted to YouTube on October 21, days before the film was set to be released. That user doesn't appear to be associated with the Lilburn Police Department, so it's unclear how the bodycam video was obtained. 
In the video, two cops – identified by Cinema Blend as officers Alvey Lamb and Daniel Bride – approach a yellow truck. There's a woman strapped to the roof in a car seat. The woman is apparently actress Maria Bakalova, who plays Borat's daughter in the film, says Cinema Blend. 
 
The audio is low, but Lamb can be heard asking Borat for identification. Cohen's character takes out an "honor certificate," which he says proves his daughter is "one of my properties." 
Bride then asks to see a driver's license while Lamb walks across the street to speak with a curious passerby. 
"I'm guessing someone's around here filming, because the dude sitting in the truck looks like Borat," Lamb says to the bystander. "Somebody's goofing off." 
Lamb then walks back to Bride to confer about the driver's license. 
"He says he's from Kazakhstan," Bride says. 
"There's a camera around here and I'm not talking about the one on our chest. I didn't sign no waiver," Lamb says, laughing. "I ain't getting paid for it." 
The encounter seems to have made it into the movie, as it's featured briefly in the film's official trailer. Around the 0:46 time stamp, a Lilburn Police patrol car is clearly visible as two officers speak with Borat about the woman strapped to his truck's roof.

The Lilburn Police Department hasn't made an official statement about their cameo, but it appeared to confirm the encounter in a Facebook comment.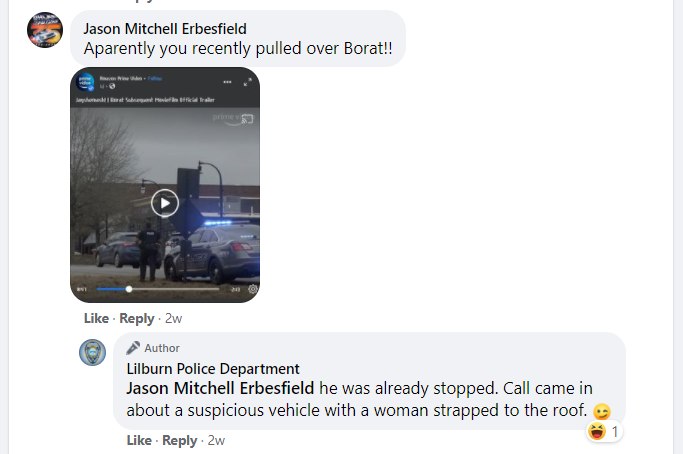 The movie, which is formally titled "Borat Subsequent Moviefilm: Delivery of Prodigious Bribe to American Regime for Make Benefit Once Glorious Nation of Kazakhstan," is now streaming on Amazon Prime.