Wash. deputies stopped a man who stole a backhoe, aimed to level an animal shelter
Ferry County deputies shot out the tires of the backhoe after the suspect refused to stop driving toward an animal shelter where his dog had been impounded
---
By Emma Epperly
The Spokesman-Review
SPOKANE, Wash. — Ferry County deputies shot out the tires of a stolen backhoe Tuesday after the suspected thief refused to stop driving toward an animal shelter he intended to knock down, according to the sheriff's office.
Clinton Caress was arrested on suspicion of theft. Additional charges are likely, Sheriff Ray Maycumber said.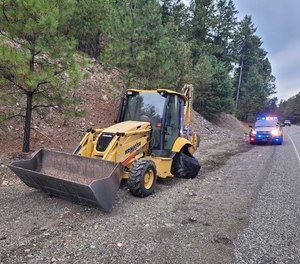 The Ferry County Sheriff's Office received a 911 call from a contractor reporting that Caress had stolen a backhoe from the Catherine Creek Area, near Curlew, Washington.
The man intended to drive nearly 30 miles to Republic and knock down an animal shelter where his dog had been impounded, the sheriff's office wrote in a Facebook post.
Deputies arrested Caress for outstanding warrants in Western Washington, Maycumber said. Caress couldn't find anyone to take his dog for him and refused to come to an agreement with a local shelter for boarding, Maycumber said.
The shelter had no option but to impound the dog, Maycumber said. A few days later, Caress returned after dealing with his court case and tried to get his dog back.
The shelter agreed to return the dog once the impound hold was over on Friday. Caress got angry with staff and deputies were called to trespass him, Maycumber said.
Shelter employees said Caress could return Friday only to retrieve his dog.
After receiving the report of the stolen backhoe, deputies responded and, with help from Border Patrol, located the backhoe a few miles from where it was reported stolen.
Caress refused to pull over, deputies said. When the backhoe came to within a mile of the shelter, deputies closed the road and shot 12-gauge buckshot into the backhoe's front tires.
The use of the shotgun was discussed between deputies, Maycumber said. Shots were only fired at the tires, he added.
The backhoe slowed slightly but continued to move forward until deputies flattened the back tires as well. The backhoe continued forward until the tires separated form the wheels.
Struggling to control the heavy machinery, Caress pulled off the road and surrendered.
Due to the "novel" use of force, Maycumber asked the Stevens County Sheriff's Office to conduct a use-of-force review.
___
(c)2023 The Spokesman-Review (Spokane, Wash.)
Visit The Spokesman-Review (Spokane, Wash.) at www.spokesman.com
Distributed by Tribune Content Agency, LLC.
McClatchy-Tribune News Service