How to help Calif. wildfire first responders
Here are some ways you can give back to first responders who are responding to the wildfires, often as they lose their own homes
---
The epic scale of destructive wildfires wreaking havoc in California continues to take a devastating toll on human life and property. Our thoughts are with all of the public safety professionals responding to these historic and frightening fires. Firefighters from at least 17 states have equipment and personnel on their way to California, where our brave brothers and sisters are working tirelessly on firefighting, rescue, recovery and relief efforts that most of us can barely fathom.
While the response continues, the road to recovery will be long and arduous. Many of these responders have lost their own homes and even family members to the destruction. The scale of this still unfolding tragedy and recovery mission eclipses any we have witnessed in decades, if not ever. We invite you to support charitable funds specific to the recovery needs of first responders.
— Chief Marc Bashoor, FireRescue1 Executive Editor
By Rachel Engel
First responders across the state of California have been contending with one of the most active wildfire seasons, including the Camp Fire, which is now the most destructive and deadly in the state's history.
The Camp, Woolsey and Hill fires have prompted firefighters from 17 states to travel to California in hopes of bolstering the resources of local departments to contain the flames.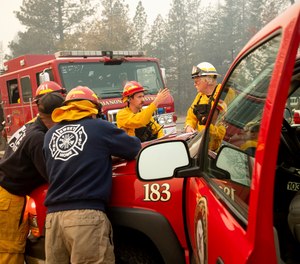 As first responders brave the worst nature has to offer to save neighbors' lives and property, many have had to leave their own families to fend for themselves or watch as their own homes go up in flames.
In Butte County, 53 firefighters lost their home as the Camp Fire consumed the city of Paradise.
In addition, 17 members of the Paradise Police Department lost their homes, even as they continued to help residents. Paradise Police Chief Casey Carlson worked 48 hours straight, even knowing that his own home was most likely gone.
"When we got the evacuation order, I went up to grab a few things, and houses (on the block) were on fire when I was leaving," he said. "You kind of have to accept it. You know you are helping folks, and that's what counts."
Videos and photos of the fires have gone viral, prompting many around the country to ask what they can do to help first responders who have been working tirelessly to protect lives and personal property of those who live and work in the path of these destructive wildfires.
Several charities, organizations and donation pages have been made available to take donations and distribute funds to affected first responders. Here are some ways to help:
International Association of Fire Fighters Foundation Disaster Relief Fund
The IAFF is taking donations for their Disaster Relief Fund, which provides financial support to firefighters who have been affected by natural disasters and other emergencies. You can donate and apply for aid here.
National Volunteer Fire Council's Volunteer Firefighter Support Fund
Volunteer firefighters and emergency personnel whose homes have been impacted as a result of the wildfires can apply for a NVFC stipend to assist with basic needs in the aftermath of the storm. Learn more here. 
Ventura County Community Foundation's Sudden and Urgent Needs Fund (SUNF)
Through SUNF, the Ventura County Community Foundation provides $5,000 grants to nonprofits who are helping those affected by the Camp and Hill wildfires. You can donate here, and learn more about the foundation on their Facebook page.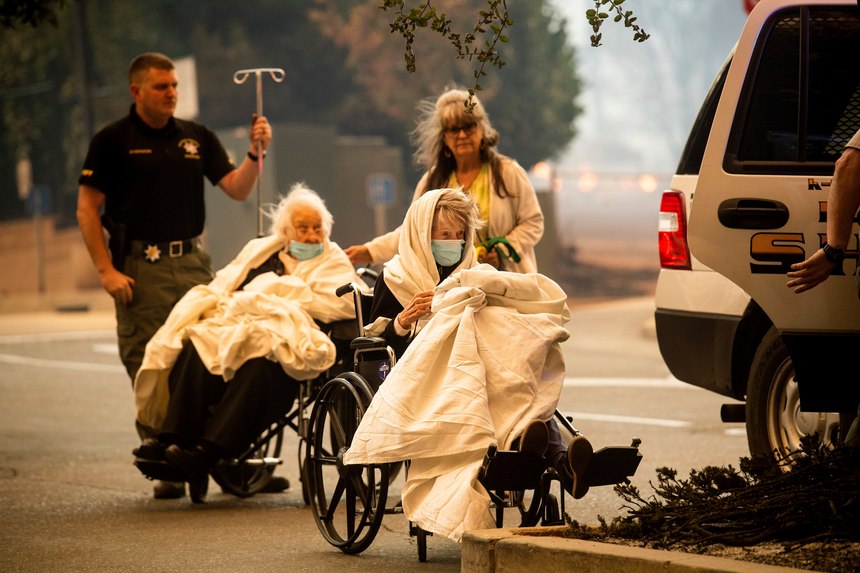 Los Angeles Fire Department
The LAFD is requesting donations be made to the Los Angeles Fire Department Foundation, as well as the Widows, Orphans & Disabled Firemen's Fund, which assists the families of firefighters who have lost their lives or were injured while on the job. Read more about the charity and donate here.
North Valley Community Foundation
The NVCF in Chico, California is raising money to help public safety personnel who were directly impacted by the Camp Fire. The funds are available to police, fire and sheriff deputies of surrounding departments who have been displaced. Read more about the foundation on the NVCF website and donate here.
Entertainment Industry Foundation's SOCAL Fire Relief Fund
Donations to the SOCAL Fire Relief Fund will support three main charities: the LAFD Foundation, the L.A. Kitchen, which provides food and shelter to people and first responders displaced by the fires, and the Humane Society of Ventura County. You can donate here.
GoFundMe for Ambulance Crews of Butte County EMS
A donation page has been created to financially support the 25 employees and their families who "lost their homes, cars and possessions" in the Camp Fire. Started by the California Ambulance Association, the donation page has raised more than $23,000 of its $50,000 goal. You can donate here.
GoFundMe for Paradise Police Camp Fire Relief
A donation page has also been created to support the 18 members of the Paradise Police Department who lost their homes in the Camp Fire. This includes the chief of police, seven police officers, four dispatchers, two community service officers, two animal control officers, one records clerk and one administrative assistant. The page was created by the Paradise Police Officers Association and has raised more than $15,000 of its $200,000 goal. Go here to donate.