Chief: Ohio cop under 'vicious' attack killed knife-wielding man
The robbery suspect charged the officer with a knife as the policeman was getting out of his cruiser
---
By Dan Sewell 
Associated Press
CINCINNATI — Cincinnati's police chief says an officer had no choice but to fire at a robbery suspect who charged him with a knife as the policeman was getting out of his cruiser.
Police Chief Eliot Isaac says the fatal shooting occurred amid "a vicious, violent attack" Sunday morning in downtown Cincinnati.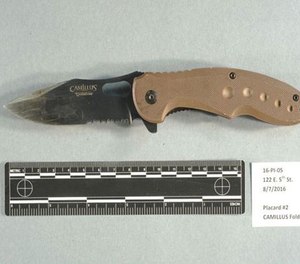 Mayor John Cranley says the attacker was trying to kill 25-year police veteran Anthony Brucato, who suffered minor injuries.
Isaac says the encounter was captured on video. He says the city can't yet release the video because it was subpoenaed by the prosecutor's office for its review of the officer's actions.
Police say the slain man was suspected of robbing a grocery store with a knife 20 minutes earlier. They identified him as 25-year-old Jawari Porter, of Cincinnati.
Copyright 2016 The Associated Press