Colo. police chief loses home to devastating wildfire
Chief Dave Hayes is among hundreds who found their home reduced to a burnt husk
---
By Suzie Ziegler 
BOULDER COUNTY, Colo. — The Marshall Fire in Colorado, near the City of Boulder, has destroyed hundreds of homes and sent thousands of residents fleeing. Louisville Police Chief Dave Hayes, who is helping lead the recovery effort, feels the destruction firsthand. 
According to 9News, Hayes was one of many residents who lost their home to the blaze. His house of 32 years, where he raised his kids and grandkids, was reduced to burnt shell.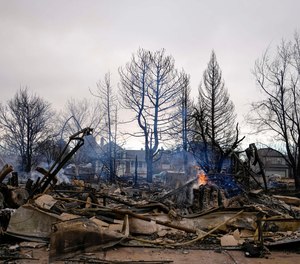 On Thursday, the night the fire would level entire neighborhoods, Hayes said he wanted to go check on his house. 
"As we were getting ready to leave, I said I was going to check on my house," Hayes told 9News. "[Deputy Chief Jeff Fisher] pulled me aside and said, 'I need to go with you. I don't think it's there anymore.'" 
By Saturday, the fire had destroyed nearly 1,000 homes in Boulder County, reported Colorado Public Radio. 
Hayes described the charred scene. 
"What used to be a house and my neighbor's house was mostly collapsed into what was our basement. And the car that I had in the driveway was completely melted," he told KDVR. 
Despite his great loss, Hayes is looking toward the future. 
"As we start to rebuild, then I'm going back, because we are going to rebuild," Hayes said. "And this may sound like a crazy idea, but I want the same exact house back and the same rooms where they are. The furnishings will be different, but I kind of like things the same." 
But for now, Hayes says he's focusing on helping the community. 
"At some point I'll get to me, but it's important, as it is to the men and women of the Louisville Police Department, that we continue to provide good service and safety," he told 9News.