Life after COVID-19: The future of emergency management is forever changed
The pandemic forces us to rethink the emergency operations center, how we interact with the community and how we disseminate information
---
By David M. Jannetty
In the days following 9/11, I had the opportunity to volunteer at Ground Zero, as a member of the Waterbury (Connecticut) Police Department.
I vividly recall the remarkable camaraderie among the masses of first responders, ironworkers, heavy equipment operators and other construction personnel.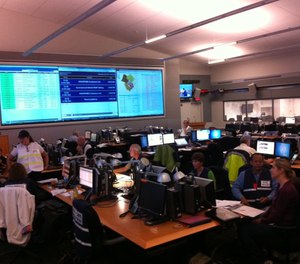 We worked shoulder-to-shoulder with healthcare workers and volunteer organizations in our search for survivors – all in a synchronized rescue and recovery effort. It was a collaboration unlike anything I had seen before.
Enter COVID-19.
Now, almost two decades later, we see a similar level of collaboration on a national scale as we confront this unprecedented pandemic. However, with this global health crisis comes unforeseen challenges and new lessons learned, and it has forever altered the way our nation will respond to future crises and disasters.
Rethinking the EOC 
In a typical crisis, representatives from local government, law enforcement, the fire service and volunteer agencies work with their respective emergency operations centers (EOCs) to decide upon and enact response strategies. But COVID-19, the first pandemic in our modern lifetime, has reinforced the need to expand this collaboration to include the private sector and other entities at a level we have not seen before.
For example, communities across our country have had to join forces with representatives from school districts, assisted living facilities, cell phone carriers, power providers and local retailers to enhance response efforts that combat the spread of this fast-moving virus. EOCs must now work with private industry to solve supply chain disruptions. They must incorporate the role of public health professionals in building models that forecast viral spread. 
COVID-19 has also taught us that, for the safety of all involved, EOCs do not have to be physically staffed, and that cloud-based systems and conferencing platforms will be integral to EOC operation in the future. Cloud-based systems have enabled continuous collaboration without requiring in-person attendance that can compromise and shut down an EOC. Additionally, we've witnessed all levels of leadership – mayors, governors and other officials – continue to guide others, thanks to this technology.
Community response
We have already learned that a whole community response will play a critical role in future response efforts as disasters become more complex and impact a greater percentage of our population. As with 9/11, the "all hands on deck" model is critical to moving forward.
Just look at how the coronavirus inspired collaboration across the globe. Manufacturers have retrofitted factories to make much-needed PPE, hand sanitizer and ventilators. Truckers have hauled COVID-19 supplies where they are most needed, while FedEx, UPS and Amazon have increased staff and operations to deliver essential items across the country. Grocers have worked around the clock to keep shelves stocked with supplies in the face of massive shortages and high demand. Even local, state and federal government agencies are cooperating with each other at a level we have not seen in recent times.
Public information
We live in a world of constant content and flow of information. Never have we had more real-time information at our fingertips in the face of a worldwide crisis. Unfortunately, not all of what the public reads is accurate. Social media can spread falsehoods, conspiracy theories and other misinformation. Now more than ever, emergency management officials must establish themselves as credible sources of timely and accurate information. 
The traditional in-person press conference will, eventually, be a relic of the past. Because up-to-date information can change by the hour, EOCs have embraced social media platforms to quickly push out information and this will continue to evolve.
During the COVID-19 crisis, public information officers have relied on platforms such as Facebook and Twitter to conduct real-time monitoring to immediately correct rumors and misinformation. While no social media platform is perfect, the ability to share experiences with others online is pivotal to disseminating timely and accurate information and in helping to combat isolation.
A valuable case study
Unlike natural disasters and localized threats, which we are prepared and well-trained to handle, this is the first time any of us have experienced a pandemic of this scale. 
In years to come, our response to the COVID-19 crisis will serve as a valuable case study in how we will respond to such an unprecedented global event, and how those responses on a public platform influence the actions of not just individuals, but also corporations and governments.
We will debrief. We will perform after-action reviews and assess our capabilities. We will share best practices. It is our responsibility to learn from COVID-19 and share our knowledge with the next generation.
Our post-pandemic world will see drastic changes to the way we address local and large-scale disasters, thanks to lessons learned today. The far-reaching implications challenge not only our thinking and protocols but also what type of training emergency management professionals need, who must weigh in on key decisions and how we share information as quickly and efficiently as possible.
One thing that is certain: Humans are resilient. We come together in times of crisis to ensure the safety of our communities. One day in the (hopefully far) future when we are faced with another viral threat of global proportions, it will be our ability to work together that will enable us to rise to the challenge – and persevere.
About the Author
David M. Jannetty is the program chair for the Emergency Management & Homeland Security program at Post University and is a member of the campus Threat Assessment and Incident Management teams. He holds a master's degree in criminal justice from the University of New Haven and an advanced graduate certificate in terrorism studies from John Jay College of Criminal Justice. He retired from the Waterbury (Connecticut) Police Department in 2012 as the assistant deputy chief and officer-in-charge of the Patrol Division. Jannetty is a graduate of the FBI Command Institute, Senior Management Institute for Police, and the Southern Police Institute Chief Executive Leadership Program.