Mayor: NYPD morale on rebound under new leadership
Morale in the NYPD is improving under the leadership of Commissioner William Bratton as it shifts from what mayor called a "broken" stop-and-frisk policy
---
By Anthony M. Destefano and Emily Ngo
Newsday
NEW YORK — Mayor Bill de Blasio said Wednesday that morale in the NYPD is improving under the leadership of Commissioner William Bratton as it shifts from what he called a "broken" stop-and-frisk policy under its previous leadership.
"The stop-and-frisk policy was broken, and it created, in many neighborhoods, a rift between police and community and also made the job of the average police officer more difficult," de Blasio told reporters.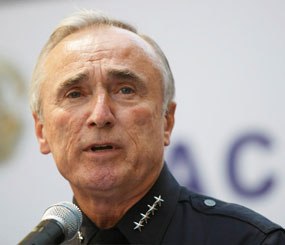 "Now that we've moved away from that broken policy, and we've settled the lawsuits, and we are changing the dynamics on the ground between police and community, I think the average officer's having a much better experience," he added.
The mayor's assessment came as Bratton refused to back down Wednesday and stood by his remarks in a WABC-TV interview that aired Sunday in which he said that NYPD morale when he first took over was "awful." He also said Mayor Michael Bloomberg's administration relied excessively on stop-and-frisk.
Talking with reporters, Bratton said his comments about morale weren't meant to be a dig at his predecessor Ray Kelly, but a statement of facts that he learned from union officials, focus groups and individual officers. Bratton said the media has created a "tempest in a teapot" by suggesting that he is trying to be disrespectful of Kelly.
"Anybody who had actually seen that interview, which ran about 20 minutes, and look closely, I was very praising of the [former] commissioner, as I always have been, about the significant reductions in crime," Bratton said. "We have differences in opinion about stop, question and frisk, effectiveness in procedures," he said.
Kelly didn't return an email request for comment.
Patrolmen's Benevolent Association president Patrick Lynch said in a statement yesterday that Bratton was correct that police morale was bad.
Lynch said morale tanked because of heavy-handed management and police officers being the target of "politically ambitious officials" over stop-and-frisk.
Lynch did not name names, but a PBA spokesman said de Blasio, as a mayoral candidate, was among numerous city officials Lynch had in mind.
Mayoral spokesman Phil Walzak said that de Blasio "has always held the rank and file officers of the NYPD in the highest regard" and his "past criticisms were limited to the top-level decision-makers of the past administration."
2014 Newsday
McClatchy-Tribune News Service