New La. sheriff fires four top-ranking deputies, another resigns
The firings come as Susan Hutson has faced a rocky start to her term, with two deaths at the jail, a series of stabbings and an inmate takeover of a jail pod
---
By John Simerman
The Times-Picayune | The New Orleans Advocate
NEW ORLEANS — Orleans Parish Sheriff Susan Hutson said Wednesday that she has fired four top deputies in a bit of a housecleaning after a violent and unruly summer at the New Orleans jail.
A spokesman for Hutson's office declined to say why the sheriff, who took office in May after campaigning as a progressive, terminated "for cause" captains Jerry Martin and Mark Jones, both of whom worked at the Orleans Justice Center, the parish jail.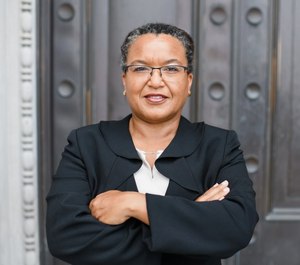 Also fired were Capt. Cathy Taylor, who worked at the Temporary Mental Health Unit, and another manager, Capt. Danny Henry, who worked in jail intake and processing, according to a news release. Phil Stelly, spokesperson for the Sheriff's Office, said only that the particulars of the firings were personnel matters.
"We are making a strategic realignment of certain positions to ensure that we have well-trained correctional officers who also have an opportunity to advance their careers here at the Sheriff's Office," Hutson said in a prepared statement.
Hutson' office also announced that the head of its training division, Major Robert Donnelly, was resigning. Donnelly, who worked part-time, declined to comment when reached by phone Wednesday. Hutson said she is now seeking a full-time training director.
All four of the captains that Hutson fired were holdovers from the administration of former longtime sheriff Marlin Gusman. Donnelly had retired before Gusman hired him back part-time.
The firings come as Hutson has faced a rocky four-month start to her term, with two deaths at the jail, a series of stabbings and an extended inmate takeover of a jail pod last month in what they said was protest over their treatment. Hutson has pointed to chronic understaffing as a key reason for the string of violence at the jail, which now houses about 1,000 inmates.
[RELATED: 'We're making history': Louisiana's first Black female sheriff sworn in]
A federal judge overseeing reforms to the jail hammered Hutson's office last month for failing to timely communicate the violence to the court. U.S. District Judge Lance Africk said the sheriff's office needed a "course correction."
In February, after her stunning win over Gusman but before she was sworn in, Hutson said she was encouraging deputies and high-ranking supervisors to stay.
"My whole message to them is, if you have done what you're supposed to do, if you have tried to comply with this consent decree, if you are caring about this office and the people who work in it and the people who are in custody, you don't have anything to worry about from me."
Last week, Hutson terminated the contract of her spokesperson, Timothy David Ray, citing an ethics foul. Ray, a lawyer and communications consultant whose mother, Deborah Chapman, ran Hutson's campaign, was under fire over his pay and other controversies.
WVUE-TV reported last week that Ray was on track to make $175,000 this year and raised questions about the invoices. Separately, WWL-TV reported that Ray issued a false statement saying Hutson had not hired Kyshun Webster, the controversial former director of New Orleans' juvenile jail. Invoices show that Hutson ultimately paid Webster $36,750 to serve as her "acting chief of staff."
Hutson said Ray's contract was terminated after the state Ethics Board found it violated nepotism laws, as Chapman serves as a senior advisor to Hutson.
___
(c)2022 The Times-Picayune | The New Orleans Advocate Distributed by Tribune Content Agency, LLC
McClatchy-Tribune News Service