Understanding the policing profession is essential for effective reform
In an era where policing remains highly trusted by most of the population, the movement for reform will likely be more grandstanding than groundbreaking
---
Right now, politicians are understandably jockeying for position to take the lead on police reform. Many will be surprised that their proposals already exist, or that they have already been rejected for good reason. In an era where policing remains highly trusted by most of the population, the movement for reform will likely be more grandstanding than groundbreaking.
Presidential candidate Joe Biden has called for the revision of programs that allow military surplus items to be offered to local law enforcement so as "to stop transferring weapons of war to police forces." He is referring to the 1033 program of the Department of Defense, which was instituted in the Clinton administration with the support of Biden. Those who oppose the acquisition of such equipment question the need for armored vehicles in particular. It is not a new argument, but it is one that has been rejected for good reason.
The call for removing these assets from police agencies is predicated on a wide-spread misunderstanding of what is obtained through the program and for what purpose.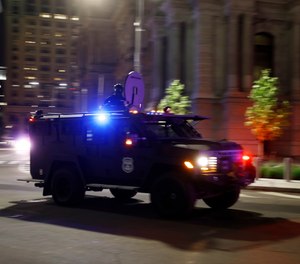 Biden is also calling for banning of "chokeholds." What the former Vice President apparently doesn't know is that law enforcement already highly regulates and limits tactics involving the neck area, with department policies specifically outlining what are appropriate restraint methods during specific circumstances.
Biden is tapping former candidate Julian Castro who ran partly on a platform of police reform including national standards for any law enforcement agency receiving federal funds. This federalization proposal can increase the loss of local control of America's 18,000 police agencies accountable to local electorates. Standards established by national law enforcement organizations and many Department of Justice entities and research include model policies, many of which have been forged in the courts from criminal and civil cases.
Castro also called for deadly force only if there is an imminent threat to the life of another person, and all other reasonable alternatives have been exhausted. I'm not aware of any police agency that doesn't currently have such a policy or is governed by statute in accordance with that standard. Given the research that an untrained person can acquire and discharge a firearm in about a quarter of a second, the exhaustion of reasonable alternatives to deadly force can happen much faster than most civilians comprehend.
Saying that minor offenses pose no threat to public safety, Castro rejects the "broken windows" theory of crime prevention that focuses on minor and quality-of-life offenses under the theory that early intervention in lawlessness prevents greater criminality over time. When legislators pass ordinances and statutes that are intended to be enforced by armed government agencies, the non-enforcement of those laws poses an ethical conundrum in addition to the strategic and tactical constraints.
Senator Bernie Sanders is among those who advocate the "demilitarization" of the police. If this means removing officers' protective gear that looks militaristic, then he's advocating sending officers into riot zones vulnerable to traumatic head injury, ballistic injury, skeletal injury and exposure to hazardous materials. If rifles are too militaristic, then officers will be responding to active shooter incidents without essential firepower to stop the killing. If no armored vehicles are allowed, then rescues from hostage situations and killing zones will become impossible.
Calls for more personal accountability have been answered with laws requiring police to report the misconduct of fellow officers with criminal penalties and job loss for failing to report. Officers face state criminal charges, state civil suits, federal criminal charges, federal civil suits, department discipline (including job loss), compelled testimony against their interests and serious adverse personal consequences even if vindicated after months or years of the investigative and judicial process. Along with civilian review boards, police watchdog groups and enforcement tracking to detect race-based contacts, what additional accountability the profession would face from a variety of proposals is not likely to create a meaningful addition to what already exists. 
In addition to the prevalence of cell phone cameras and surveillance systems, body-worn cameras have also become common. Bodycams were rapidly adopted by over half of all police agencies, especially those representing major populations. The cameras have been an overwhelming asset for positive outcomes, but some civil rights advocates now complain the cameras are invasive and violate privacy. 
Calls for more training seem to ignore the logistical challenges of taking officers away from their investigative and response duties to sit in a classroom or in front of a webinar. Reformers who actually look at the training curricula would likely find everything they would recommend.
A conflicting call of defunding or even abolishing police agencies takes an extreme approach that most of the citizenry would regret very quickly. There are serious academicians and activists leveraging the anti-police narrative that could make incremental progress in dismantling policing in America.
Modern law enforcement leadership is open to reform that preserves the ability of their agencies to carry out their mission. Taken in the context of history, advances in the practice of policing, training, recruitment, policy and culture have been remarkable. There is always room for improvement, perhaps substantially, perhaps revolutionary. It would be healthy for those advocating reform to understand the profession before posturing for influence. Advocating for "changes" that have long been in place shows a lack of capacity to make changes at all.