What officers and the public are thinking about mental health crisis response
A recent survey of 1,000 adults shows fewer than one in 10 recommend mental health professionals respond alone with no public safety personnel
---
Law enforcement has been handling calls about persons with mental illness since the first badge was pinned on an officer. There is merit to exploring whether it is time to shift more responsibility for mental health calls to be handled by non-police responders. But are police reform critics the only voices weighing in on the issue?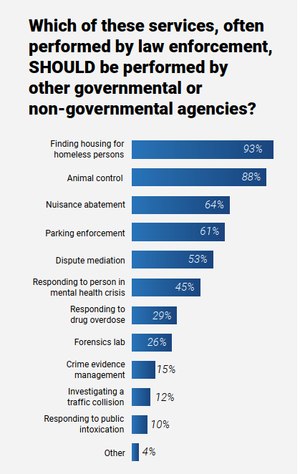 In Police1's recent State of the Industry survey, 4,000 officers were asked what services they would like to shed from their routine responsibilities.
Fewer than half of survey respondents strongly supported shifting mental health calls to non-police personnel. That would indicate that most officers feel confident in handling the mentally ill.
Services officers are much more ready to hand off are finding housing for those who are homeless, animal and nuisance calls, and parking enforcement.
[Click here to view an on-demand webinar that reviews key findings from Police1's survey.] 
A recently released survey of the public, however, shows strong support of supplemental mental health response, as well as significant fear of COVID-related increases in mental health crisis incidents.
The survey, from Rave Mobile Safety, questioned a thousand adults regarding public expectations of how first responders, including 9-1-1 call takers, police, EMS and firefighters, should respond to emergencies involving mental health.
Civilians are concerned about the mental health crisis
The urgency of concern is indicated by a Census Bureau survey that shows as of January 2021 the average share of adults reporting symptoms of anxiety disorder and/or depressive order was 41%.
The Rave survey findings show respondents have major concerns accompanied by a strong desire for more training and resources for mental health response. A substantial 94% are concerned about Americans' mental health with a high percentage "extremely concerned" and two-thirds say they are more concerned now than they were this time last year.
The concern is personal, with half of the respondents reporting that they are someone close to them who experienced a mental health crisis. About half of respondents express concerns about students returning to school and campuses, and those returning to public spaces and workplaces.
Confidence in law enforcement mental health response remains steady
Confidence in law enforcement response to mental health calls remains steady, with only a third expressing some level of distrust in their local police response, with a strong majority agreeing with a need for more training.
Most are also willing to provide information on their own or their loved ones' mental health conditions to assist in an effective response. Most agree that 911 call centers should have mental health professionals available, as well as traditional first responders.
Only a quarter of those surveyed recommended mental health professionals respond alone with no public safety personnel. Co-response is highly favored. About 80% believe that first responders should be accompanied by a mental health worker. Most agree that legislation should facilitate additional training and co-responder strategies.
Police leaders' response strategies
Policymakers should note both the general confidence in their police officers and the high concern of the public about mental health. Over half express concerns about being present during a mental health crisis in public spaces such as malls and events, places of worship, schools and college campuses, and workplaces. 
The survey shows that most citizens perceive their police as highly engaged with the community, a third still desired increased community engagement to increase their confidence in law enforcement's ability to deal with mental health crises.
Police leaders should consider increasing efforts at community engagement surrounding mental health issues. This could include assurances of current and ongoing training, as well as coordinating with mental health specialists. Education on the rarity of violence associated with mental health crises could provide some perspective about small chances of being victimized in random attacks, as well as strategies for citizens to seek shelter should an attack occur.
Despite headlines to the contrary, police officers hold a place of trust among most of the public. Acknowledging their concerns with assurances that their officers and leaders are listening can leverage that trust and reduce fear and anxiety.
NEXT: Creating a partnership between law enforcement and mental health practitioners