Community policing at work: Norwood Police Department
From bike patrols focused on eliminating distracted driving to "walk-and-talk" foot patrols, Norwood PD brings together cops with the community
---
This feature showcases community policing best practices from around the country. If you would like your department to be profiled, email editor@police1.com.
By Chief William G. Brooks III
Norwood, Massachusetts, is a town of about 30,000 residents sitting just outside Boston. The Norwood Police Department's 72 employees accomplish their mission of protecting and serving residents and merchants through community policing, specifically by engaging with people on the streets and in neighborhoods, listening to their needs and concerns. Here are some examples of that community policing in action. 
Bike patrol
The Norwood Police Department successfully uses its bike patrol to focus on distracted driving. Everyone knows that drivers who text, email, eat and do various other things while driving can cause motor vehicle crashes. Police agencies do what they can to stop, educate and cite violators, but enforcement can be difficult in congested areas – where, ironically, distracted driving can cause the most risk to pedestrians – because officers must find a place to park, spot the violator and then safely cut into traffic to make a stop. 
In Norwood, officers assigned to bike patrol conduct enforcement in our downtown sector can set up between parked cars, easily spot violators while astride their bikes and safely catch up to violators as they slowly roll through the congested business district. Most motorists do not spot the bike patrol until it's too late.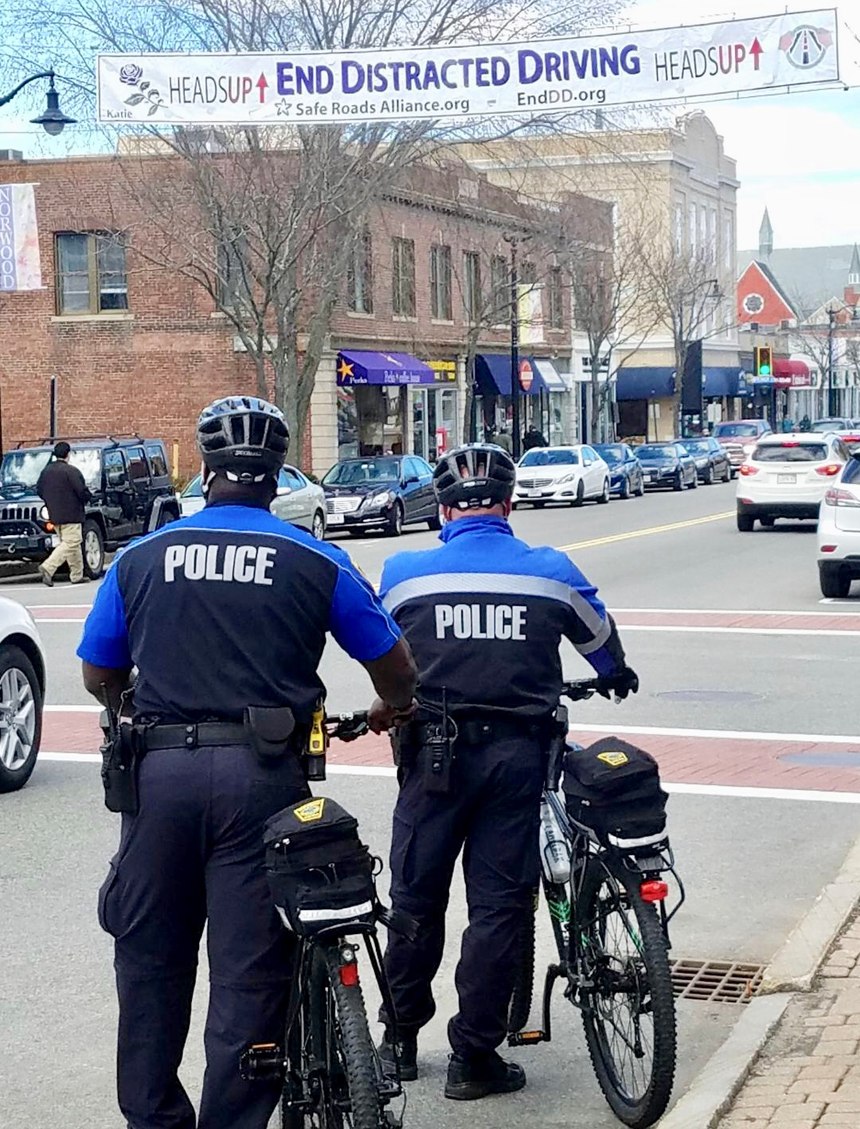 As an added bonus, officers can chat with pedestrians while watching for drivers who aren't paying attention. It's a win-win.
Walking foot beats
People from a generation ago tell you they miss seeing officers walking foot beats. Norwood is a town where police officers can be found walking beats seven days a week. While foot beats help officers form relationships with residents and merchants, officers on foot can lack the mobility needed for rapid response to emergency calls. 
Thirty years ago, Norwood PD Chief George DiBlasi created a hybrid patrol strategy that quickly caught on at area agencies. In addition to providing beat officers with radio cars so they could be used as backup on emergency calls, he also required officers assigned to cruiser patrol to park and conduct foot patrols in between calls. These "walk-and-talks" have the added benefit of dropping small foot beats into neighborhoods that would not support full-time beats. We find the strategy particularly effective when officers pair up and walk neighborhoods together.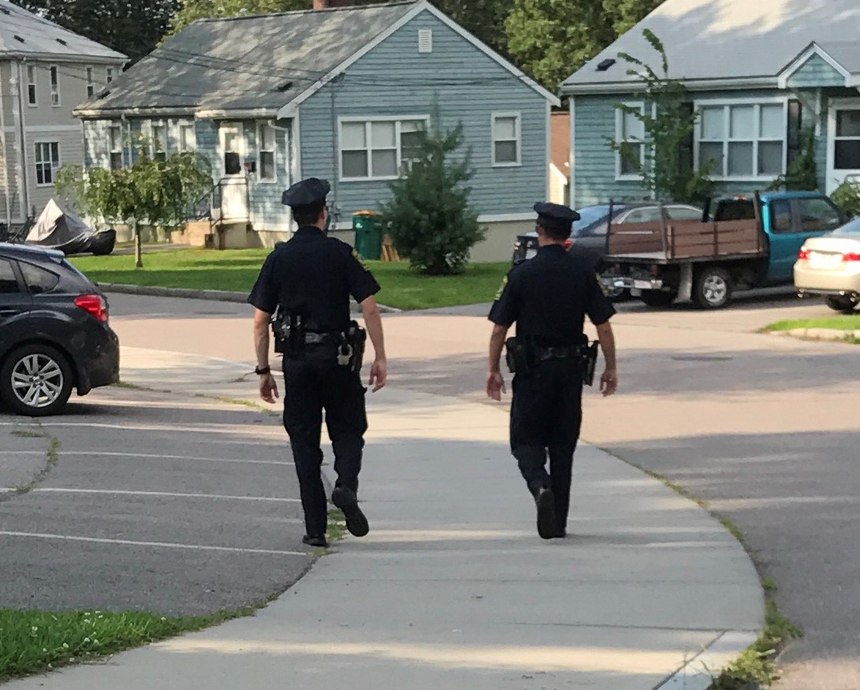 Three decades after they were created, the "walk-and-talks" continue to be a big hit with residents who get to chat with officers, as well as with the officers who get to go for strolls with their brothers and sisters every shift they work.
The lemonade lesson
Last summer, the Norwood Police Department heard from the parents of five-year-old Seamus O'Neil, who told us that Seamus simply loved the police and wanted to help officers. With his parents' assistance, Seamus set up a lemonade stand near his home. Always looking to acknowledge a new friend, Norwood PD officers headed for the stand where they posed for pictures with young Seamus, gave him a few NPD souvenirs and consumed great amounts of lemonade. 
A week or so later, the same thing happened – more lemonade was consumed and more money was raised. At summer's end, Seamus arrived at the Norwood PD with a box full of the money he had raised and told us he wanted to donate it to us.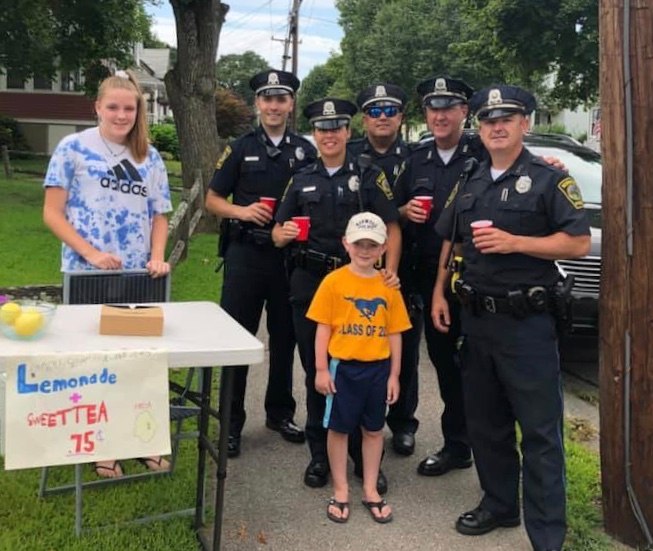 We thought about what we might do with the money he raised, and then it dawned on us - we could help Seamus' parents with a teachable moment. Norwood's Council on Aging was wrapping up its summer dinner program, where every Tuesday night, the town's senior citizens can enjoy a meal together for $5.  The last night of the program over 100 people were expected and the police had been asked to be "surprise servers." We explained to Seamus that the best use of the money he had earned was to use it to help others. What better lesson than that? So the officers, Seamus and Seamus' parents headed for the COA to serve dinner. 
Before we served, we told the senior citizens about Seamus and his lemonade stand, and announced that the Norwood Police Association and Seamus O'Neil had combined funds to pay for every meal served that night. Dinner was on us! After much applause, and what we perceived as a slight bow from Seamus, uniformed Norwood PD officers and Seamus formed up behind the plates of steak tips, rice and vegetables and started serving the crowd (Seamus handled the rolls). Then we all sat down and enjoyed a meal together. 
This summer, we were thrilled when Seamus' mom contacted us over social media to tell us Seamus was planning his lemonade stand and to ask if we were on for this year as well. You can guess the answer!
For more information about the Norwood Police Department, click here.  
---
About the author
William G. Brooks III is chief of the Norwood, Massachusetts Police Department and has been a police officer for 40 years. Bill was a member of the Supreme Judicial Court's Study Committee on Eyewitness Identification and is a member of the SJC standing committee. He also served on a committee at the National Academy of Sciences that issued the 2014 report "Identifying the Culprit, Assessing Eyewitness Identification." He presents nationally on behalf of the Innocence Project and has delivered presentations in 24 states. Chief Brooks was the 2012 recipient of the Innocence Network's Champion of Justice Award and received the Civil Rights Award for Individual Achievement from the International Association of Chiefs of Police in 2015. Chief Brooks served as president of the Massachusetts Chiefs of Police Association in 2016 and sits on the Board of Directors of the International Association of Chiefs of Police. He is a graduate of the FBI National Academy.