What does Biden's executive order on police reform mean for policing?
The document urges action in the face of rising violent crime and the coexisting challenge of recruiting and retaining police officers
---
The fervor for police reform in the light of high-profile videos of police activity was white-hot for candidate Biden in the 2020 presidential campaign. Despite the rhetoric and Biden's opposition to police defunding in deference to more police doing community policing, federal legislation stalled while the economy and rising violent crime took over the headlines.
On Wednesday, May 25, on the second anniversary of the death of George Floyd, Biden issued the 90th Executive Order (EO) of his presidency. The 10,000-word document, entitled Executive Order on Advancing Effective, Accountable Policing and Criminal Justice Practices to Enhance Public Trust and Public Safety, was signed the day after his emotionally charged address to the nation on the horrific murder of school children in Texas.
The EO was reportedly drafted in conjunction with law enforcement organizations. The IACP and the FOP issued a joint statement regarding the order, saying: "Our organizations, which represent our nation's chiefs and the majority of rank-and-file officers, believe that it marks a significant step in our continuing efforts to strengthen the trust of the public in police and the criminal justice system."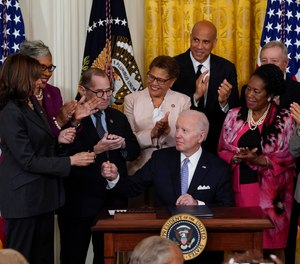 The statement also says, "Much work remains to be done, as this Executive Order only touches upon one element of the criminal justice system – policing. It represents, however, a good faith effort by all involved to reach accord without compromising any core values or issues."
The statement is careful to avoid a full-bore and total endorsement of the order, but, given the restrictive and often ill-advised legislation scattered among individual states, avoiding potentially intrusive and politicized federal legislation is a win for police advocacy groups.
A community policing supporter
Biden needs the support of law enforcement and pro-law enforcement citizens. His positions have not been hostile to policing, but suspicions remain.
In an analysis of his pending presidency I wrote, "Despite many of his Democratic colleagues' endorsement of defunding police agencies, including his running mate, Vice-President Elect Kamala Harris, Biden has consistently spoken in favor of funding for community policing. That doesn't make him a fan favorite in law enforcement circles. His weak condemnation of those actively opposing law enforcement, his choice of vice-president candidate and his promotion of unrealistic use of force strategies." Biden was a key figure as Vice-President under Obama who initiated a record number of Department of Justice civil rights investigations of law enforcement agencies.
As a senator, Biden was an enthusiastic supporter of President Clinton's anti-crime legislation which, while widely credited with a dramatic decrease in crime, was criticized for the law's impact on the incarceration of Black men, causing Biden to soft-sell his endorsement of the law.
The foundation of the EO
The foundational statements of the EO include a recitation of police misconduct and systemic racism and a sidebar call to Congress for more reform legislation. The document urges action in the face of rising violent crime and the coexisting challenge of recruiting and retaining police officers. The word "accountable" is found five times in the document, only once referring to perpetrators.
As predicted, the President is once again turning to community policing, which is still struggling to define itself, and "new practices in law enforcement recruitment, hiring, promotion, and retention." The order acknowledges local reforms saying "agencies – and the officers who serve within them – deserve recognition for their leadership and appreciation for setting a standard that others can follow."
The EO lists several practices that are already in place but which the public has been convinced need to be instituted and for which "reformers" can take credit.
The EO warns against the specter of disparate law enforcement use of technology, including facial recognition and artificial intelligence, while urging more extensive data collection on officer behavior that might indicate racist practice.
While mostly focusing on policing, the order addresses jails and prisons as well. "Lowering barriers to reentry is essential to reducing recidivism and reducing crime" seems contrary to the clemency and permissive bail policies that many observers associate with rising crime from chronic offenders. With a nod to the Trump era-initiated reform, the President aims to "fully implement the First Step Act, including by supporting sentencing reductions in appropriate cases and by allowing eligible incarcerated people to participate in recidivism reduction programming and earn time credits."
A significant amount of verbiage promises more federal investigations of "pattern and practice" allegations and other deprivations of civil rights within federal law enforcement as well as local, state and tribal organizations where federal jurisdiction under 42 USC 1983 exists. Most of the EO is directed at federal law enforcement with the hopes that best practices will serve as a template and example to local agencies.
Biden's order gives a significant nod to police officer wellness and suicide prevention, promising "to consider the work undertaken already pursuant to the Law Enforcement Mental Health and Wellness Act of 2017," another Trump-era initiative.
Federal law enforcement agency heads will be required to submit law officers' misconduct and meritorious conduct, as well as use of force events including in-custody deaths, to a central database to which officers will have access. The database is not yet required of non-federal law enforcement but is available and encouraged. It portends an eventual national database of all law enforcement officers if enabling legislation is passed. The dearth of accurate use of force information has prevented the law enforcement community from convincing the public that force is rare and unnecessary force even rarer.
Based on scant evidence of widespread misuse, the EO repeats the refrain that carotid holds and no-knock warrants are to be prohibited and mandates that no federal agency utilize them. In addition to more anti-bias training and other training subjects, these mandates will apply to members of federal task forces that will affect many organized crime, gang and drug enforcement units across the country where federal funds and personnel are used.
Another hot button issue for police reform is the use of military surplus. The EO restricts anything .50 caliber or over, bayonets, grenade launchers, bombs and armored vehicles unless used for "disaster-related emergencies; active shooter scenarios; hostage or other search and rescue operations; or anti-terrorism preparedness, protection, prevention, response, recovery, or relief." Also excluded are weaponized drones and combat aircraft. In other words, things that were never requested or used by civilian law enforcement in the first place.
What does this mean for most of America's police officers?
Possibly little, and likely less than state legislatures have already handed down. Expect more conditions for participation in task forces, more training time required as a condition of federal grants, more restrictions on federal grant money, more paperwork for NIBRS, and more alignment with federal law enforcement guidelines in order to show best practice as a liability prophylactic. If all of this improves the service that police officers provide for their community, the data will show it over time. If not, in the meantime, more officers will be spending less time on the street and more time filling out forms.
NEXT: A letter to President Biden: Consider what rural LEOs need in your executive order
President Biden Executive Order on Policing by epraetorian on Scribd