Governor: NY LE must enforce new mask order - but without fines or civil penalties
Although a statewide mandatory mask order went into effect, state officials say local law enforcement offices can't do much more than remind offenders to wear masks
---
John Campbell
Times Herald-Record
ALBANY, N.Y. — How do you convince New Yorkers to wear masks if you can't impose a penalty when they don't?
Law enforcement officials across the state are about to find out.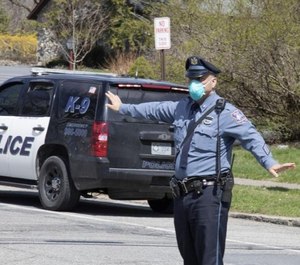 New York's coronavirus mask order took effect Friday at 8 p.m., two days after Gov. Andrew Cuomo first announced it.
Anyone who is in public must cover their nose and face with a mask or cloth covering when unable to maintain social distance, according to the mandate.
It will be up to police departments and sheriff's offices to enforce compliance with the new order, which is meant to help slow the torrid spread of the novel coronavirus in New York, the country's COVID-19 epicenter.
But Cuomo has made clear: Nobody will be taken to jail for violating the mask order. And as of now, there are no fines or civil penalties either, meaning law enforcement can't do much other than remind offenders they must cover their face.
"The local governments have police forces," Cuomo said Thursday on CNN. "They can enforce it. They will enforce it. We don't have a civil fine that goes with this now, but we could. And I believe people are going to follow it."
Cuomo's order took effect as virus continued its spread in New York, with the state topping 229,000 confirmed COVID-19 cases and 12,800 deaths Friday.
It's designed to try to hinder the spread of the virus through saliva droplets that can be transferred by close contact or on a solid surface.
The order, which has the force of law, applies to any situation where someone is in public and comes within six feet of someone else.
It also applies to anyone riding or operating public transit or for-hire vehicles like taxis, Uber and Lyft.
Anyone who is medically unable to cover their face is exempt.
Law-enforcement officials from across the state reacted to Cuomo's order with varying degrees of receptiveness, with some welcoming its public-health benefits and others criticizing it for a lack of teeth.
Executive orders that aren't enforceable put police in "an impossible situation," said Pat Phelan, police chief in the town of Greece, near Rochester.
Phelan, who is president of the state Association of Chiefs of Police, said his officers wouldn't approach someone who may not be in compliance with the order because there aren't penalties in place.
"Now you're in a confrontation with somebody over an issue that you really have no authority to enforce," he said.
Law enforcement offering 'friendly persuasion'
Sheriffs across the state will be using "friendly persuasion" to ensure the order is being followed, said Peter Kehoe, executive director of the New York State Sheriff's Association.
"I think pretty much sheriffs have tried to stay away from using any kind of criminal sanctions for enforcing any of this social distancing, with masks or anything else," he said.
Beau Duffy, State Police spokesperson, said if a trooper becomes aware of an issue or witnesses members of the public violating any of the state's orders, they will be informed of the violations and asked to comply.
He said troopers have not had an issue with people refusing to comply when asked.
It's clear local police officers and state officials will be largely relying on the public's common sense, while some said they are hoping stores and other essential businesses will help pitch in and ensure people are wearing masks as their enter.
"I don't anticipate that we would be arresting anyone for this, unless there was an extreme danger to others," said Chief Patrick Garey, who leads the Village of Endicott Police Department in Broome County.
In the Mohawk Valley, Utica Police Chief Mark Williams said that the department has held internal meetings discussing updates to statewide social distancing directives.
Williams said he believed the executive orders are well-intended, but he is not sure how to enforce a rule with no penalties.
"One of the concerns that I have — because we're seeing it in our unit — is the lack of available face masks," he said.
Cuomo said he crafted his order in a way that's meant to account for a mask shortage in many stores and online.
Those in public can use any sort of face covering — a scarf, a t-shirt, or a homemade cloth mask — so long as it covers their face and nose.
Cuomo said he's confident New York residents will comply with his mask order without the potential for penalty, though he said he may allow for fines if there is widespread noncompliance.
Part of the reason he has held daily, nationally televised briefings, he said, is to explain his reasoning and why it makes sense to take drastic steps to stop the spread of the coronavirus.
"The reason I communicate so much with the public right now is I want them to understand the facts and the plain truth and why I'm taking these actions," he said on CNN.
"If they believe it makes sense, they will do it. This is New York. You aren't going to force anyone to do anything."
McClatchy-Tribune News Service