'It would cripple us completely': COVID-19 strains rural police agencies
While policing in rural areas may lessen the risk of COVID-19 cases, agencies worry a single case of the virus would put whole departments out of commission
---
Associated Press
MANISTEE, Mich. — Three of Timothy Kozal's police officers have tested positive for coronavirus. Three others have been quarantined. That's half of the police force of Manistee, a small western Michigan town of about 6,000 people.
Kozal is the town's police chief. He's also the fire chief. But for the past few days, he's been acting as a patrol officer every morning, from 7 to around 11 a.m., when he's the only one available.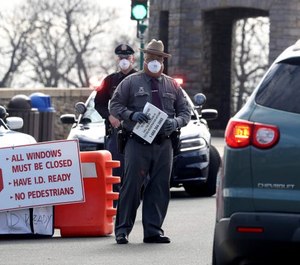 "I'm a working chief," Kozal said. "I've been in law enforcement for 31 years. … I'm part of the team here. I'm all about trying to help out."
As the coronavirus pandemic depletes urban police departments in cities like New York and Detroit, little attention has been paid to their rural counterparts, where even a handful of positive cases could wallop an entire police force. The impact on rural police – which made up more than two-thirds of all local police departments in the country in 2016 – could be critical, as the pandemic seeps in to rural communities.
Small law enforcement agencies don't have big budgets and detective divisions or special operations staff who can fill in for patrol officers, so they must make do with what they have. 
For Kozal, this means having just one officer – including him – responding to calls for part of the day or night. 
"We're still going to be responding to the calls and still have that exposure risk just like everybody else," Kozal said.